 Sir, I honestly believe David Cameron is deluding himself and trying to pull the wool over the eyes of the British electorate if he feels he can bring about change while still remaining part of the EU, no matter how good his intentions are.
I don't believe for one second that he will get backing from Europe for all the concessions that are required to appease the vast numbers of British people fed up to the back of teeth of the dictatorial autocratic attitude of Europe and the freedom of movement for workers, which this week, he agreed with Angela Merkel, was good.
Really?
I do not trust David Cameron to deal with this issue at all and I sincerely feel that the only way to resolve this is an in/out referendum as soon as possible and, in my opinion, UKIP is the best option for voters as they are the only party that will genuinely put British voters first in Europe.
We don't need any more talk we need action. This week he has suggested that a referendum in 2016 was a possibility. Why was this not announced last year when it was decided?
We see here a man desperately trying to hang on to power.
Gordon Kennedy. 117 Simpson Square, Perth.
Answer to that Denmark query
Sir, Almost half as much again in extra taxes. That's the explanation David Fenwick was looking for when he asked how Denmark manages to provide the same welfare services as usual (letters extra, January 7).
The answer lies in the OECD tables of the tax and spending rates of the richest nations in the world. Our UK local and central governments usually collect well under half our national income 40% of our gross domestic product whereas Denmark gathers a proportion of income that's a quarter higher at 56% and including social security and local council taxes too.
The extra 16% taken out of national income in taxes means that Denmark has been able to retain generous welfare and public sector employment. Whereas we struggle to sustain our public services.
It's worth adding that the UK's economy and jobs growth have both been much greater than Denmark's over more than the last 10 years. That's meant more jobs and faster growing incomes here than there.
So that's how Denmark does it: much higher taxes. Which could also explain their slower jobs and income growth.
What would happen if, say, the Scottish Government ramped up income andcompany taxes, council taxes and VAT to the same level asDenmark? Could Courier readers afford another large cut in spending money?
Andrew Dundas. 34 Ross Avenue, Perth.
Driving people back to cars
Sir, I have been a commuter on the CityLink bus to Edinburgh for almost 16 years and was aghast to find out, when I went to purchase my usual weekly 10-journey ticket this week, that the cost of the ticket had increased overnight by an inflation busting 46%!
I accept that, at times, a fare increase will be required but, on the basis that neither my salary or the salaries of my fellow commuters increases by anywhere near this tear-inducing rise, I am struggling to understand how this can be justified and with no warning. I know that I will receive circa 1.5% pay increase this year if I'm lucky.
We are constantly being told to get out of our cars and go by bus to help the environment. Well, I'm sorry, but all this is doing is pricing commuters off the buses and back into cars.
On the flip side, if this extra money goes towards a 46% pay rise for family and friends who work for CityLink/Stagecoach then fair enough. I'll ask them for a loan to pay for my bus fare to work!
Mandy Ross. Friar Street, Perth.
No benefits in a 20mph limit
Sir, I very much hope Dundee City Council will be less self-indulgent than their Edinburgh counterparts and reject wasting their time and the city's limited resources by imposing a wholly pointless 20mph speed limit across the city. There has not been a spate of accidents to justify any such consideration and it will not be of any benefit whatsoever with regard to exhaust emissions.
Hamish Hossick. 3 Avondale Terrace, Broughty Ferry, Dundee.
Nothing to woo voters with?
Sir, I noted with interest in Wednesday's Courier (page 14) the call by Derek Wann (the Tory candidate for Angus) for a coalition of No voters to vote against the SNP at the general election as a way of reminding them of the result of the referendum.
This seems in contradiction to claims, often made by Tories, that SNP supporters keep trying to relive the referendum. Perhaps Mr Wann is stuck for policies with which to try to woo the voters of Angus, so he resorts to this populist tactic.
After all, he is the supporter of a government that has seen the necessity for foodbanks, the privatisation of vital public services, the increase in the deficit, tax cuts for the rich and the creation of the most unequal society in Europe.
Hardly a proud record to attract voters.
Come on, Mr Wann fight the election on the policies you have to offer.
You won the referendum, get over it and move on.
Brian Batson. Forfar.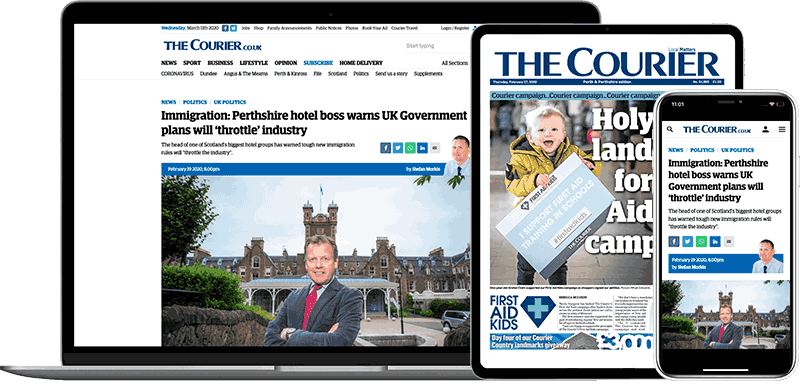 Help support quality local journalism … become a digital subscriber to The Courier
For as little as £5.99 a month you can access all of our content, including Premium articles.
Subscribe