 Sir, I note your leader column (Tuesday's Courier) about the Institute of Fiscal Studies (IFS) report on Scotland's economy.
The report is a case of "bad data in" equals "bad data out" and bad conclusions.
The IFS has used oil price projections from the UK Office of Budget Responsibility (OBR), set up by Chancellor George Osborne, and, like the IFS, it is by no means neutral. It is staffed by City-trained and London-centric top-down, neo-classical, laissez-faire economists just likethe Treasury (HMT).
The OBR and HMT have a reputation for forecasts that suit London's short-term agenda by overestimating UK growth to help the Westminster Government and, in particular, underestimating North Sea oil prices.
The other problem with using OBR data is that it forecasts Scottish oil and gas industry revenues by using what's known in statistical analysis as an outlier, a statistical anomaly that is markedly different from others in a sample. Normally, when projecting economic data based on market prices, you would not use an outlier but a mean figure or one more representative of the whole sample.
The OBR oil forecast is for an oil price of $98.00 per barrel but the Organisation of Economic Cooperation and Development (OECD), a well-respected multilateral financial organisation, takes data from the 28 most-developed economies in order to make projections and it is predicting an oil price of $190 per barrel in 2020.
This means there is almost a $100 per barrel gap between outliers and instead of using a median figure, the IFS used the lowest outlier.
Plug in the OECD upper outlier figure or the UK Government's own Department of Environment and Climate Change's forecast metric or the Scottish Government's conservative projections and you get to a clear picture of Scotland as an economic powerhouse.
Jim Duthie. 74b Gray Street, Broughty Ferry, Dundee.
Mr Salmond is no Mandela
Sir, Dudley Treffry mentioned that independence served to create kleptomaniac leaders who served themselves, not their people (The Courier, 11/11).
I lived and worked in South Africa, which during apartheid and afterwards was ruled by one political party both the white and black governments abused their power for their own benefit.
President Nelson Mandela was a very special type of person who fully believed and practised reconciliation as far as possible. The ANC did not follow his lead.
The SNP appears to be heading in the same direction. They have already overturned decisions made by local councils. A "yes" vote will see them with little opposition and they will soon forget any promises made. Mr Salmond does not have the attributes of President Mandela. Mike Wood.
10 Graham Court, Dundee.
Clocking the difference
Sir, Jack McKeown's article on the swastika in The Courier (13/11) failed to mention one of the most important aspects of this symbol. There are two, distinct types of swastika: the holy symbol that has been used peacefully for centuries and the adapted version used by the Nazis.
The former has outer legs which point in an anti-clockwise direction, while the Nazi version has outer legs which point clockwise.
In the picture with the article, the swastika on the lad's hand is the Nazi version.
With this lack of appreciation of the difference between the two symbols it is possible that those who display the original version for peaceful or religious reasons may be vilified by those who are ignorant of the difference.
Dave Forsyth. 112 Garvock Hill, Dunfermline.
Long fall from hill to knoll
Sir, It may surprise those raised on the Camelot myth but the news from Dallas 50 years ago tomorrow provoked a mixed reaction in the Californian college where I was astudent.
Classes continued, after which I went surfing at Malibu and I only became aware of the reaction elsewhere in the US and in Europe when my father phoned from the UK.
Before 24-hour news and the internet America was loosely connected but Californians were aware of JFK's womanising, Marilyn Monroe and his father's mob connections.
Our student newspaper often mocked his oratory: a bombastic inauguration speech which led to the Cuban fiasco and his assurance to Berliners that he was a jam doughnut.
The fact is his presidency was stalled, especially on civil rights, and my black pals were hoping for a future White House with Lyndon Johnson or Hubert Humphrey.
But as occurred after the death of Princess Diana, television swept the nation up in a tsunami of maudlin nostalgia for a wholly illusory loss of hope and innocence.
Dr John Cameron. 10 Howard Place, St Andrews.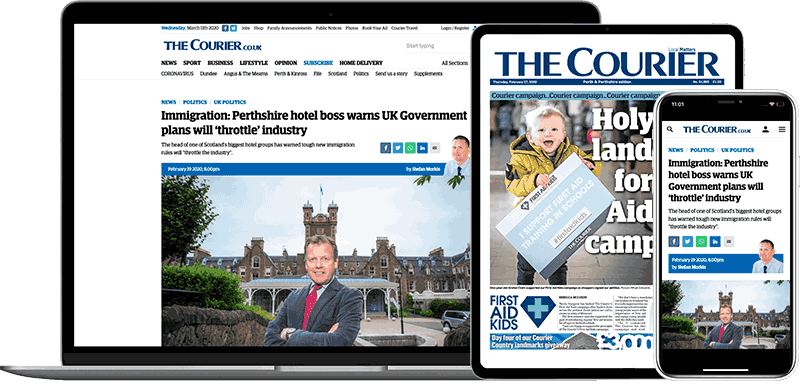 Help support quality local journalism … become a digital subscriber to The Courier
For as little as £5.99 a month you can access all of our content, including Premium articles.
Subscribe