 Sir, – The latest unemployment figures are a continuation of a long string of bad news spun into good news.
The media repeats the numbers as if they mean something the monthly jobs gains and the unemployment rate and ignores the numbers that show the continuing multi-year decline in employment opportunities while the economy is allegedly recovering.
The young cannot form households on the basis of part-time jobs, but pensioners take these jobs in order to provide the missing income on their savings from the Bank of England'szero interest rate policy, which is geared towards supporting the balance sheets of a handful of giant banks, whose executives control the Treasury and the Financial Conduct Authority.
With so many manufacturing and skilled jobs, such as software engineering, offshored to China and India, professional careers are disappearing in Britain.
The most lucrative jobs in the UK involve running City scams, lobbying for private interest groups, for which former and current members of the Commons, Lords and ex-Government ministers are preferred, and producing schemes for the enrichment of think-tank donors.
Most new jobs for July are in the usual categories familiar to us month after month, year after year.
They are domestic service jobs, bar work, retail, driving, warehousing, finance, insurance, the care sector and fast-food outlets.
We have nothing to export in order to pay for massive imports.
With scant growth in family incomes, as savings are drawn down and credit used up, even the sales part of the economy will falter.
Clearly, this is not an economy that has a future.
But you would never know that from listening to the financial media.
The deplorable condition of the UK economy should be front-page news.
Alan Hinnrichs. 2 Gillespie Terrace, Dundee.
SNP should get priorities right
Sir, – May I respond to Ken Clark's letter (August 7) in which he makes the unsubstantiated assumptions commonly associated with nationalists.
It is not the case that those opposed to nationalism contribute to putting down Scotland.
It is simply the case that the nationalists have never presented a cogent case for the long-term benefit that Scotland would achieve from being independent from the UK.
It is my assertion that the reason is because there is no case to present, other than historical grievances.
Mr Clark refers to our Nordic cousins as being a parallel for Scotland's potential as an independent state, forgetting to mention that the tax burden on their population is far higher than the UK.
Our Nordic cousins are mature nation states, unlike Scotland which would be a newly independent country in a global economy and as such has more in common with the experiences of those countries of Central Europe that are struggling to provide any reasonable living standards.
As an example, perhaps Mr Clark might explain why there are a reported 500,000 Polish citizens now living and working in the UK.
The SNP has been so busy playing juvenile political games and focusing on constitutional divisiveness that it has had no time to perform in its primary role, which is to improve the infrastructure of education, business development and health for the future benefit of the indigenous population of Scotland.
Derek Farmer. Knightsward Farm, Anstruther.
Green gospel halts progress
Sir, – In his concern for the environment, Alan Hinnrichs (August 12) ignores the needs of the developing world, insupport of which this country has committed to invest 0.7% of its GDP every year. This is the highest foreign aid level per capita of any country in the world.
He would be naiveto imagine this aid did not go toward the building of essential power stations, fuelled by coal.
The recipients of this UK aid are not bound to restrict CO2 emissions, or any other emissions for that matter.
Mr Hinnrichs should perhaps get a grip on reality. In the marchforward to a worldwhere poverty can be eliminated, the considerations with which he is obsessed are obstructive and irrelevant.
Malcolm Parkin. 15 Gamekeepers Road, Kinnesswood, Kinross.
UK benefits from immigrant wave
Sir, – We were struck by the shrill headlines lamenting the fact that the number of EU migrants working in the UK now tops two million.
There are around 2.2 million UK citizens living and working in the rest of the EU with just over one million British peopleliving in Spain and 329,000 in Ireland.
Of those from the rest of the EU living here, a mere 1.2% are not economically active, a miniscule number.
According to University College London, between 2001 and 2011, EU migrants made an estimated net contribution of £20 billion to the UK economy as they tend to be younger and more economically active than our own workforce, pay more in taxes and receive less in benefits.
Unemployed Britons in the EU are drawing more in benefits and allowances in wealthier EU countries than their nationals are claiming in the UK.
Four times as many Britons obtain unemployment benefits in Germany as Germans do in the UK, while the number of jobless Britons receiving benefits in Ireland exceeds their Irish counterparts in the UK by a rate of five to one.
The figures for nationals of Eastern European countries drawing Jobseeker's Allowance in the UK remain modest, despite outcries about benefits tourism.
There are only about 1,000 Romanians and 500 Bulgarians, for example, drawing Jobseeker's Allowance in Britain.
Those from the EU who have made the UK their home make an overwhelmingly positive contribution and it is good to sometimes highlight the facts and dispel the myths behind this.
Derek Hammersley. Chairman, European Movement in Scotland, 2 Walker Street, Edinburgh.
Britain must tighten borders
Sir, – I am unimpressed by the latest announcement by this Government to crack down on employers who hire illegal immigrants.
The regions of this country have been broken by immigration.
This announcement seems to be the Government's latest sticking plaster on the immigrant crisis fuelled by events in Calais. If we had proper border controls there would be no need for this action. We should use the army.
Gordon Kennedy. 117 Simpson Square, Perth.
Benefits of dog ownership
Sir, – I read with interest the response by Mr McLaren of Bankfoot (August 13) to my letter regarding man's best friend. I absolutely agree that dog owners have a responsibility to ensure that their pets are well trained and well behaved.
The problems of leaving dog mess is being addressed. It has by no means been eradicated but it is improving and with diligence will continue to do so.
As for dangerous dogs,I think the law of the land still prosecutes, quite rightly, irresponsible owners and puts down dangerous animals. There will always be the exception to the rule. My point in writing my original letter was not to advocate that dogs should be off the lead to run amok in all places but really a plea to Dundee Council to continue to allow us to use that small piece of land near the tip at Riverside to safely exercise our dogs as we choose. Some choose to keep their dogs on leads, others choose to let their dogs run lead free.
Mr McLaren felt I had painted an idealistic view of dog ownership. I don't own Millie any more than a lady I recently met at the Riverside walk owned her temporary companion. She was looking after the dog for a friend who was away on holiday.
Recently this lady's daughter had received her exam results which were such that she knew she would not get a place in her chosen university. The young girl rushed to her room to sob.
Her mother later found her sobbing with the resident dog by her side, paw on shoulder.
Idealistic? I rest my case.
Barbara Sturrock. 12 Invergowrie Drive, Dundee.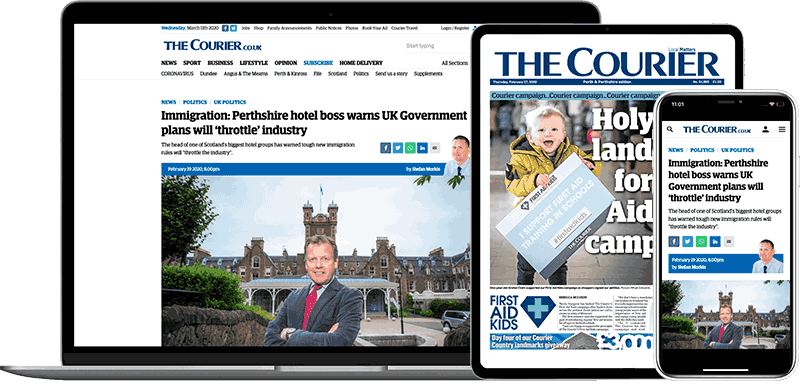 Help support quality local journalism … become a digital subscriber to The Courier
For as little as £5.99 a month you can access all of our content, including Premium articles.
Subscribe