 Sir,- As we look towards the Holyrood elections this May, hundreds of young people across Scotland have been delivering a national call to action to politicians in their local constituencies, telling their own personal stories about how youth work has made a difference to their life.
We would like to thank the local MPs and MSPs who have been involved in our campaign and for their interest andsupport for local youth work services.
We believe if the attainment gap is tobe closed for those most at risk from under-achievement then a partnership between formal education and youth work at local level is essential.
This would ensure a mix of learning styles and opportunities are available both inside and outside of school.
This requires strategic investment and a greater policy emphasis on the value that youth work activity brings to young people and society.
The youth work sector works with around 380,000 young people each week and has a key and valuable contribution to make.
Youth work needs financial investment.
The sector isexperiencing a decline in core and project funding, and cycles of short-term funding make it difficult to plan and sustainservices.
YouthLink Scotland members tell uspoliticians and otherprofessionals must place more value on youth work.
If we are really going to tackle the educational attainment gap then we need to realise that not all young people respond to formal education, they need another path, another approach that engages them and keeps them on their learning journey.
A solid partnership with formal education would ensure all our young people can learn in a way that inspires them.
Jim Sweeney. Chief Executive, YouthLink Scotland, Rosebery House, 9 Haymarket Terrace, Edinburgh.
Stop using the NHS as a football
Sir,- It is surely someindication of panic when we have three letters attacking the SNP in a single letters' page (The Courier, January 7) and yet another talking of "a one-party country".
Dr John Camerontalks down our NHS describing it as inefficient, monolithic, decrepit and inflexible, and goes further inpainting NHS doctorsas being money-hungry militants only concerned with pay.
I confess this is far from my own view ofthe NHS and I resent it being abused for purely political purposes.
Many global surveys show our NHS as being one of the most efficient health services in the world, although it would certainly benefit from more generous funding.
I do recognise thatas a Tory supporterDr Cameron may feel obliged to argue for his political beliefs, butdoes he really have to denigrate our NHSand its employees in order to do this?
Another Torysupporter, MalcolmRedfern, attacks the NHSby talking of unmetA&E targets, whichdoes seem a bit unfair when one considersthat the target is 98%of patients waiting less than four hours fortreatment, and inMarch 2015 the number of patients waiting less than four hours was 92.2%.
Is this 92.2% adreadful failure, anddoes this justify scapegoating the NHS inorder to attack theSNP?
As one whoremembers a timebefore the NHS was formed I see it as a national treasure and I believe this would be the view of the majority of our citizens.
To see it used as apolitical football I find distressing.
George White. 2 Cupar Road, Auchtermuchty.
Corbyn playing the long game
Sir,- Was theamount of time Labour leader Jeremy Corbyn took over his shadow cabinet reshuffle a signof weakness or cooldeliberation (TheCourier, January 7)?
It is important torecognise the delicate balancing act he faceson an almost daily basis.
Had he gone for acomplete purge ofthose colleagues whodisagreed with him, he could have split hisparty even further.
Had he done nothing, he would have been accused of ignoring the gathering storm behind him, and split his party further and he would have split his partyirrevocably if he wasseen to be guilty ofpetulance or vindictiveness toward his shadow foreign spokesman Hilary Benn.
It is quite obvious Mr Corbyn has decided to play a long game.
It may be some time before he achievesabsolute shadowcabinet unity if sucha thing ever existed.
He still has a number of years to sort theproblem out.
In the meantime,there might be serious divisions in DavidCameron's Government over Europe, welfare reform and theConservativeleadership itself.
The Labour leader may come across as a slow operator in a dynamic, media-sensitive age, but dealing with a temperamental bodylike the Labour Party sometimes needs calm reflection.
He may well havegot the balance right in terms of taking forward the challenges of the rest of this decade.
Bob Taylor. 24 Shiel Court, Glenrothes.
Bypass will be good for Cupar
Sir,- I refer toyour story about the expansion of Cupar(The Courier, January 7).
May I reassure Cupar traders that a bypasswill make me return to the town.
One of the reasonsI rarely shop in Cupar,and haven't donesince the 1990s, is the excessive amount oftraffic, particularlycommercial through traffic, in the Bonnygate and Crossgate.
Laurie Richards. 100 Crail Road, Cellardyke.
Denigrating generalisations
Sir,- Thank youvery much for publishing Rev Dr John Cameron's latest letter (December 31).
In his denigratinggeneralisation, nationalist governments tend to become "tyranny inpractice" and lackcredible support.
Authoritariangovernments havebeen of all politicalpersuasions.
He ignores the fact that solidly democratic countries like Denmark, Finland, New Zealand and Sweden have single-chamber parliaments in his attempts to ascribe totalitarian communist aspirations to Donald Dewar.
There are plenty of substantial criticisms of the present ScottishGovernment that should be made.
I find it sad DrCameron mentionsthese only in passing, preferring it seems to jeer and smear.
Gordon Dilworth. 20 Baledmund Road, Moulin, Pitlochry.
Salmond doing what he does best
Sir,- It is good to hear Alex Salmond will shoot from the hip on his new LBC Radio programme.
Always good to stick to doing what one does best.
Malcolm Parkin. 15 Gamekeepers Road, Kinnesswood, Kinross.
Kezia's proposal not the answer
Sir,- Kezia Dugdale's proposal that £3,000of taxpayers' money should be given to first-time home buyers is typical of left-wing thought.
If houses are too expensive for young people there are three solutions prevent population growth, build more houses or deter buy-to-let purchasers.
I would recommend looking seriously ateach through reducing immigration, allowing more housing development andtaxing landlords more severely.
Buying a house and then renting it to people who would have liked to buy it had it not been pushed beyond their grasp by the more wealthy buy-to-let investor is an ethically-dubious way of making money, taking away from the overall good of society rather than contributing to it. Ms Dugdale instead goes for the obvious solution to the advocates of big government give people money.
This will just keep property prices at a problematic level and isa classic example of the left doing what feels good, rather than what does good.
Richard Lucas. 11 Broomyknowe, Colinton.
A message from above in the rain
Sir,- We're all fedup with the rain andno wonder, for it seems as if it will never end.
It brings one thing home to us, though, that we can't defeat nature.
Could the presentdeluge be one of God's ways of letting us know he is invincible for all time?
Mrs S. Watt. 15 Hayston Terrace, Dundee.
Our education standards woes
Sir,- Reports state every child in England will be expected to know their times tables by heart by age 11.
This is described as a tough test that will include the 12 times table.
Is this supposedto be aspirational?
How far haveeducation standards fallen?
I'm 76 and my classmates and I in Edinburgh knewour tables by the age of seven.
When we were 11 we had begun to learn algebra, trigonometry and geometry.
Tables and sums are arithmetic, but nowadays are conflated with maths.
Also by the age of 11we had to read designated books, including authors such as Robert Louis Stevenson and John Buchan.
At 12 we startedLatin, which was invaluable as the basisof a great many European languages.
In Scotland our education standards have fallen behindthose in England andwe have an education secretary whose graspof grammar is woeful and who I doubt would make a satisfactory classroom assistant.
Donald Lewis. Pine Cottage, Beech Hill, Gifford, East Lothian.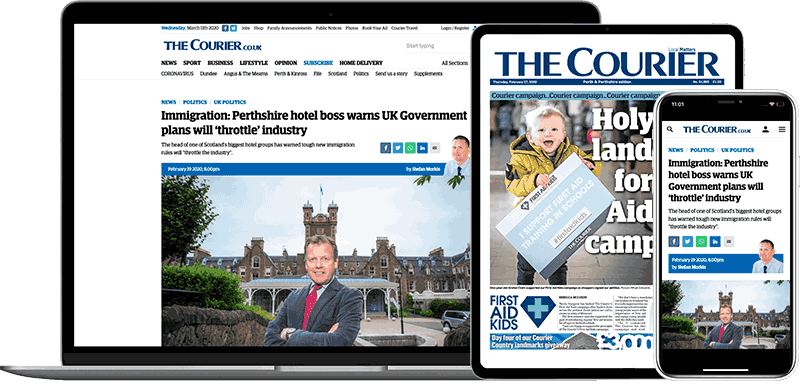 Help support quality local journalism … become a digital subscriber to The Courier
For as little as £5.99 a month you can access all of our content, including Premium articles.
Subscribe