 Sir, – All will share Richard Clark's pleasure at the Forth Road Bridge reopening two weeks early (December 26).
Hopefully not so many will join in the leap of faith that sees himcrediting the Nationalist Government with the hard work of engineers who completed the first phase of the repairssuccessfully.
This is the same Scottish Government that, all the evidence suggests, chose to ignore warnings from civil engineers over the risks in the bridge's structure as preventative strengthening work was not prioritised.
Mr Clark notes opinion polls predict more than half of voters will support the SNP next May, so ignoring the practical shortcomings of their approach to government with ever more apparent failings across critical public services.
The SNP's vote-winning universalbenefits and grievance rhetoric appear tocontinue to serve them well.
Mr Clark concludes we should trust Scottish nationalism with all the powers that matter to Scotland.
To do so would be to turn a blind eye tonot only the mismanagement of this mostcritical connection in our national infrastructure, but also bungledreorganisation of Police Scotland, an under-resourced NHSScotland and an education system threatened by the focus of recent Scottish budget cuts.
Keith Howell. White Moss, West Linton.
Repair regime was neglected
Sir, – Exactly what planet is Richard Clark living on when hemistakenly praises the SNP Government for "the speed andefficiency" of the work carried out to partially repair the Forth Bridge?
Surely the engineers responsible deserve the accolade.
But if the SNPGovernment hadsanctioned necessary repairs five years ago in 2010 then the cost and upset would have been considerably less.
The bridge is only open to cars, vans and buses but HGVs still have to take the long route which is costing the haulage industry millions. And I understand they will be denied crossing until at least the end of February.
Avril Simpson. Field Studio, Forfar.
Minister must shoulder blame
Sir, – There are eight trusses on the Forth Road Bridge. It had to be shut for 18 days to fix one of them but we now learn that the other seven are being repaired as "precautionary measures" while the bridge is open.
The only conclusion that can be drawn from this is that if this had been planned, the bridge would not have been shut at all, thus saving millions of pounds in lost business and emergency repair costs and huge upheaval to lives.
I hope this is pointed out in the Scottish Parliament to TransportMinister Derek Mackay and that he is forced to admit that this is the case. Somebody must be accountable for this.
Allan Sutherland. 1 Willow Row, Stonehaven.
Government failed in duty
Sir, – Before we rush to praise the Government for its performance on the Forth Road Bridge there are a few points we should consider.
Firstly, we have the engineers and workforce of the contractors to thank for the speedy re-opening of the bridge.
Secondly, the bridgeis only open to 90%of users.
We are told HGVs will not gain access for afurther six weeks.
That is a disaster for the local and national economy and will undoubtedly see many small businesses go to the wall.
There is not much to blow about there.
Lastly, had the government taken heed of the advice they were given eight years ago, wewould not be in thispredicament.
That is the action of a government so concentrated on grievance and a single goal of independence that it failed in its overarching duty togovern responsibly.
Alan Shepherd. Manor Street, Forfar.
Illogical defence of Empire
Sir, – Derek Farmer's defence of the British Empire (December 26) is entwined with his reactionary outlook, his conviction that the present economic order is just and political power is a prerogative exercised by the privileged few.
Mr Farmer says the UK should shed its sense of shame and take pride in the supposed legacy of stable governance we bequeathed to colonies.
He leaves the impression that there were no conquered peoples at all to administer, and the empire was nothing but exotic scenery populated by intrepid explorers and elaborately attired army officers.
Arguing that Britain's Empire was less bad than those run by the French or Dutch is a barrenexercise, no more than a competition to see which country can claim the morbid plaudit of having the fewest million deaths on its hands.
With a similar sense of misplaced pride, supporters of Nazism could claim that apolitical individuals, who happened not to be Jewish or disabled, were at a lesser risk of being imprisoned or executed in 1930sGermany than Russians living under Stalin.
This is not a goodreason for praising Nazi Germany. Yet this is exactly the same logic that Mr Farmer is appealing to. Thecommunist and fascist dictatorships of the 20th century were not novel developments.
They were indistinguishable from the19th century forms of imperialism thatpreceded them.
The British Empire was very much part of that system.
Alan Hinnrichs. 2 Gillespie Terrace, Dundee.
Overcoming barriers to work
Sir, – We share many of the concerns expressed by Neil Findlay MSP over the number of those young people withdisabilities accessing Modern Apprenticeships (MAs) (December 26).
Out of 25,000 starters on MA schemes last year, only 103 had a disability.
While we note issues around self-declaration, with a paltry 0.41% of MA starts recorded as having a disability, more needs to be done to help these young peopleas well as those withcare experience into employment.
In this respect the goal set by the Scottish Government to ensure MA starts from young people with a disability should equal the population average for 16 to 24-year-olds, currently 12.5%, by 2021 is to be welcomed. This is something wepreviously called for.
Likewise, it is good to see something being done for those with care experience, a quarterof whom becomeunemployed.
Statistics are finally being collected on those taking up MAs and atailored package of measures is beingexamined, including greater financial support and giving training providers a greater understanding of the needs of these young people.
The rewards of getting these young people, many of whom boast excellent skills, into work are worth it, withhigher loyalty andretention rates often demonstrated.
Having a disability or care experience should never be a barrier to a better working life. If we are to tackle inequality and deliver social justice, this group must clearly be a key priority.
The Scottish Children's Services Coalition. 2 Walker Street, Edinburgh.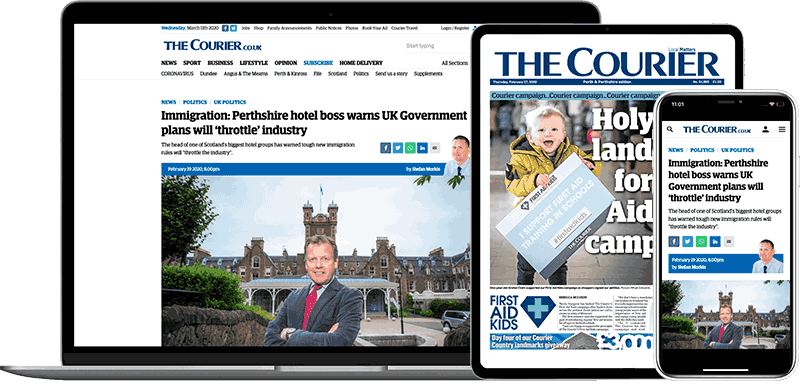 Help support quality local journalism … become a digital subscriber to The Courier
For as little as £5.99 a month you can access all of our content, including Premium articles.
Subscribe