 Sir, – I was dismayed when reading in The Courier that the closure of Longannet power station will cost the Scottish economy £48 million.
This is surely yet another reason for maintaining this facility.
If I was asked to suggest the best location for a non-nuclear power station, one which could easily provide power to Edinburgh in the east, Glasgow in the west, and to the heavily populated central belt in between, all areas with hefty electricity demands, then Longannet's position would surely come to mind.
The supposed reason for closing this facility is so-called transmission costs.
Why should these transmission charges be any more unfavourable for Longannet, in comparison, for example, with other generators who will now need to make up Longannet's massive contribution to power generation in Scotland?
It appears that if we close Longannet, we are closing a power station which could comfortably supply a large share of our power requirements for years to come.
John Shiels. 98 Tay Street, Newport-on-Tay.
New school site must be found
Sir, – The judgment quashing the Pipleand planning consent for a replacement Madras College in St Andrews demonstrates how badly Fife Council handled matters.
The entire process was botched from start to finish.
Had such incompetence and arrogance been committed by a private-sector organisation, those responsible would now be looking for new jobs.
While the desire for a new school is understandable, it cannot come at any price.
Those most vocal in support of Pipleand and critical of STEPAL have shown little or no understanding of the legal issues involved or the harm which would have arisen had building been allowed on a green belt site immediately adjacent to a hospital.
This may reflect the fact that those in favour of Pipeland tend to live far away from the site.
However, they should not expect others to live with things which they would not accept themselves.
At the Standards Commission hearing into Councillor Brian Thomson's misconduct last July he admitted that the North Haugh had been his preferred site for the new Madras.
His road-to-Damascus conversion to Pipeland only came about when he was selected as a Labour candidate.
If trust in the council is to be re-established, the location for the new Madras must start afresh.
Party politics should not feature. A genuine effort must be made to work with residents and local institutions to find the optimum solution for the people of north-east Fife.
JS Gamba. 35 Lamberton Place, St Andrews.
Budget punishes the poorest
Sir, – I have been forced to put pen to paper as regards George Osborne's Budget.
I was brought up to believe you take from the rich and give to the poor, not take from the poor, disadvantaged and disabled and give tax breaks to the rich.
This seems to have been Mr Osborne's attempt to balance the books in a country on a downward financial spiral.
By Mr Osborne's calculations, by the time the national debt is cleared in 2040 we will all be long dead. In business, unlike political life it seems, you cannot pay off your debts when you are bankrupt.
Beverley J. Burns. Beverley Hill, Petterden, Tealing.
Time to leave Europe behind
Sir, – In 1980, the few nations in the EEC enjoyed 26% of world GDP.
Currently, with many more members, this has plummeted to a mere 18%.
Three years from now it will reach an almost trivial 15%. As a friend of mine recently remarked: "Why are we hitching our wagon to a dying horse?"
Robert Stark. Mill Street, Tillicoultry.
Adhere to laws on lighting
Sir, – I am going to write to the police in order to find out why it is that 40% of vehicles travelling between Arbroath and Forfar via Letham during lighting up times are simply not lighting up.
That is, only one headlight working, which is often only the offside, making it appear like a motorcycle is approaching. Worse still, over a period of two weeks I noticed it was the same vehicles without proper lighting.
There is a Halfords in Arbroath who will supply and also fit a new bulb if required, so no excuse.
Also there is no excuse for driving with fog lights as well as headlights in good visibility, or, worse still, with parking lights only.
If you need lights on, it is headlights.
Geoff Bray. 5 Heather Croft, Letham.
Give pupils chance to shine
Sir, – The SNP's philosophy is simple: every statistical variation indicates a sinister injustice, and "equality" must be restored by state intervention.
Young people from less wealthy back- grounds are under-represented at university, so the SNP's instinctive reaction is to rig the system, thereby discriminating against other students because of their average family background, in the name of "fairness".
How much of this deficit is actually the result of the non-uniform distribution of academic ability?
More intelligent people tend to earn more money. There is a significant genetic influence on intelligence.
It follows logically that academic ability, that correlates very strongly with intelligence, will tend to be higher among young people from wealthier backgrounds.
Perhaps, even allowing for this, there could still be some disadvantage caused by poor schooling, lack of peer and family ambition.
The solution to this is to offer rigorous, challenging schooling to academically able children from all backgrounds, through a grammar school system.
Instead of accepting that some young people will underachieve, take steps to give them every opportunity to flourish and fulfil their potential.
The message to young people from less wealthy backgrounds should be: "We are going to help you succeed – you can do it", not: "We realise you can't do it, so we'll lower the standard for you."
What happens when it emerges that poorer students get lower degree classifications at the end of their university courses? Rig the system here as well? And then the job market?
Richard Lucas. 11 Broomyknowe, Colinton, Edinburgh.
Poor let down by nationalists
Sir, – Local authority body, Cosla's view that inequality is nearing Third World levels in Scotland is a damning indictment on the centralising nature of the SNP Government (March 21).
As we all know, local authorities have faced fines for not signing up to the SNP's lengthy council-tax freeze.
The less well-off in society are the heaviest users of council services, often depending on local government as a safety net and so have been the most let down by Scottish central government's approach.
Nicola Sturgeon talks anti-austerity but her party's highly-controlling approach to local government delivers the opposite.
As a direct consequence of nine years of SNP policy, councils don't have the ability to provide essential services to those in most need.
Ms Sturgeon has recently confirmed she won't deliver on promises of a local taxation system that's fit for purpose, based on ability to pay and so the short to medium-term outlook for much-needed improvement in local government finances appears far from positive.
Martin Redfern. 4 Royal Circus, Edinburgh.
Improve human cleanliness
Sir, – We have been warned to expect an explosion in seagull numbers this year because of the mild winter.
This has led to calls for a cull of gulls by those offended by their scavenging.
We can deter gulls by improving human behaviour. Too often I see overflowing wheelie bins left on streets overnight. This is like a free meal to gulls.
We should modify our own habits before considering killing birds.
Charles Wilson. King's Road, Rosyth.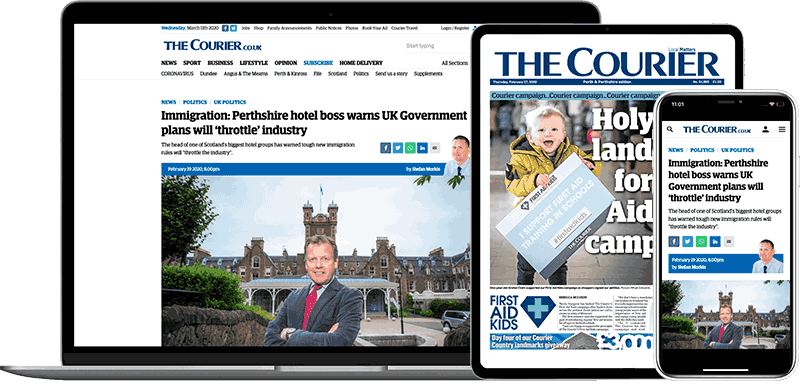 Help support quality local journalism … become a digital subscriber to The Courier
For as little as £5.99 a month you can access all of our content, including Premium articles.
Subscribe