 Sir, – As I sat down to read Monday's letters page, the names of two regular critics of both Alex Salmond and the SNP caught my eye.
Martin Redfern from Edinburgh castigated Alex Salmond andsuggested he gets his party in order.
Having a go at politicians is fine because they are fair game but Mr Redfern seems to have overlooked the fact that the SNP is no longer dancing to Alex Salmond's tune as it now takes orders from Nicola Sturgeon and has done so for quite some time.
Derek Farmer from Fife, on the other hand, reserves his criticism for the current First Minister and castigates herinitiative to talk peace prospects through negotiations with the women of Syria as deluded.
He questions the level of expertise of the Scottish negotiators and suggests that any initiative would be better served being pursued under the wider umbrella of UK policy. But UK policy is to direct air strikes which, according to top military commanders, will achieve little or nothing except more damage to lives and property.
Nicola Sturgeon is talking to the UN about bringing the women of Syria on board in an effort to bring peace to the region.
She does not profess to be an expert in the matter which is why she is seeking proper training for the operatives who may be asked to undertake what would be a very difficult task.
Serious commentators on Middle Easternaffairs have pointed out that a political settlement will eventually have tobe negotiated to secure peace.
Perhaps Mr Farmer should consider Churchill's approach of jaw-jaw instead of war-war and pause for thought before insulting the First Minister at every opportunity.
Allan MacDougall. 37 Forth Park, Bridge of Allan.
Mr Salmond is shy on answers
Sir, – In his column on Monday, Alex Salmond offered his inevitablecriticism of his political opponents.
He claimed that bombing Syria will not work. How can he say that when in the first wave of bombing a number of oil wells have been hit, weakening the IS financial situation?
As usual he is quickto criticise but neverdoes he offer his solution on how to deal with the IS situation. At least by bombing specific targets, we can halt theirprogress, as was done in Iraq.
He asked what is to be done and gave his answer as "community cohesion". What is that supposed to mean? Will this stop the progress of IS and keep our streets safe? It would appear Mr Salmond is running out of things to say.
Mev Braid. Kinkell Avenue, Glenrothes.
SNP wanting on Syria solutions
Sir, – I refer to Richard Clark's and George White's letters published on December 4.
Alex Salmond invites sniping simply because of his blustering presentation of his superior wisdom, intellect and prognostication that is later found to be completely ill-conceived. It is also inconceivable that every one of the SNP MPs,supposedly representing constituency opinion, voted against military action in Syria. This would mean every Scottish constituency is strongly opposed to UK Government policy.
Is that truly the case, or were these gullible MPs obeying the diktats of Mr Salmond and Ms Sturgeon who offered no constructive alternative courses of action while bemoaning the civilian refugee crisis?
Add that to the tasteless comments about Hilary Benn and it is no wonder that Mr Salmond attracts criticism, except from George White and Richard Clark who will forgive everything so long as nationalism is being promoted.
Maybe they have never heard about the effects of the Arab Spring and the social divisions that so often accrue from the break-up of nationstates.
Derek Farmer. Knightsward Farm, Anstruther.
Politics before economics?
Sir, – The SNP say that the vote in Westminster to bomb Syria didnot give the UKGovernment the option to deploy planes from RAF Lossiemouth.
May I assume that it is also SNP policy that the benefits enjoyed by the local economy as a result of having an RAF station in their area are returned to Westminster?
Or are SNP politics more important than economics?
Garry Barnett. The Garden House, Campsie Hill, Guildtown.
Marginal language
Sir, – I wonder how many SNP members at Holyrood and Westminster there are who, at their own expense are learning how to read, write and count in Gaelic in order to communicate with Police Scotland when the force becomes fluent in the language?
It may be of interest to know that compared to the number of people who speak Gaelic there are more than twice as many people in Scotland whose first language originates on the sub-continent of India and nearly 50% more people in Scotland whose first language is Polish.
Perhaps steps should be taken to accommodate these people or have they all had the good sense to learn English?
A A Bullions. 6 Glencairn Crescent, Leven.
Complex sub-script of Syria
Sir, – Only last week we were hearing how poor the country is and how we will all have to tighten our belts to get the books back into surplus, although under the current stewardship at Westminster that looks increasing unlikely to ever happen.
But suddenly that same Parliament has found the millions required to carry out what could be years of bombings in Syria with all the civilian casualties that will go with it.
As Scotland is dragged into another war we see yet again the puffed-out chests of those in power pretending our depleted empire can still hold world influence, while the reality is that the UK simply does whatever Washington tells it including hosting their nuclear warhead.
When will they learn to stay out of these Middle Eastern countries and stop attracting extremism to our shores?
The bigger picture is more complex than we hear about in the mainstream. Putin and his many powerful allies know the script and look set to change the outcome this time.
Richard Clark. Craigton, Monikie.
Taste of their own medicine
Sir, – The SNP were up in arms and not very chuffed to put it mildly when David Cameron called those who opposed the bombing of IS in Syria as " terrorist sympathisers ".
Now they will know what those who had the temerity to vote no in the referendum in our area felt when our local SNP Councillor Bill Duff stated that "all those who have voted no were second-class citizens".
The words sauce, goose and gander spring to mind. My advice to the SNP is if they cannot take criticism, then they should not dish it out.
John M Page. 8 Panter Crescent, Montrose.
Angus protest meeting plans
Sir, – With reference to your report, Petition for lifeline services handed over (December 3) although some rather half-hearted assurances have been given by Angus Council officials on some of our concerns, it is still the case that there have been noassurances regarding tenant-support officers.
This is an unacceptable situation, both for us sheltered housingresidents and for these dedicated workers who do not know if they'll have a job.
We have had three meetings of folk fromdifferent sheltered housing complexes in Angus: Letham, Edzell and Arbroath.
As somebody very much involved in all of this, I can only say Councillor David Fairweather's claim to have been "involved from the start" was news to me.
We have already had one protest outside an Angus Council meeting and the decision to go ahead with a secondprotest outside the council chambers today at1.30pm was taken at our second meeting andconfirmed at our third meeting in Arbroath.
Dave Coull. 7 Inglis Court, Edzell.
Atheism cause of suffering
Sir, – Your correspondent E Mitchell (December 7) reminded me of the politician who wrote in the margin of his notes for a speech, "argument weak here shout louder".
The writer statescategorically that "weall know" certain things mainly that there is no afterlife.
Such blinkered assumptions showthat he/she hasswallowed the myth of materialistic secularism.
We are free to adopt such a faith but with the realisation that atheism has been the cause of immense sufferingand wickedness in the world.
In asserting that "the current state of the world is of our own making", your correspondentcontradicts his/her own opinion that Christianity has been the cause of the world's problems.
When people doterrible things in the name of Christianity, that is not God's fault.
It is the abuse ofChristianity that is at fault, in the same way as the abuse of science has caused trouble.
Science has given us many benefits but italso enabled thedevelopment of Napalm and do we blamescience, or the waypeople use it?
David J Randall. 5 Applehill Gardens, Wellbank, Broughty Ferry.
Limitations of science
Sir, – Why doesmankind find itnecessary to believe in any particular faith, even that of non-belief?
The evolution of religious belief from original introspective thought to social contrivanceseems to cause mainly aggressive behaviour.
However, everyone has the right to believe, or not, in God: that which is beyond all human understanding.
As to the question of whether there is lifeafter death, this is for individual consciousness and cannot be answered by science.
Kenneth Miln. 22 Fothringham Drive, Monifieth.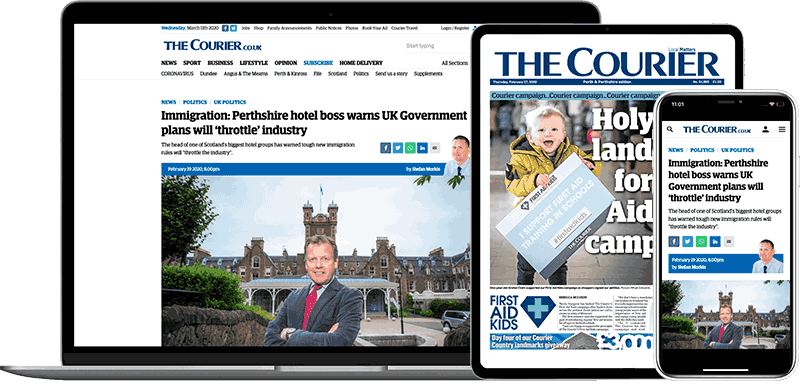 Help support quality local journalism … become a digital subscriber to The Courier
For as little as £5.99 a month you can access all of our content, including Premium articles.
Subscribe