 Sir, More than 80% of the officials who would have to implement the named persons scheme don't want it but the SNP Government disregards them and parents completely.
The premise of named persons is to ensure the wellbeing of every child in Scotland.
Consider this: the majority of children are loved and believe 100% that their parents want the very best for them and will do all in their power to achieve that.
Named persons shatters that belief for every child in Scotland.
Children are already being told in propaganda that someone, not their parents, is better able to know what is "right" for them and every other child.
Children need certainty most children already have certainty that their parents will be their number one guardian.
Sadly, there are children who do not have that certainty and it is those children who need support from outside the family.
This madness will cause distress, confusion, uncertainty to every child and seriously damage relationships between parents, children and professionals.
Consultation on named persons ended six days before the 2015 general election.
Not a coincidence, I think.
Wake up, this is Scotland, not Germany in the '30s.
Susan Fleming East Gilston Mains Leven
Trust needs to be transparent
Sir, Congratulations to Bryce Sutherland for organising a successful Keep Fife Libraries Open meeting in Glenrothes on Tuesday.
Local MSP Tricia Marwick and MP Peter Grant were present to hear details of the campaign and the way forward. It was clear that Fife Cultural Trust's consultation exercise on library closures has been at best token and at worst a complete shambles.
It is time for its chairman, Stuart Cross, and chief executive, Heather Stuart, to face the public and answer a whole series of questions.
They include why the 16 libraries scheduled for either closure or change were chosen.
They need to tell us whether any social factors were taken into account in the decision and what alternative facilities will be available if closures do go ahead.
Fife Charitable Trust is a company limited by guarantee and has charitable status.
It meets behind closed doors five or six times a year.
Its members include four councillors (in a personal capacity), a senior official of VisitScotland, a senior official who works for the Commissioner for Young People, a former MSP and leader of Fife Council and a former head of finance at Fife Council.
There is no reason to doubt the integrity or ability of these people.
There is every reason to cast doubt on the transparency of their decisions.
Bryce Sutherland and his colleagues should be pressing for the trust to be as open as possible.
In turn, the trust and Fife Council have a duty to ensure the consultation period is extended as long as is necessary and that all the facts are placed before an anxious public.
Bob Taylor, Shiel Court, Glenrothes.
Over-generous to refugees
Sir, I watched with disbelief the Somali refugees' journey from being rescued off the coast of Africa, to being installed in a property rent-free in the London area and with £36 spending money.
This was shown on ITN news.
What was not shown was social services installing a fridge/freezer, television, new bed and other items considered necessary for survival.
This is sending out the wrong message to would-be asylum seekers.
When you compare this to a young person trying to set up home here, they would have to be waiting years on a council housing list.
Also there would be no furnishings and fittings from social services.
When you consider you won't get a flat to rent in London area for less than £200 a week that the Somalian is receiving, the young Scot would get perhaps a maximum of £68 per week.
It is no wonder there is a refugee crisis and a feeling of resentment from many people in this country. Neither do situations like this do anything for social integration.
T Gardner, Nicoll Building, Main Street, Bankfoot.
Scotland's not so small and poor
Sir, Once again Derek Farmer takes to your letters page (August 4) to inform Scots of how small and poor we are.
He airily dismisses Business for Scotland, an organisation with 3,800 associate and stakeholder members, whose goal is shared prosperity for the people of Scotland.
A laudable ambition you would think.
Mr Farmer, however, takes issue with them as it is, in his estimation, "apparent that this organisation is populated by SNP followers".
As usual, Mr Farmer erroneously equates support for independence as purely an SNP goal.
He goes on to state that "there are very many examples in Europe of small economies getting into trouble and losing their younger generations".
Mr Farmer names no names and blithely ignores the very many examples of Scotland-sized countries in Europe that do not follow the path he asks us to fear our Nordic cousins being prime examples.
Mr Farmer's letter is his usual composition of anti-Salmond, anti-SNP, pro-Westminster rhetoric.
SNP bad, Tory good.
As a self-confessed Conservative supporter, we should expect no less.
This support extends, naturally, to George Osborne's bullying attitude towards our currency.
His scaremongering regarding Scotland's economy is another staple ingredient that only accepts evidence supporting his own prejudices.
Unfortunately for Mr Farmer and all those who question Scotland's true worth, the credit agency Standard & Poor stated only last year that: "Even excluding North Sea output and calculating per capita GDP only by looking at onshore income, Scotland would qualify for our highest economic assessment."
The exact position stated by the Yes camp throughout the debate and since repeated by our First Minister.
This same agency has since warned the UK Government that it would withdraw, as others have, our AAA rating should the UK leave the EU.
So much for "Better Together" the most dishonest of titles, as this year has demonstrated, which rings with Orwellian tones.
Ken Clark, King Street, Broughty Ferry.
Vindictiveness drives austerity
Sir, Chancellor George Osborne's sell off of the first tranche of UK Government shares in the Royal Bank of Scotland could not have been more poorly timed (August 5).
The predicted £1 billion loss on the price paid for the stake when the bank was bailed out demonstrates that we, the taxpayer, have been ridiculously short-changed.
This is especially troubling given the fact that six months ago the shares traded at more than 400p, whereas at their sale they were traded at 330p.
While the Chancellor aims to promote "financial stability" through this sale, it is difficult to see what sort of instability required it to be done so quickly, with the loss of £1bn for a 5% holding.
The Chancellor must also justify why, given his current austerity agenda, he is able to so easily write off such a huge amount of money, equivalent to a twelfth of his proposed welfare cuts.
With the sell-off set against a background of cuts driving hundreds of thousands of children into poverty, it is clear austerity is not being driven by necessity but by a cruel and vindictive political philosophy.
Alex Orr. Flat 2, 77 Leamington Terrace, Edinburgh.
Maths exam alarm bells
Sir, Nobody in Scotland could have been surprised to hear that the pass mark for the Higher Mathematics exam has been significantly reduced (August 5).
My normally unflappable daughter took the paper and within a few minutes of the exam ending had raised her concerns with me.
Before school bells rang to signal the end of the school day, mathematics teachers right across Scotland were also raising concerns.
Like myself, parents across the country were worried.
So while the reported moderation of the grading was clearly needed, what is of concern is that it took 11 long weeks for the Scottish Government to concede that there was even a problem with the paper.
Indeed, Nicola Sturgeon claimed in Holyrood that daring to question the integrity of the exam was "deeply irresponsible" and did a "great disservice to young people and teachers".
Surely, rather than adopting this defensive position, the SNP Government could have offered support to the same young people and teachers by admitting at the earliest possible opportunity that there was a problem?
Dr Scott Arthur. 27 Buckstone Gardens, Edinburgh.
Questions over Health Lottery
Sir, With yet another new game being launched by the Health Lottery next Thursday, I have to raise my concerns about their tactics.
There are now more games than the National Lottery.
Although cheaper to play and launched to help good causes, I have to question their motives.
I feel they are being irresponsible by adding more games and by advertising with highly visible and aggressive marketing techniques their adverts are everywhere.
I joined up online and within one week I was sent six emails encouraging me to buy more tickets.
With as many as 350,000 people in the UK struggling with an addiction to gambling are they not being irresponsible to those who have such a problem?
Do we really need five games a week from the Health Lottery?
I think it is time they got back to basics otherwise people may see through all those extra games as greed.
Gordon Kennedy. 117 Simpson Square, Perth.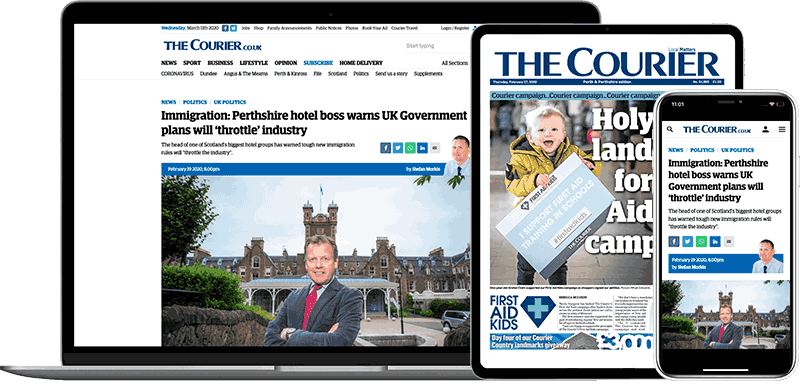 Help support quality local journalism … become a digital subscriber to The Courier
For as little as £5.99 a month you can access all of our content, including Premium articles.
Subscribe