 Sir, I was interested to hear Gordon Brown join in the latest of many unionist scare stories. This time it was on pensions with Mr Brown implying that independence will mean Scots pensioners will be worse off.
Mr Brown has some nerve lecturing anyone on the value of pensions. His decision in 1997 to impose a stealth tax on private pensions led to them being devalued anywhere between £100 – £150 billion.
This tax led to a massive shortfall in many pension schemes and saw most companies close their final salary schemes.
In his 1999 budget Mr Brown raised the state pension by a derisory 75p.
These two policies forced many pensioners into poverty and robbed them of their savings.
It is hard to think of anyone other than, say, Robert Maxwell who is less qualified to speak on pensions than Mr Brown. The fact is the UK Government is increasing the state pension age at a time when Scots' life expectancy is going backwards in many working class areas. They are doing this because the south of England has seen life expectancy rise.
Under independence the state pension would be higher and the retirement age lower.
Alan Hinnrichs. 2 Gillespie Terrace, Dundee.
Views weren't 'preposterous'
Sir, Rarely have I heard such arrogant comments as those made by John Swinney at the weekend, when he decided to publicly rubbish the views of the head of the European Commission on the subject of Scotland's possibilities to join the EU as an independent nation state.
According to Mr Swinney, the views of the head of the EC are "preposterous" and irrelevant since he will reach the end of his appointed term prior to the referendum vote.
Instead, Mr Swinney focuses on the view of an academic most people have probably never heard of, and who has no influence and no responsibility for any mechanism that could impede or assist Scotland in the event of a "Yes" vote, simply because this person's view supports the SNP dream.
Mr Barroso gave his views from his position as head of the European Commission, not as a private unenfranchised EU citizen. Formerly, he was also Prime Minister of Portugal, a country not dissimilar in size and economic profile to Scotland.
The one person coming out of this war of words looking as though he holds "preposterous" views is Mr Swinney himself.
Derek Farmer. Knightsward Farm, Anstruther.
They didn't disagree
Sir Dr Cameron (Letters, February 18) is mistaken in claiming that climate scientist Professor Mat Collins has disagreed with Met Office chief scientist Julia Slingo about whether climate change led to recent storms.
This claim was made by a tabloid newspaper, and prompted Prof Collins and Dame Julia to issue a joint statement. They are in full agreement: the storms were caused by the shifting jet stream, which cannot be linked to climate change on the basis of current knowledge, but the massive rainfall accompanying the storms is entirely consistent with predictions that climate change will mean storms produce more rain.
The newspaper linked separate statements about different phenomena and pretended they contradicted each other. Dr Cameron is also being unfair in saying Dame Julia predicted dryer than usual conditions. The Met Office actually stated a 25% probability of very dry conditions and a 15% probability that it would be very wet. There is a difference between a statement of probability and a forecast that a certain outcome will happen.
James Christie. 2 Dryburgh Crescent, Perth.
Is it a slightly blurred vision?
Sir, We appear to be getting a lot of mixed messages regarding the effectiveness of the new single police force.
On the one hand there are articles about the lack of interaction between the new force and elected representatives with a lack of public consultation, yet in today's (February 17) Courier there is an article regarding the success of Police Scotland and how its formation is allowing officers to target local concerns more effectively.
It seems like only yesterday that we were reading how Tayside Police were consulting with the public in the formation of the policing plan to ensure service was tailored to local needs.
Then there were all the articles detailing how officers had been very successful in one operation or another as they pursued those matters of public concern. The senior officers quoted in the articles did not appear to harbour any concerns regarding Tayside Police's ability to react to public concerns and deal with those matters.
Was the information we were given regarding the success and effectiveness of Tayside Police over the years somewhat overstated given the improvements Police Scotland has, apparently, been able to make in so short a time?
Of course Police Scotland will be a roaring success, its political architects will ensure that it is. Tayside Police used to use the slogan "Tayside Police policing with vision". Perhaps our vision of Police Scotland is being slightly blurred by the amount of wool being pulled over our eyes?
Jim Fraser. Elm Street, Errol.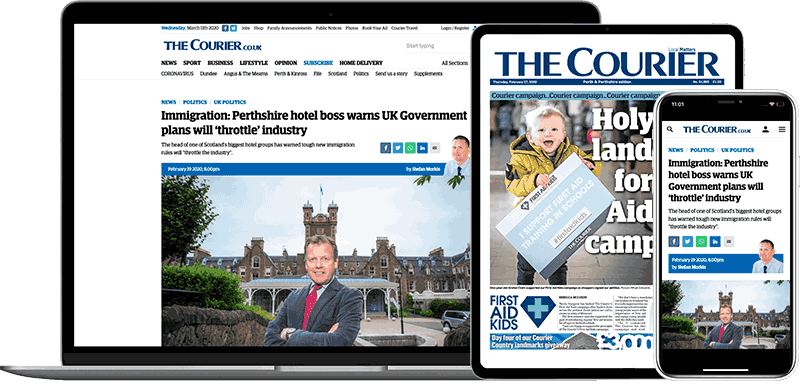 Help support quality local journalism … become a digital subscriber to The Courier
For as little as £5.99 a month you can access all of our content, including Premium articles.
Subscribe