 Sir,- I read Stephen Thompson's comments on Dundee United's recruitment policy last summer with interest and a fair degree of incredulity.
I presume after all that he both sanctioned and helped fund the cost of these signings.
The root cause of United's current perilous position is not this but is the ill conceived and hasty decision to sell two of our best players right at the end of last January's transfer window.
Results since then amply demonstrate the folly of this decision.
The effect on the morale of players, management and above all fans is plain to see.
Rather than lay blame at the previous management team, Stephen Thompson should take a look in the mirror, where he will see the reason for United's plight.
Roy Matthews. 26 Affleck Gardens, Monikie.
Don't blame the brightest pupils
Sir,- National testing in schools will measure not close the attainment gap.
How refreshing it would be to hear the SNP (or Labour for that matter) say anything about driving up standards in all schools, for all pupils.
High-performing pupils in good schools in relatively well-to-do areas must feel they are the bane of the SNP's life, because their success helps create the attainment gap.
If only they would not work so hard and be so clever, the SNP could claim victory in narrowing the dreaded gap.
The left assumes every statistical difference is the result of one or other of their two universal causes discrimination and poverty.
The reasons for lower academic performance in some areas are actually lower average intelligence, unstable and chaotic families, low valuing of education, negative peer pressure and schools disrupted by bad behaviour.
Steps to counter these factors are to be welcomed, but so are measures to lift standards in middle-of-the road schools and to accelerate the progress of the brightest, regardless of school.
Each of these benefits individuals and the nation.
The goal should be a highly-educated nation, not a uniformly mediocre one.
Richard Lucas. 11 Broomyknowe, Colinton, Edinburgh.
Excuses from the Chancellor
Sir,- George Osborne has moved to counter yet another likely setback for his grand economic plan by pointing out that international events which are beyond his control may be responsible for his failure to meet his targets yet again.
A similar situation befell the previous Government with the worldwide banking debacle but the Tories' election campaign at the time laid the blame for the nation's problems squarely but unfairly on the shoulders of Gordon Brown and his Cabinet.
The fact the Chancellor has failed to hit any of his economic targets throughout his time in office appears lost on the politically naive voters in certain parts of the UK and even the apparent success of reducing the level of unemployment has been achieved by a large doze of spin
based on changing the definition of a person regarded as being unemployed.
If wage growth had really begun to take off the inflation rate would have moved upwards too.
For his part, David Cameron has pushed on with his preparation for his in/out referendum over European Union membership by countering SNP protests about lack of consideration for Scottish interests, or for that matter the interests of any other part of the UK, by pointing out that Scotland recently voted to remain part of the UK.
Safely armed with a population majority of eight to one which England has over Scotland and the rest of the home nations he knows that he is untouchable for now.
He conned the Scottish people with that pre-election vow and continues to do so now.
But as Burns once wrote: "The best laid schemes of mice and men gang aft agley".
Allan MacDougall. 37 Forth Park, Bridge of Allan.
Trump creates jobs, not wind
Sir,- I could not believe the hypocrisy of Suzanne Kelly's rant against Donald Trump, accusing him of costing thousands of jobs in the windfarm industry.
I think she has been reading too many of Alex Salmond's fairy tales.
There never was going to be thousands of jobs.
At least Donald Trump has created jobs in the creation and running of his golf courses.
As for banning him from the UK, all he was commenting on was his policy for the USA, which is none of our business.
Bob Duncan. 110 Caesar Avenue, Carnoustie.
Hard choice for First Minister
Sir,- It is almost inconceivable, but has canny political operator Nicola Sturgeon made a tactical error?
Reversing the decision she took at the October SNP conference, and by bringing the independence debate to the fore in the SNP's campaign for May's Holyrood elections, Ms Sturgeon takes a gamble.
Yes, the SNP rides high in opinion polls.
They suggest as many as 10% of voters, though opposed to Ms Sturgeon's ambition to break-up the UK, could well vote SNP in the belief the party is competent in office.
If over the coming months the First Minister frightens away these crucially important voters with divisive rhetoric around another referendum during the next Holyrood term, she may just put at risk the significant majority she so desperately craves.
Yet if a second referendum doesn't form a significant part of the SNP's campaign, then her right to attempt to demand one from Westminster is undoubtedly weakened.
Rock and a hard place, Ms Sturgeon?
Martin Redfern. Royal Circus, Edinburgh.
Coverage lacks local interest
Sir,- In The Courier last week there was an important sentence which may have escaped your readers' notice this year sees the renewal of the BBC's Royal Charter.
One of the jobs of a national broadcaster is to reflect in its television programmes the various parts of the nation to the whole of the UK.
I am fairly sure many will agree that Courier Country is not well reflected.
My fear is that if the Holyrood and Glasgow groupies get their hands on the levers of control of the BBC, those meagre minutes will be slashed
to STV levels of coverage: nothing with the exception of the visit of a Glasgow football team or a "dead donkey" story hardly the life and culture of this area.
John Rigg. Blackness Road, Dundee.
Don't knock education today
Sir,- John Cameron's rant (January 8) cannot go unanswered.
A short time ago, my granddaughter showed me round the transport museum in Glasgow.
Her intelligent conversation, the keen interest in the exhibits and the thoughtfulness she showed in keeping an eye to my walking difficulties made for a very enjoyable afternoon.
I am not at all sure that I would have managed anything like this when I was 10 years old.
The Rev Dr John idealises a time in education when the 'qualie' and all the social division that it brought ruled the day.
At the end of my primary education, I entered the 'A' (non-technical) stream.
I can still remember bushels and pecks, but not a lot else from that time.
Douglas Howkins. 61 Forthill Road, Broughty Ferry, Dundee.
Huge thanks to fire service
Sir,- May I, on behalf of all residents in Perth and Kinross, express sincere gratitude to the fire service for all of the sterling work they have carried out.
The area manager and his teams have worked tirelessly, in appalling weather conditions, 24 hours a day, in order to assist those unfortunate souls who have been directly affected by the flooding.
In addition, they have taken steps to minimise damage and to protect property wherever possible.
This service has been carried out without complaint and in a most professional manner.
Each and every firefighter should be complimented for the unstinting efforts they have made on our behalf.
Well done and thank you.
Dennis A Hall. 41 Preston Watson Street, Errol.
Numbers just don't add up
Sir,- Like many other people in this country, I am becoming exceptionally disillusioned with the running of the National Lottery by Camelot.
I feel that this organisation, through greed and excess profiteering, have ruined a good game.
When it was launched in 1994 it was very popular when only once a week.
Its popularity began to fall slightly when two games per week were launched and even further when the price of a ticket went up to £2.
Now, with the additional 10 numbers being added, people quite rightly are fed up of it.
Why are there so many massive rollovers?
I would suspect the number of people playing has dropped dramatically and I intend to follow suit.
And to add insult to injury, many people on Wednesday were unable to buy a ticket online as the website crashed for about 10 minutes.
Could the excess profits not be used to update their software and systems so this does not happen again?
The Government have let people down on this issue.
There is no way they should have agreed a franchise for 10 years, that is far too long.
And they should have questioned the adding of the extra 10 balls.
This game has been ruined.
Gordon Kennedy. 117 Simpson Square, Perth.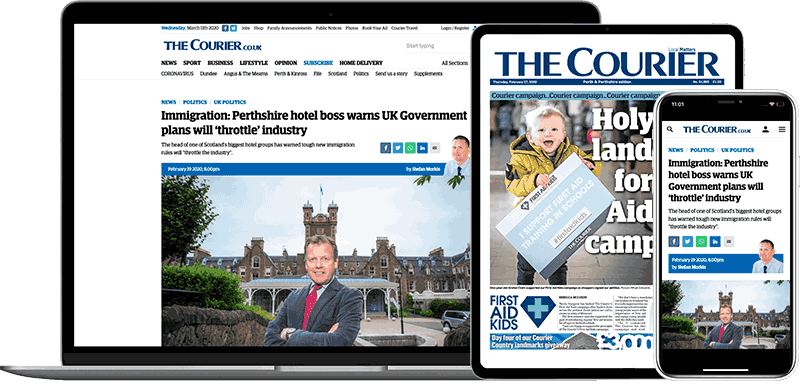 Help support quality local journalism … become a digital subscriber to The Courier
For as little as £5.99 a month you can access all of our content, including Premium articles.
Subscribe