 Sir, I imagine other readers would have been surprised at Andrew Collins' complaint (letters, January 18) that Scotland doesn't charge higher taxes because Holyrood is not close to our people. That Scotland is somehow unable to charge the higher taxes that our Scandinavian neighbours charge.
Scotland's Parliament can levy higher taxes already. Our Holyrood parliament has been able to levy higher taxes since its foundation in 1999.
Our parliament could have raised a higher rate of tax at any time since. We might have used those taxes to at least maintain services instead of cutting them. But the majority SNP government has rejected even maintained tax rates.
Far from raising extra revenues Holyrood has forced local councils to freeze council taxes for years. That freeze has led to the degradation of local services. It's an "independence" of a kind.
Would creating a brand new Scotland lead to a restoration, or even increase in taxes? We don't know for sure. The SNP's 649-page manifesto promises a big cut in the taxes our wealthiest companies pay. A tax cut to well below the tax rates in Scandinavian countries.
The SNP forecasts Scotland's revenues from future oil field developments will enable Holyrood to cut taxes, even though Norway has to charge a 28% income tax rate that's 40% more tax than we pay now. That higher tax is because Norway's oil income continues to fall. Just as the tax revenues from Scotland's undersea wells are set to fall and as our operating costs rise steeply.
Andrew Dundas. 34 Ross Avenue, Perth.
Committed to backing them
Sir, Since April 2012, I have been working hard to mitigate the effects of the UK Government closure of Remploy factories in Scotland and during this process I visited the factories in Dundee, as well as Leven, Cowdenbeath, Stirling and Clydebank.
The staff I met convinced me you will not get a better workforce of hard-working people. Scotland owes it to them to do all we can to secure their future and that of all Scotland's supported businesses.
That is why I was delighted to announce the opening of the Haven PTS factory in Stirling, which has taken on 26 ex-Remploy employees, who will manufacture nurses' uniforms along with other high-quality protective workwear and marine safety wear. The decision on which sites to operate from was entirely for the Rehab Group, who own Haven PTS Ltd.
The NHS contact was secured with many other contracts from the public sector, and we are working hard to deliver more. I am now spearheading work for all 19 supported business in Scotland, including Dovetail in Dundee.
I am also campaigning against UK Government plans which could see the removal of Workchoice funding for supported business places. Workchoice provides wage subsidies for nearly 580 places for disabled people in those businesses and I would urge anyone with an interest in backing supported businesses to oppose the removal of this funding.
We continue to work with ex-Remploy workers in Dundee through the Partnership Action for Continued Employment (PACE), and a comprehensive package of support is in place, including the availability of a recruitment incentive of up to £5000 for employers recruiting ex-Remploy workers.
Our commitment to the supported business workforce in Dundee has never wavered, and I am determined that we continue to identify opportunities for the city.
Fergus Ewing. Scottish Government Minister for Energy, Enterprise and Tourism.
Promoting driver fitness?
Sir, The City of Perth seems more interested in promoting fitness for drivers than spending money on parking infrastructure.
One of the meters near the North Inch has been out of action for many weeks and some of those who park near it have to walk at least an extra 100 yards to the other meter.
Garry Barnett. The Garden House, Campsie Hill, Guildtown, Perth.
So much for saving money
Sir, I refer to another article in The Courier, January 17, describing Fife Council's attempts to cut costs and would like to draw the public's attention to the following.
The vast majority of the vehicles used by Fife Council are leased and quite a few of their employees are now on contracts of 30 hours a week. In many cases, these employees complete their contracted hours over four days.
They then take these vehicles home with them and there they stay, until they begin work again. It must cost a fortune to have three days' lease of these vehicles while they lie about unused.
Certainly no private employer would ever consider such an expensive waste of use of vehicles which are on lease to them.
I was under the impression that the idea of centralising operations would mean that the vehicles would be returned to the depot at Bankhead, Glenrothes, but this is not the case. Many are taken home by Fife Council employees.
And before Fife Council write to say they are taken home for use in the event of emergencies, I would like to point out that they are used by non-emergency employees such as housing and parks and gardens employees.
So much for their attempts at saving money.
Allan Murray. 44 Napier Road, Glenrothes.
Counter-productive
Sir, Alan Hinnrichs (letters column, January 17) writes from a secular viewpoint on the involvement of religious representatives on education bodies in Scotland.
He feels this is an obscenity.
Then, in the online comments section he uses the term "theist loon" whilst accusing others of bigotry.
I was curious to know if this is the general term Mr Hinnrichs uses for anyone who professes a belief, or is it a specific group he is commenting on?
Would he, for example, describe Martin Luther King Jr, Oscar Romero or Peter Benenson as such?
Mr Hinnrichs certainly seems to relish offending anyone religious but it seems to me a little counter-productive.
If he truly wishes to bring about the social change he genuinely seems to want, maybe he should put some of his own prejudices aside and stop alienating people who agree with him on numerous other issues.
Anne Hinojosa. 12 Bowling Green Road, Markinch.
Burns and what he might think of independence
Sir, I refer to Will Lyon's recent article in The Courier regarding Robert Crawford's views on Robert Burns' probable leanings regarding the forthcoming independence referendum.
It would appear that the professor is a believer in the Yes campaign as he "picked through the bard's works with a fine toothcomb" without consideration of the undermentioned poem.
I cannot imagine an independent and critical man like Burns would disrespect himself "to make loyal noises" when all he had to do was keep quiet to keep "his well-paid job".
I therefore draw the professor's attention to the missed extract from the Dumfries Volunteers composed in 1795.
O, let us not like snarling tykes,
In wrangling be divided
Till slap! Come in an unco loon,
And wi a rung decided it,
Be Britain still to Britain true.
Amang ourselves united
For never but by British hands
Maun British wrangs be righted.
D Fraser. Primrosebank, 1 Rannoch Road, Aberfeldy.
Stock must be maintained
Sir, Complaints about "£100k and rising wasted" on the upkeep of our City Hall (Courier, January 18), are entirely misplaced, since, even if such expenditure was required annually rather than over a good few years, it would be nearly half a century before enough money accumulated to meet the costs of P&KCouncil's barmy scheme for the hall's environmentally filthy demolition, a hazard to health, and the creation of the near-useless, roofless empty space they want, called a civic square.
We must maintain our building stock or we'd face a ruined city, which would surely embarass even Perth and Kinross Council!
(Dr) Charles Wardrop. 111 Viewlands Road West, Perth.
Drain system to save money
Sir, With regard to your article, £100k wasted on hall upkeep, January 18.
There is a simple answer to address the major part of this unnecessary bill drain the system!
Why wasn't this done in 2005?
David Cockburn. ex-Perth City Architect, Pen cairn, Findo Gask, Perth.
Soap storyline got it right
Sir, I have to say that I was extremely impressed with the sensitivity and dignity in the way in which Coronation Street handled the whole issue of the character Hayley dealing with pancreatic cancer and then choosing to end her own life.
It was very well acted and brought to the fore the issue of pancreatic cancer, about which very little is known. What is known is that it has an appalling survival rate. It also dealt with the issue of suicide, which is still a major taboo.
I think people worrying about copycat acts are being overly concerned as no details of the suicide were shown.
Both characters deserve an award for the way they performed their roles.
Gordon Kennedy. 117 Simpson Square, Perth.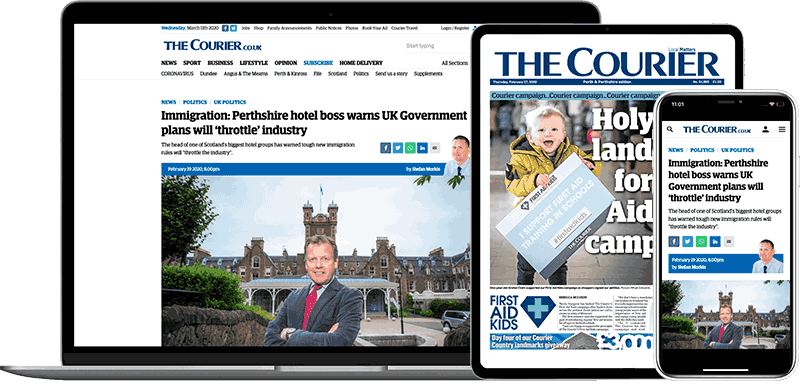 Help support quality local journalism … become a digital subscriber to The Courier
For as little as £5.99 a month you can access all of our content, including Premium articles.
Subscribe