 Sir – Having read the latest in a long series of letters and articles about the payment system at Perth Kinnoull Street car park, I feel I must say something in its defence.
Contrary to what has been stated, there is no requirement to pay for parking up front.
There are notices all over the place telling us that we may pay the fee at any time during our stay there and that it is not necessary to display a parking ticket on your windscreen.
All we have to do is make a mental note of our time of entry to the car park and remember our car registration number: leave the car park, do whatever we want to do in town and, on return, check the time and pay whatever fee is required.
There is, therefore, no need to keep a watchful eye on the clock while we are shopping for fear of overstaying our welcome and having to pay a fine, which might well have happened with the old pay-and-display system, which still applies in many other city car parks.
If we decide to spend more time in town than we had intended, for whatever reason, it does not matter.
In fact, the system in operation at Kinnoull Street is the equivalent of the pay-on-exit system which people have been demanding for so long.
While I do have sympathy for those who find the entering of the registration number confusing, I would make the point that anyone capable of driving a car should perhaps be able to take time about it and get it right.
I confess that on one occasion, on returning to the car park, I started to enter my post code instead of the car number. But this was easily put right.
Eileen Williams. 5 Walnut Grove, Perth.
Action needed on hospital bus
Sir, – It is with a modicum of optimism I discover that the saga of the Perth-Dundee hospital link bus has not yet been laid to rest.
Grateful thanks to Perth and Kinross Councillor Willie Wilson for taking up the cudgels on behalf of passengers using this service.
However, I truly fail to see the truth in the statement from Stagecoach in your article that: "the vehicles have been very well received by the vast majority of our customers".
I have reason to use the bus at least once a month to Ninewells and consider myself more fortunate than others who have to use it more frequently.
On my recent visit I noticed a severely disabled person waiting to get on the bus and they seemed to have much difficulty in doing so. Whether or not the only space for wheelchairs was already in use I don't know but there was obviously some problem.
The majority of passengers are elderly, some with obvious signs of disability but they have no option other than attempt to climb the Matterhorn to the seats above.
I cannot imagine that the luggage space which takes up the downstairs level requires to be so vast.
Indeed, on my last visit, I heard several passengers pleading with the driver not to move off until they could be safely seated as there is danger of an accident should someone still be on the stairway while the driver pulls away.
Coming down is no mean feat either as the staircase is on a narrow, steep rake, with deep treads.
Perhaps it is just as well this is a hospital bus as with the potential danger of a passenger accident, at least it is heading in the right direction and that is not meant to be a flippant remark.
Admittedly, there are a few able-bodied passengers among the travellers but I have heard them also muttering under their breath either going up or down the stairs.
In fairness, I have to compliment the drivers who are somewhatconsiderate.
I am appalled that Brian Souter and Stagecoach are not acting on these complaints and reports of this shocking service and at least acknowledging that something must be done.
I remember the times when we used to comment how lucky we were having this wonderful hospital link. I defy anyone to use this phrase now.
I have even heard of a disabled lady who was unable to keep her appointment because she just could not manage the stairs.
All credit to Councillor Wilson for resurrecting our concerns regarding this serious situation. Perhaps he can persuade Brian Souter to try the service and witness the difficulties it presents.
Irene Thomson. 72 Glasgow Road, Perth.
Coordinate transport links
Sir, – We are fortunate to have a good bus service in Dundee.
However, it would help if different companies coordinated their bus times.
On weekdays, the 22 and 73 leave Ninewells at approximately the same time, thus ensuring that everyone on the first part of their route may have to wait 10 minutes instead of a maximum of five minutes for a bus.
Worse still, in the evenings throughout the week, although the 73 is hourly and the 22 twice per hour, the 73 and one of the 22 services leave the city centre seven minutes apart.
This greatly reduces customer choice and welfare, as I know to my cost.
Go green? Get on your bus?
Antony Black. 79 Blackness Avenue, Dundee.
Traffic volumes overlooked
Sir, – Fife Councillor Bryan Poole agrees the "concerns are well made" about traffic risks around Cupar's new Aldi entrance, albeit only after a constituent's warning.
Did no councillor or council traffic expert anticipate them?
Similar valid concerns appear lacking regarding increased A915 traffic for well over one mile through St Andrews from Pilmour Links up Largo Road, past the fire station to the roundabout at the single narrow access shared with our community hospital, ambulance and allied
services and on to the new Madras College, if it is built on Pipeland Farm.
Neither the road nor pavements, both narrow, allow for effective widening.
With 24 side roads, it is steep, winding and already unpleasant and risky for cyclists and pedestrians, especially when two heavy-goods vehicles or buses pass in opposite directions, their wheels almost in the gutters.
Traffic was increasing by 2% compound per annum, doubling in only 36 years, before the Marks and Spencer store, Premier Inn and school were planned.
The risks, congestion, pollution and road-surface damage will multiply further with 76 school-bus journeys daily, 24,000 miles a year, plus more than 100 additional staff and parent cars, mainly at similar times.
John Birkett. 12 Horseleys Park, St Andrews.
Jacobites would have voted yes
Sir,- I can reassure A T Geddie (June 15) that the Jacobites were most assuredly pro-Scottish independence.
When Charles Edward Stuart raised his banner at Glenfinnan in August 1745, his father's manifesto was read to the gathered clans.
It promised to restore the nation "to that honour, liberty, and independency, which it formerly enjoyed." It promised this in order to end the "specious pretence of a union".
Furthermore, it is well documented and we have seen many at auctions recently, that clansman marched with "King James and No Union" or "Scotland and no Union" inscribed on the blades of their claymores.
Henry Malcolm. 331 Clepington Road, Dundee.
Oil price was not mentioned
Sir, – Perhaps I can refer Mr Kennedy, Sturgeon ducks oil question (June 15) to the interview, where Jon Stewart allegedly asked about the economic uncertainty.The interviewer did not.
The question exactly as it was asked was: "Let me ask you about the oil."
Ms Sturgeon's response was: "You're about to tell me the oil price has got a bit lower."
This was followed by the statement: "I was moving away from the oil."
The word "price" was not mentioned.
Perhaps Mr Kennedy is getting his agenda mixed up with the facts. A Carmichaelisation perhaps?
G. Adamson. 8 Morlich Gardens, Broughty Ferry.
Dismiss FFA scare stories
Sir, – If I am not mistaken, Westminster enjoys full fiscal autonomy, yet we do not hear cries of it costing each taxpayer thousands of pounds extra a year.
But, should Scotland have full fiscal autonomy like any other responsible government, then, shock horror, there will be a black hole in our funds which will cost each taxpayer £5,000 each year.
If I have understood it correctly, it is Westminster's financial black hole that is the cause of all this austerity which the Chancellor is trying to plug with funds raised from cuts to benefits.
And the other sleight of hand is that taxpayers are to lose £2 billion by the early sale of RBS shares at a low price to allow the financial fat cats to buy cheap and sell on the shares to increase their fortunes.
I am a simple fellow but there seems something wrong with the Conservative Party's approach to the General Election result in Scotland.
Brian Rattray. 124/2 Gylemuir Road, Corstorphine, Edinburgh.
Worrying drop in tax receipts
Sir, – The Office for Budget Responsibility's latest forecast for North Sea oil and gas tax receipts makes startling reading for every supporter of Scottish independence.
Receipts of just £2.1 billion are anticipated in the 20 years to 2040, that's less than last year's tax receipts alone. Or, in other words, a drop of a staggering 94%.
The SNP, of course, responds in a characteristic fashion and demands that Westminster injects yet more funding to prop up the industry.
The irony seems to be lost on Nicola Sturgeon and the SNP hierarchy that the North Sea is supposed to be tax generative and not propped up by the British taxpayer.
Meanwhile, we read that Ms Sturgeon has been busying herself raising laughs on US television With the anticipated perilous decline of oil and gas tax receipts, not many of us here would have had much to laugh about in an independent Scotland.
Martin Redfern. 4 Royal Circus. Edinburgh.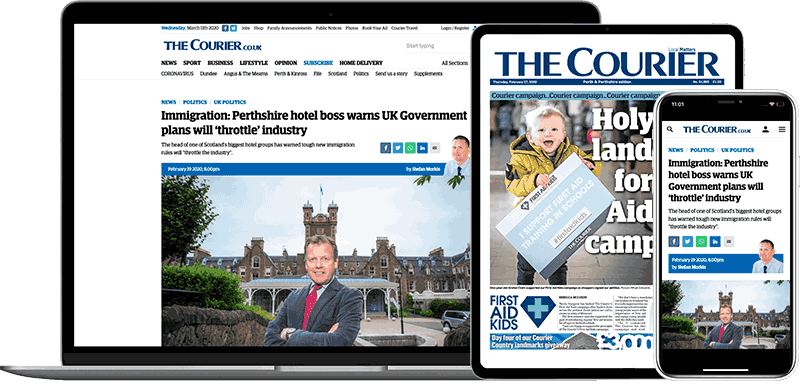 Help support quality local journalism … become a digital subscriber to The Courier
For as little as £5.99 a month you can access all of our content, including Premium articles.
Subscribe