 Sir, – 'When you do not like the message attack the messenger' seems to be the response of both Dr Lindsay and Clark Cross to my letter defending the position of Gail Wilson of Stop Climate Chaos Scotland.
I clearly quoted two scientific reports, from very reputable research institutions, both supporting the facts of climate change.
It would be of greater help to any debate if instead of making vague unchecked allegations if they provided documentary evidence, title of report, publisher and date, so their evidence can be viewed alongside that which I have provided.
In the meantime, clear visual evidence of the effects of climate change in the UK can be seen in the increasing number of extreme flooding events which have occurred over the last few years.
A one degree increase in global temperature since the beginning of the industrial revolution means a warmer Atlantic Ocean and the warmed air over it being able to contain far more water vapour.
When the warmed air makes landfall in the UK and is forced to rise into the colder air mass above it this causes the unprecedented rainfall we are experiencing, resulting in flooding.
My simple advice to Dr Lindsay and Mr Cross is don't attack the messenger, heed the message.
The human race needs to work together to reduce the speed at which we are pushing greenhouse gases into the atmosphere, getting down to zero increaseby the middle of thiscentury, and working harder to mitigate the varied effects of this change.
It can be done but without this collective effort we are committing our children, grandchildren and greatgrandchildren to aworld of such extremes of weather that thevery survival of much of our flora and fauna is in doubt, and for thosepeople who survive their life will be at a very much impoverished level compared to ours.
Walter Attwood. Coordinator, Friends of the Earth Stirling, 7 James Street, Whins of Milton, Stirling.
Home life key to learning success
Sir, – I agree with the points made by your reader Scott Murray in his letter of December 26.
The public debate on education mostly focuses on funding, curricula and assessment but very rarely on what children actually need to learn successfully.
Nor is there an open discussion whether these requirements are solely to be found in the classroom.
The job of schools and teachers is to give children relevant learning experiences which will prepare them for building careers and making a living.
Academic learning can only take place if students are socially and behaviourally functioning at a level that allows them to follow the classroom discipline and participate in lessons. It means that children need to be sent to class ready to learn. They need to be well rested, properly fed and equipped with appropriate materials.
Their minds need to be unencumbered and free from worries or distress.
They need a reliable routine at home, an engaging family life reflecting valid social standards, parental encouragement and guidance and not least essential self-help skills.
We know that not all children, whether rich or poor, are provided with these pre-conditions for successful learning.
The behaviour and learning problems we see in our schools are only the symptoms of much deeper rooted issues in our society.
Regina Erich. 1 Willow Row, Stonehaven.
Plastic wrapping still an issue
Sir, – The scrapping of free plastic bags is to be highly commended but is a drop in the ocean compared to the use of so much plastic wrapping for goods of all kinds sold in shops nowadays.
My bin bag is about three-quarters full of such wrapping.
Of particular concern is the amount of fruit and veg, loose wrapped or shrink wrapped, but when it comes to shrink wrapping individual swede turnips this must be the ultimate lunacy.
All this plastic wrapping is unsustainable and the sooner this is realised the better for the environment.
Mr WG Watson. 20 Spoutwells Drive, Scone.
Boys' Brigade's memorable year
Sir, – The year 2015 has been another memorable one for the Boys' Brigade in Scotland.
We have been able to start new groups, celebrate young people's successes and offer members new international experiences. Perhaps this year's most important achievement has been the increase in youth volunteering in the organisation.
We now have more than 1,000 young volunteers who are passionate about supporting other young people in their communities.
We know that youth work provides essential skills to young people ahead of employment, helping them gain their first steps on the career ladder.
It is widely acknowledged that youth work is vital in closing the education attainment gap, ultimately reducing inequalities of life outcomes for young people.
We believe every child deserves the same an equal chance to gain the skills and experiences that will kick-start their adult lives, whether that is from our own programmes and activities, or via other youth work organisations.
The BB is still very much at the vanguard of youth work in Scotland, engaging young people with challenging and exciting new programmes.
Our BB companies are growing but we still have the capacity to welcome more young people into membership.
We would also welcome adults looking for volunteering opportunities within an organisation that not only develops lifelong skills, but places 'fun' at the heart of its work.
Bill Stevenson. Director, The Boys' Brigade Scotland, Carronvale House, Larbert.
One-party state a major concern
Sir, – Donald Dewar followed the lead of China, Cuba and other communist states in making the Scottish Parliament single chamber on the assumption that Scots were at heart proto-socialists.
It appears not to have occurred to him that nationalists might ever have so great a majority they could dominate both the government and the committees meant to restrain it.
Nationalist governments tend in any case to become "tyranny in practice" as can be seen in the SNP's iron internal discipline and anti-democratic hollowing out of local councils.
When he was presiding officer, David Steel made the case for a second revising chamber but the suggestion was dropped after it was met with fierce opposition from Alex Salmond.
The results were clear from the start when Mr Salmond would often refuse to answer anything during FMQs.
It is clear Scotland is now effectively a one-party state with the SNP hustling though complex and controversial bills and ministers launching malevolent attacks on the judiciary.
But the years have shown that neither the Salmond nor the Sturgeon administrations were any good at running the areas devolved to them such as health, education and the police.
Wisdom does not reside within the Holyrood; complex issues need proper consideration and debate; and the SNP should not have the mandate to runScotland likes its private fiefdom.
Rev Dr John Cameron. 10 Howard Place, St Andrews.
We owe it toour children
Sir, – The Educational Institute of Scotlandsurvey showing children going hungry inScotland's schools makes depressing reading.
The report claims children are stealing food from classmates to stay alive.
Just over half of those questioned went to school hungry and there has been a rise in those taking school meals and attending breakfast clubs.
The teaching union, which has members in most primary school classes in Scotland, also found there has been a 7% rise in referrals of parents and guardians to foodbanks.
It seems despite the appearance of wealth in this country we are unable to feed our children.
We are awash with smartphones, televisions and designer clothes yet the young people who will chart this nation's future are struggling to get a meal.
We owe this young generation a better start in life.
Robert Stark. Mill Street, Tillicoultry.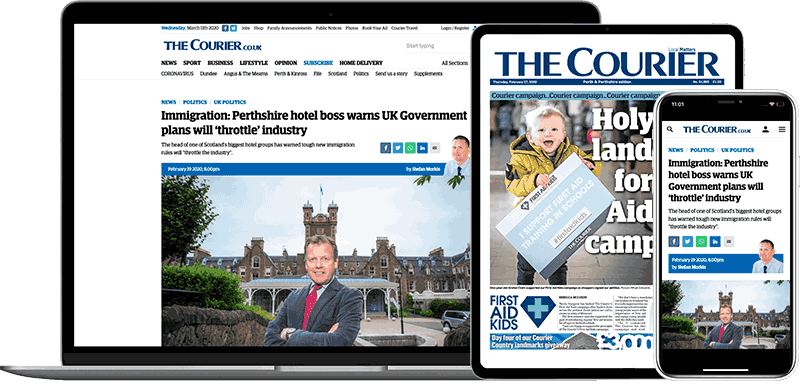 Help support quality local journalism … become a digital subscriber to The Courier
For as little as £5.99 a month you can access all of our content, including Premium articles.
Subscribe