 Sir, I am writing to fully support the view expressed and the reasons given by Ian Crombie (April 21) that detailed consideration should be given to relocating Dundee airport across the Tay to Leuchars.
In addition to the good points he made, there are numerous others. Never mind the existing 250,000 residents in the area but if Dundee City, Angus, Perth and Kinross and Fife Councils worked together on creating and operating a regional airport for the benefit of all their constituents, thenumber of residents would be much greater.
Add to that the expected huge visitor numbers to the V&A, then surely at least a regional-size airport will be required to facilitate this,otherwise the roads will be at a standstill during busy visitor times .
We must also remember the number of journeys to and from our universities colleges and hospitals. I fully understand that there are huge parochial, emotional and loyalty ties to the existing Dundee airport but surely for the greater good of the area, these could be overcome.
Further, we must add in sustainability issues by reducing travelling to Edinburgh and Glasgow airports, the great and first view of the new V&A and the city coming over the Tay Bridge and the fact that Leuchars would be closer to the centre of Dundee than Glasgow, Edinburgh and Aberdeen are to their airports .
Maybe this is one occasion when the Government should step in and encourage a combined solution to a difficult problem.
However, I understand there is the small issue of a General Election pending and the collective minds of our politicians may beelsewhere.
Jim McArthur. Chairman, St Andrews Partnership, Southern Lodge, Abbotsford Place, St Andrews.
God createdgay people too
Sir, Churches today face a major problem, in that they have not modernised their attitudes to LGBT (lesbian, gay, bisexual and transgender) relationships, continuing to hold these to be against their Biblical beliefs.
As a senior member of the General Register Office team which developed the Civil Partnership Act in 2003, I well recollect the number of objections we received from religious groups who believed people "chose" to be gay.
However, it has been very well established that people do not choose their sexuality as they grow up.
That is the way they were born. Most of those who are forced into marriage against their will, end up with broken relationships and divorce after a difficult period. That was a major factor in the introduction of the act.
One common denominator among Christian believers is that God created all mankind. So, a very simple question.
If He created all mankind, by definition, He also created people of the LGBT nature as well.
So why would He punish them for being what He created? I never met any believer who could properly give a truly convincing answer to that question.
Howard Evans. 13 Links Parade, Carnoustie.
Objectors play for time?
Sir, Why do St Andrews Environmental Protection Association (STEPAL) take so long to do anything?
It took them three months after the approval of the new Madras College by theScottish Government to raise their judicial review.
Now, four weeks after they have lost that case, we have heard that they intend to appeal but we have no idea as to why and how.
For a newly formed company, this is the pace of snails and it is as well that they do not have competitors.
Or is this just their game, delay and delay in the hope that something comes along.
Meanwhile, in the rest of Fife and indeed all over the country, new schools arewelcomed by communities and young people reap the benefits.
In fact, in nearly a year, STEPAL have submitted just one planning objection and lost their judicial review.
So snail's pace, no new environmental ideas and a lost lawsuit just sums up their dismal performance.
Investors beware.
Susan Brown. Highfield, East Grange, St Andrews.
West's role in refugee crisis
Sir, The death toll ofrefugees and migrants trying to cross the Mediterranean is a damning indictment of all the major imperialist powers, and most particularly the United States.
They set the presentcatastrophe in motion through brutal wars for regime change, waged under the hypocritical anddiscredited banner of "human rights."
Of course, 2011 was the year that NATO, principally France and Britain, launched their war for regime change in Libya, under the fabricated pretext that they wereintervening to prevent amassacre by of the government Gaddafi.
There were no mass sectarian murders in Libya before the war for regime change, nor for that matter did al Qaeda-linked Islamist militias exist as any more than a marginal force.
These elements were promoted, armed and backed by massive airpower after the major imperialist powers decided to topple and murder Gaddafi and carry out a new rape of Libya.
Alan Hinnrichs. 2 Gillespie Terrace, Dundee.
Plague of unwanted calls at unsocial hours
Sir, Further to the letter by Joyce Anderson (April 21) about unwanted telephone calls at unsocial hours, here is my recent experience.
On April 3 at 0424 hours, the telephone rang and a recorded message played.
Then on April 22 at 0134 hours the telephone rang. I heard the echoing silence of a computer-generated call but there was no voice .
This unwanted commercial calling is getting to be somewhat trying.
One individual from a United Kingdom call centre, during daytime working hours, on being told that theirs was a nuisance call, tried to engage me in an argument claiming it was not a nuisance call but, instead, a courtesy call.
They were informed inunambiguous nautical terminology it was a nuisance call.
No doubt there will be others, despite our phone beingregistered to preclude these calls.
That measure makes nodifference whatsoever.
Captain R Watson. 7 Chapman Drive, Carnoustie.
We must build social housing
Sir, It is ironic that at a time when many are struggling to afford a home and make ends meet, a 6% annual rise in house prices will be viewed by some as a sign of recovery (Your Move report).
True recovery suggests a return to health. However, when in the last 20 years has Scotland or the UK experienced a healthy housing market?
I would argue that a healthy housing market is one where everyone has a secure, affordable home, whether renting or buying.
Our collective memory must be very short if we have already forgotten the previous house-price bubble which played a major part in the financial meltdown of 2008.
So, yes, we need to build homes for people to buy but also to build 10,000 new social homes every year to end
Scotland's housing crisis for good. This will bring hope to the 150,500 households on council waiting lists and much-needed jobs to our construction industry.
Graeme Brown. Director, Shelter Scotland, Scotiabank, 6 South Charlotte Street, Edinburgh.
Questioning the wrong politicians
Sir, According to Michael Alexander's report (April 21), The Courier's hustings held inassociation with St Andrews University on Monday would appear to have been a lively affair.
The candidates are all hoping to be elected to become Westminster MPs, yet some of the questions asked related directly to matters which were devolved to the Scottish Parliament in and are irrelevant for the general election hustings.
Education and training falls into this category.
Surely this means any issues arising can only be resolved by our elected MSPs who sit at the Scottish Parliament inHolyrood, Edinburgh.
Marion Lang. Westermost, Coaltown of Callange, Ceres.
Further legal review needed
Sir, I am be delighted to see that the proposed changes to the need for corroboration incriminal cases have been dropped by the ScottishGovernment.
The removal of corroboration would simply have opened the gates to a flood of falseallegations and possible false convictions.
Another aspect still in need of review is the release of details of the accused before they have been convicted.
John McDonald. 14 Rosebery Court, Kirkcaldy.
Scottish votes do not count
Sir, For two years, Better Together pleaded with Scots to stay in the Union. Scotland stayed but now the Unionist parties have shifted the goalposts.
What they really meant to say was that Scots should stay but only if they vote for parties they approve of.
The desperate pleading from Labour and the Liberal
Democrats for Tory votes to keep out the SNP is pathetic and beyond contempt. Westminster is effectively saying to Scots who vote for the SNP that their vote does not count.
Roderick Brown. 10 Hill Terrace, Markinch.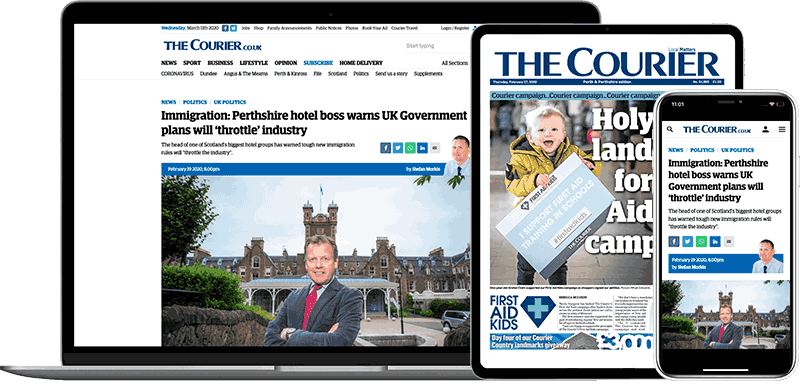 Help support quality local journalism … become a digital subscriber to The Courier
For as little as £5.99 a month you can access all of our content, including Premium articles.
Subscribe