 Sir, – The stand-off between residents and the owner of the Glenfarg Hotel makes for disappointing reading.
Hoteliers nationwide are suffering as a result of the long-running economic downturn.
Mr Hewitt's claim of £100,000 losses is quite believable.
Perhaps, rather than trying to bully and protest, the residents of Glenfarg should put their money where their mouths are and opt for a community buy-out plan.
This way Mr Hewitt and his company might stand to recoup some of their losses and the residents would get "their hotel" back.
They could then run it as they see fit.
This would seem sensible under the circumstances.
I must admit that I do have some sympathy with the hotel owners and can understand why they might seek to recoup their losses by developing the site for housing.
It is just common sense and we live in a society that encourages freedom, enterprise and initiative, I think?
There is a looming housing crisis and evolution is evolution, whether we like it or not.
Notably, a similar fate befell the Station Hotel in Aberfeldy quite recently.
After standing empty for some considerable time it is now a thriving hardware store that serves the local community very well.
I would not be at all surprised to see its upper floors developed for housing sometime in the future.
The community action group or any individual does, of course, have the right to formally object to any planning application put forward to the council.
However, the recent street protest seems rather bizarre, to be honest.
The picture on the front page of The Courier was also a bit concerning. Young children waving placards is a bit of a worry.
Granted, the children are learning that they have a right to protest but do they really understand what their parents are getting them to complain about and do they really understand the issues in full? I doubt it very much.
I will follow the story with interest and wait to see what happens.
If, like so many others, the hotel is no longer economically viable, development must surely be encouraged.
Progress is progress and to see the building potentially fall into disrepair would be an even bigger disaster for the community I think.
Tim Youngman. East Moulin Road, Pitlochry.
Follow Canada's funeral route
Sir, – With reference to the letter on funeral costs by Mr Valentine (January 13) my brother-in-law died a couple of years ago in Canada.
His body was cremated in private. A memorial service was then held with the ashes present.
These were then interred in a plot with a plaque and retractable flower vase at a local cemetery.
I am not sure of the cost but since there was no coffin, no funeral cars and no preparation/caring for the body for the funeral company to charge for, I am sure the savings over our system would be immense.
Why can we not adopt this system here?
George Connolly. 42 Poplar Road, Clayton Caravan Park, St Andrews.
Where will Labour cut?
Sir, – These are unprecedented times in government.
An austerity programme from Westminster has seen Scotland's budget cut and local authorities facing financial pressure.
But, of course, this is not just happening in Scotland.
In Wales, the Labour leader of Blaenau Gwent Council resigned from his post, citing the "horrific" Tory Government cuts.
In Birmingham, spending will be reduced by £100 per household in the city more than almost anywhere else in England.
There was much heat but little light from the Labour Group on Dundee City Council during budget discussions (January 12).
Despite the report in front of council that night stating, quite clearly, that the Scottish Government has received a 4.1% cut to its budget from Westminster, the Labour Group went into full SNP-bad mode.
So much so that the Labour Group put forward an amendment to the report which I believe is important to recount in its entirety:
"This council believes that the settlement is totally unacceptable for local government. Not only has local government got a huge cash cut …..which will see job losses and services slashed. This is all because of policy choices from Scottish (government) and not a result of cuts from Westminster.
"This council agrees to write to the First Minister advising her that the Scottish Government should re-think its political priorities and deliver a better settlement to local government."
Labour is ignoring the fact there is a decrease in funds available to the Scottish Government and John Swinney would need to cut from the NHS or fire or police to give local government more.
Where would Labour cut?
Councillor KevinCordell. Ferry Ward, c/o City Chambers, Dundee.
False economy of tax freeze
Sir, – Never did I think that I would advocate an increase in any taxes but the fact that councils are expected to continue providing the same services in 2016 that they did in 2007 when the council tax was originally frozen, is absolutely preposterous.
We're all going to face a huge increase, rather than the small amount that we would have endured each year, if it had not been suspended, as Fife Council, along with many others, looks like it is prepared to break ranks with the Scottish Government.
By my calculations, people in Band A will see an increase of £56 (rather than the £7 per annum it would have been without the freeze), Band D £84 (rather than £12)and Band H £168 (rather than £24).
It is great that we seem to be saving money, but, as we get charged £25 for a limited uplift of goods that cannot go via the normal refuse, and is not included in our council tax (leading to massive fly-tipping) this is truly a false economy.
Eric Travers. 38 Gellatly Road, Dunfermline.
Consolidate pension funds
Sir, – Should Fife Council not try a bit of honesty with the council-tax payers?
The largest element of its annual expenditure is paying unfunded pensions to retired former council employees.
Admittedly, Fife is not the only council with this problem, so the only realistic solution would be for the Scottish Government to consolidate and take on the pension debts of the 32 councils.
Then, properly-funded public sector employee pension funds could be established (possibly copying the Ontario Teachers' Pension Fund).
Eric Gibbons. 112 Coldingham Place, Dunfermline.
World faces new financial crash
Sir, – The blinkered attitude of some of this newspaper's correspondents never ceases to amaze me.
Richard Clark, Tories Prepare for Next Crash (January 14) is one such individual.
He takes a cheap shot at Chancellor of the Exchequer George Osborne for warning that the United Kingdom has not seen the last of recession.
Instead of ignoring the fact that the world is on the brink of another crash, Mr Osborne is warning that we should prepare for further financial problems.
We should heed an intelligent man and not a group who would have us believe that all will be well in an independent country reliant on oil at $30 a barrel.
It is time for the nationalists to both grow up and shut up.
Brian Falconer. 30 Market Court, Perth.
Indoctrination of children
Sir, – I note that Alistair McBay of the National Secular Society, and Robert Canning of the Scottish Secular Society, are continuing their campaign against Christianity (January 15).
Mr McBay thinks that we were all in Christian darkness until the self-styled Enlightenment set us free.
This fanciful re-written view of history is not shared by all his fellow atheists.
For example, theatheist Professor John Gray in his book Black Mass cites Lewis Namier, who noted as regards one of the fruits of the Enlightenment: "Hitler and the Third Reich were the gruesome and incongruous consummation of an age which, as none other, believed in progress and felt assured it was being achieved".
This is why we care so much about this debate.
Remove Christianity from society and that is the route we are going down.
Meanwhile, Mr Canning does not appear to understand what Christianity is.
Our faith is not something that we hold in private as though we were some kind of knitting club or Trekkie society.
Our faith is what our morals, understanding, values and lives are based on.
When Mr Canning says he wants Christianity excluded from education, he is simply saying that he wants all that excluded.
In other words, he wants his atheism to be the default position and ethos of every school in Scotland, in the hope that children can be indoctrinated out of their natural theism.
Why is it that the SSS is so determined to prevent Christian parents from exercising our basic human right to have our children educated according to our faith, not theirs?
David Robertson. St Peter's Free Church, 4 St Peter Street, Dundee.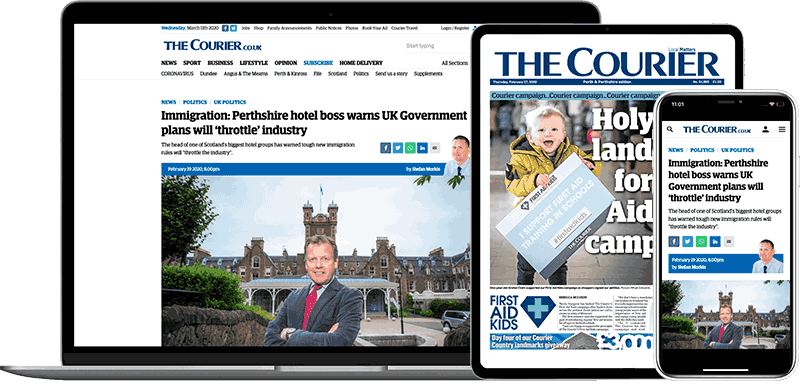 Help support quality local journalism … become a digital subscriber to The Courier
For as little as £5.99 a month you can access all of our content, including Premium articles.
Subscribe