 Sir, – Once again, First Minister Nicola Sturgeon has caused my jaw to drop.
I am astounded that she is advocating creating a dedicated Scottish BBC and radio channel.
I do not think I am wrong when I say that recently there wasgreat publicity aboutthe deficits in thecorporation and there is a danger that we would ultimately be denied some of our favouriteprogrammes along with some of the Sunday evening classics. All a matter of cost.
Indeed, one BBCchannel has already beendesignated fit for only online access in order to save money.
Are we not already adequately coveredby an excellent service provided by BBC and STV?
It was stated that 48% of the population wants dedicated Scottish TV and radio. How is thisfigure reached?
I know of no one who has been approached for their view on this. Icurrently do online polls and have not been asked such a question.
What is the origin of this ludicrous proposal? Listening to the culture secretary this morning, she refused to comment other than she would go along with the FirstMinister's decision and pursue the case on her behalf.
How would such channels be filled? We already have excellent regular Scottish news broadcasts on both mediums, local news, cultural and political debates, Scottish art and theatre, evening music and basically, most tastes are catered for.
We also have adedicated Gaelic programme for the minority. Is this actually popular?
What can she find other than the above which will keep viewers and listeners hookedand where is the money coming from?
Irene Thomson. 72 Glasgow Road, Perth.
Inequality of representation
Sir, – While we consider some minor changes in ward boundaries, isn't there a much more important issue of equal representation?
Why should I, and others in the Perth South ward, have four councillors to represent my interests, while others in wards around the perimeter of our city have only three councillors torepresent them?
Does my privilege reflect some special merit unknown to me that I am so favoured over other citizens?
Similar privilege falls upon other electors in our region.
For example, and these are picked at random, people staying in Montrose, Kirkcaldy and Strathmartine enjoy greater council representation than those in Carnoustie, Maryfield or Cowdenbeath.
There's no logic whatsoever that determines that some of us have four councillors and others only three.
We used to have equal representation. Why were our equalitiesabolished?
Nowadays, when contentious issues arise, some of us have more councillors to act on our behalf than others.
Why have our council wards been made sounequal?
Moreover, there is no justification nor justice in this casual gerrymandering. Whether scarcely populated or densely populated does not determine ward boundaries.
In my ward, the nature of neighbourhoods varies widely too. In every one of our council areas there is inequality ofrepresentation. Why should those inequalitiescontinue?
Andrew Dundas. 34 Ross Avenue, Perth.
All parties backed Gaelic
Sir, – I am not sure who the "us" referred to by Reg Mulheron (August 26) is when he suggests Dundee City Council is "treating us with contempt".
After all, he is not even a constituent in the local authority area.
But he should notethat Dundee City Council agreed unanimously to the Gaelic Language Plan Report submittedto the city council on Monday August 24 2015, the main thrust of which is to afford Gaelic the respect it deserves inthe city and modern Scotland.
I know Mr Mulheron has long-standing issues when it comes to a respect agenda forGaelic but this reportwas accepted bycouncillors from the SNP, Labour, Tories,Liberal Democrats and an independent.
There must be a party or group in that list which he does vote for and he should perhaps accept he is out of step with them and modern Scotland.
Councillor KevinCordell. City Chambers, Dundee.
Scotland needs an opposition
Sir, – RHL Mulheron, (August 24) claims that I find letters critical of the nationalists and independence "depressing".
Either I am really bad at explaining myself or someone has a reading comprehension problem.
I'll repeat what I've said once again; the Scottish Government needs a healthy opposition if it is to govern in an open and transparent manner with all legislation being thoroughly debated before being enacted.
What I was complaining about is that all criticism up to now, as his letter illustrates, can be encapsulated as: "The SNP are very, very bad and Alex Salmond and Nicola Sturgeon are really, really bad people and the whole shebang are destined for the Great Big Burning Fire."
We hear such negative and bitter carping with nothing new or visionary from Scottish Labour other than the same old, tired policies such as those offered by the contenders for the recent leadership contest of the Scottish Labour Party, a contest aptly described as "bald men fighting over a comb".
Mr Mulheron seesthe SNP's policies as "divisive".
What I see as divisive are Tory policies which drive our poorest people to be dependent upon food banks to get enough to eat while in Westminster, Labour members refuse to vote against the Tory welfare bill.
George White. 2 Cupar Road, Auchtermuchty.
Don't return to national testing
Sir, – As a formerhead teacher, I was astonished to read that Nicola Sturgeon isconsidering returning to the failed policy of national testingwhich was introduced by the Tory government and was massively criticised at the time. In my view, the First Minister should look at the reasons why this disastrous policy was dropped.
I now serve as acouncillor who hasbeen on our education committee for over eight years and I arguedfor and voted for the abandonment of the so-called league tables which accompanied the national testing.
I suggest Ms Sturgeon should concentrate her energies on why, under the SNP, we have falling literacy levels, a reduction in teacher numbers, larger class sizes, cuts in support for teachers, huge cuts in college places and quietly drop the return to the failed system of national testing.
Councillor David May (Montrose). Angus Council, Forfar.
Salmond's rash oil predictions
Sir, – A year ago, Alex Salmond claimed that the value of oil in the North Sea was worth £300,000 for everyman woman and child in Scotland.
In response, Alistair Darling said "for Alex Salmond to treat us as fools by confusing the wholesale value of oil with the amount we would raise through tax is dishonest".
Mr Salmond had used the wholesale value at a $100 per barrel (not the tax take), claimed nearly double the reserves compared to Sir Ian Wood and the OBR and ignored the fact that oil assets were mainly owned by foreign companies.
So how has Aberdeen been impacted upon since the collapse of the oil price?
It has been brutal in terms of the thousands of direct job losses with unfortunately much worse to follow if prices remain low. Many of those lucky enough to retain employment have had their salaries cut.
Then there is the multiplier which affects those people who are reliant primarily on the oil industry who have also been losing their jobs by the thousands.
Making matters worse is that during the boom years Aberdeen has become a one-trick pony and no longer enjoys a diverse economy which it had during the lastmajor downturn in the 1980s.
This, in turn, has impacted on the housing market sales which has virtually come to a standstill for the mid to higher ranged prices.
I wonder if the SNP would still be prepared to tell oil workers and the thousands who depend on the oil industry that their jobs are merely a "bonus" and whether Nicola Sturgeon would level with the Scottish people and explain which public services would be slashed over and above the current austerity plans if we had voted for independence?
Ian Lakin. Pinelands, Murtle Den Road, Milltimber.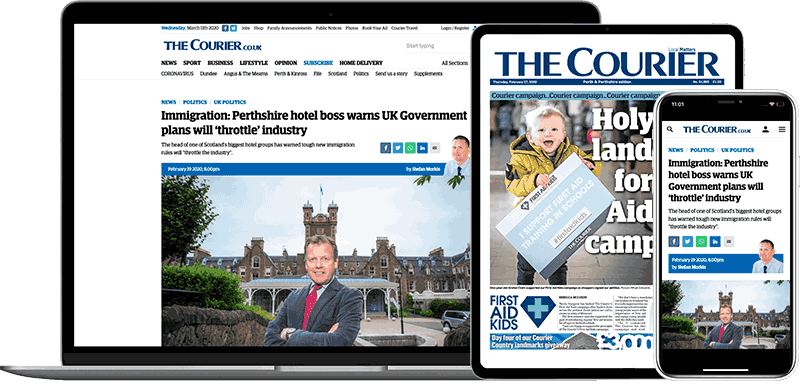 Help support quality local journalism … become a digital subscriber to The Courier
For as little as £5.99 a month you can access all of our content, including Premium articles.
Subscribe