 Sir, – It was with great sadness that I learned of the court judgment against the Irish Christian-run Asher bakery in their recent bid to have vindicated their refusal to incorporate a gay slogan on a customer's celebration cake.
The Asher bakery did not discriminate against the homosexualcustomer but, in my mind, exercised itsowners' rights to draw their own boundaries of moral decency.
I remember a few years ago a case on asimilar theme when a married couple refused a room in their guest house to a homosexual pair due to the fact that they did not wish the possible goings on under their own roof of any acts which they found to be inconflict with their own religious and moral beliefs.
I am all for the right of people to be true to their own nature but I just wonder if the gaycommunity have shot themselves in the foot this time by standingup for their rightswithout shouldering anyresponsibilities for the feelings and moraldiscomfort of others?
Perhaps, in future, honesty will not bethe best policy whichprevails.
It may be thatChristian-mindedbakers and guest house or hotel owners willsimply say they aretoo busy if they suspect their customers to behomosexual.
J Buchan. Grove Road, Dundee.
Time to split with church?
Sir, – Now that the Church of Scotlandhas effectively "come out", is it not time that God's people withinher come out, "lestthey share in her sins", (Revelation chapter 18 verse four)?
Stuart Wishart. 12 Walnut Grove, Blairgowrie.
Religion creates havoc in world
Sir, – We read yet another tirade by Rev David Robertson of Dundee (May 18) about, according to him, the evils of having alternative views to religiousdogma.
He writes about humanists indoctrinating children. This is a classic case of the pot calling the kettle black.
When preaching tohis ever-diminishing audience, does he read from other books besides the Bible?
I have been an atheist since I was a child when I used to have to listen to our minister.
I learned to think of myself as a freethinker, which is what the book, Living A Good LifeWithout God, is all about.
It is an alternative to religion which, at the moment is creating havoc in the world.
I wonder if MrRobertson can keep an open mind and read what the book is about, or will he persist in claiming the Bible teaches useverything?
It has been said that reading the Bible has made people turn to atheism.
Alister Rankin. 93 Whyterose Terrace, Methil.
MSP let down people of Fife
Sir, – My attention has been drawn to yourarticle, MSP vows to monitor impact ofclosing Cupar Sheriff Court (May 13).
The statement is attributed to oneRoderick Campbell.
What breathtaking hypocrisy from the current MSP for North East Fife who, after exhorting the people of the constituency to support the retention of the court, promptly voted theother way.
Your readers will recall that Rod Campbell had the casting vote in the Holyrood justicecommittee which could have saved the court from closure but voted with his SNP colleagues to close it.
Roderick Campbell will be remembered by the people of this area for putting his SNP party before his constituents and, by doing so, denying them local justice.
Harry Wills. Feus House, Kedlock Feus, By Cupar.
Intemperance self-defeating
Sir, – Given his propensity to use strident and overblown language to jump to unwarranted conclusions and to present the arguments of others in misleading ways, I was not surprised to see Rev David Robertson neatly put downby Gordon MacRae's incisive comment after the pair clashed over a humanist book being offered to schools.
Just as your correspondent Henry Malcolm (May 15) argued that Jenny Hjul's rants benefited the SNP, I would suggest thatMr Robertson'sintemperance iscounterproductive.
Gordon Dilworth. 20 Baledmund Road, Pitlochry.
Send migrants to Strichen
Sir, – SNP foreign affairs spokesman, Alex Salmond, has called on the UK Government to bow to Brussels'demand to take in 60,000 asylum seekers who are trying to cross the Mediterranean.
Alex Salmond said Scotland could take in about 5000 of them.
What a brilliant idea. They could be brought in by ship at either Fraserburgh or Peterhead and settled in the area as far inland as Strichen.
If there wasn't enough work for them, some could be employed as observers watching the sky for Russian bombers.
Jim Smith. 11 Glenesk Avenue, Montrose.
Scotland nota Tory priority
Sir, – A potential European Union membership referendum is harming jobs and investment due to the uncertainty it causes.
The poor and disabled in our society are suffering from benefit cuts, foodbanks are on the rise and billions of pounds are earmarked for nuclear weapons.
Meanwhile, our coastal areas remainvulnerable to Russian incursions, due to a lack of maritime patrolaircraft.
You could be forgiven for thinking that this is a scenario that would apply to a newlyindependent Scotland.
But this is not anindependent Scotland.
These things are all taking place in the United Kingdom.
We on the yes side of last September's referendum warned that the above would come to pass in the event of a no vote.
Sadly, we have been proven right.
We were told that the broad shoulders of the United Kingdomwould protect jobs,but sadly, we are seeing job losses.
In Fife, Tesco is pulling out of Kirkcaldy andTullis Russell inGlenrothes, once amajor manufacturingconcern and employer, has failed.
Unfortunately, there is not a lot we can do about this.
Once again, Scotland gets the government England votes for, and Scotland is not highon the list of theConservative Party'spriorities.
R M F Brown. 10 Hill Terrace, Markinch.
So glad we voted yes last year
Sir, – As a regular reader of your letters pages, I must admit Iam becoming a little bored by the number of tedious letters fromyour regular unionist supporters.
Their pathetic attempts to play down the landslide victory by the SNP on May 7, with their voting percentages and calculations, I findsomewhat wearing.
These unionist letter writers producetortured argumentstrying to extrapolate some comfort from their own interpretations of the poll.
Can I just say that had things been reversed and the Tories had won so convincingly, you would not have heard a peep from these would-bestatisticians.
Talk about clutching at straws.
By the way, in reply to Dan Arnott's question in his letter, Still glad you voted SNP? (May 18), from all of my many friends and family who all voted this way, the answer is yes.
Robert J Donald. 2 Denhead Farm Cottages, Ceres.
No evidence of predating gulls
Sir, – A letter from Michael Smith (May 18) about Loch Leven National NatureReserve stated that up to 95% of all tuftedducklings are predated by big gulls, linking this to the colony of black-backed gulls on the reserve.
To be clear, we in no way support thisassertion.
Last summer, Scottish Natural Heritage's nature reserve staff, aided by our specialist ornithologist advisor, conducted an intensive study of duckling survival at Loch Leven National Nature Reserve.
We recently sent Michael Smith a copy of our findings.
The report's main findings were:
The number ofducklings successfully raised per pair of ducks at Loch Leven has remained largely unchanged over thelast 30-plus years,during the time thelarge gull colonygrew.
If there had been an increase in predation caused by large gulls at Loch Leven, then we would expect thenumber of ducklings raised by a duck pair to have decreased but this has not occurred.
One hundred per cent of tufted ducks and 91% of all ducks nesting on St Serfs were within the boundaries of the gull colony.
Potentially suitable nesting areas outwith the gull colony were unused by them in 2014.
This suggests that the large gull colony provides significant protection to nesting ducks from predation by the likes of jackdaws and crows.
So while black-backed gulls may take the odd duck chick, the evidence does not support the belief that they arecausing a reduction in breeding ducks at Loch Leven.
Denise Reed. Tayside and Grampian Operations Manager, Scottish NaturalHeritage.
Will Sturgeon stop Travellers?
Sir, – Travellers have set up camp at the East Links in Montrose.
There are now 30caravans and a marquee.
Police Scotland said they were aware but are doing nothing.
The reason for this is that Alex Salmond, when in charge, told them that such illegal behaviour was a civil matter and not to interfere.
This means that local authorities and private individuals have to go to court, at great cost, to remove the Travellers from land.
Will Nicola Sturgeon help the people of Scotland who have to suffer these regular invasions?
Clark Cross. 138 Springfield Road, Linlithgow.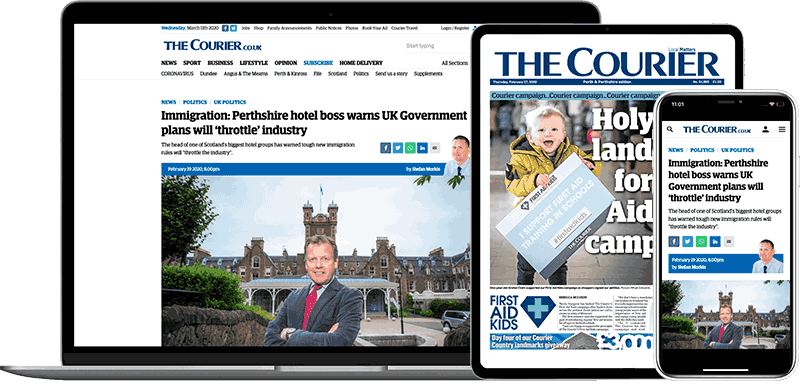 Help support quality local journalism … become a digital subscriber to The Courier
For as little as £5.99 a month you can access all of our content, including Premium articles.
Subscribe