 Sir, – It does seem that Dr John Cameron (July 30) is mistaken when he thanks me for my letter in which I discussed "regressive green taxes".
Alas, my letter made no mention of these though it is comforting to know that I'm not alone in having these senior moments.
If it is any help to Dr Cameron, my letter referred to his outrage at the moral hypocrisy of prosecuting an ex-Auschwitz concentration camp guard for war crimes, while at the same time being completely unperturbed by the Tory Government he supports inflicting yet more punishment on the sick, disabled and poor in our society.
In his most recent letter he now praises capping workless family benefits and lauds Mr Osborne's dismantling of the "pernicious welfarism that discouraged work".
He is clearly unaware that the bulk of benefits are paid to people in work but so poorly paid that they need to be subsidised by the state.
Taxpayers are having to find £11 billion a year to top up the wages of millions of people working in supermarkets and other low-paid jobs.
The money, which amounts to a massive public subsidy for the companies involved, is paid to some 5.2 million workers in the form of tax credits and other benefits. I do have to confess that I am surprised, if not shocked, that a minister of the Kirk (albeit a retired one) can have so little regard for those inneed, moreover, those in need and living in his own parish.
The manager of St Andrews foodbank has already spoken of seeing more people unable to make ends meet.
George White. 2 Cupar Road, Auchtermuchty.
Don't blame poor for deficit
Sir, – I am appalled at the ongoing media campaign which tries to blame the disadvantaged in society for our economic mess, repeated by John Cameron (July 30).
We know who caused the financial crash.
It was greedy bankers gambling with our money.
We know why the Government cannot balance its books.
It is because wealthy individuals and multi-nationals do not pay their fair share of tax.
To pretend that welfare claimants are responsible in order to justify Westminster's savage assault on the welfare state is both dishonest and callous.
Those repeating this nonsense should be ashamed of themselves.
Andrew Collins. Ladyburn House, Skinners Steps, Cupar.
Will we see turbine spate?
Sir, – Glasgow and Edinburgh airports have reported record June passenger numbers.
Edinburgh airport said 1,089,859 people passed through its terminals that month.
The Scottish Government want to reduce the air-tax levy to encourage even more flights from Scotland and thus more CO2 emissions.
Will they now cancel out these emissions by rushing through even more wind turbine planning applications before subsidies are taken away from these poor, impoverished landowners and developers?
Dan Arnott. 1 St Brycedale Court, Kirkcaldy.
We can't match Far East firms
Sir, – Jim McColl of Clyde Blowers is looking at the prospects of restarting shipbuilding on the Clyde and I assume he is only looking at the prospect and nothing more.
Let us get into the real world. The Far East shipbuilders are light years ahead of the starting point that is available to the Glasgow entrepreneur.
Their hourly wage for tradesmen is a quarter of our minimum wage.
They have fully covered shipyards whereas we can lose as much as 50% of productivity time in winter.
Three years ago we placed an order overseas to supply, cut and fabricate all the steel for the new Forth bridge and that was to fabricate the structure in sections that we could have done under cover in a dozen different former oil rig yards and shipbuilding facilities across Scotland.
Why was that allowed to happen in the first place? Yes, we are building two big aircraft carriers in Scotland at the moment but it has to be remembered, Asia's shipbuilders were not on the bidding list.
Colin Cookson. Stenton, Hatton Green, Glenrothes.
Clean rivers to prevent floods
Sir, – I have been reading about the flooding in Alyth.
I think this could have been prevented if the river and burns were maintained and debris removed every year.
It would make sense if SEPA were to tell landowners to check rivers for obstructions and fine any who did not.
I understand it has been 70 years since the water at Alyth was properly cleaned out.
Jim Wallace. Westview, Arbroath.
Pipeland drawbacks
Sir, – As he is seldom backward at coming forward to defend his patch, Councillor Bryan Poole's silence on identifying Pipeland's positive advantages speaks volumes. These negatives about the chosen site to replace Madras College, St Andrews, may help Mr Poole.
It is on the farthest side of town for most pupils and staff and from the bus station, causing more travel time and reducing extra-curricular participation.
It fails his "non-split-site" objective, with tennis, golf, cricket and swimming 1.5 miles away.
The Pipeland site blocks the community hospital/hospice's expansion.
Its cost-effectiveness is prejudiced by duplicated hillside sportsfields and biomass plant, plus our £1.7 million windfall to Pipeland's landowner for awkward terrain worth £143,000.
Surely for a £43 million development, the executive committee spokesperson is obliged to explain the positives outweighing these serious negatives.
Presumably these positives justify him not re-opening talks on the available, suitable university site suffering no such disadvantages.
John Birkett. 12 Horseleys Park, St Andrews.
Hunting is a strange hobby
Sir, – Recent correspondence about foxhunting ignores the obvious, which is that those who hunt wild animals to death for fun are rather strange people to say the least.
Malcolm Parkin. 15 Gamekeepers Road, Kinnesswood, Kinross.
Scots voters were misled
Sir, – The pro-referendum economic platform, last year was based upon the fatuous notion of Scotland's oil and financial predictions were based upon a forever increasing oil price that would have oil companies flocking to the North Sea to find new fields and sustain the economy of an independent Scotland for ever more.
Even the most dim-witted economist is taught to build "what-if" scenarios into fiscal projections.
What we got from the SNP was a disingenuous blast of false optimism that was singularly intended to achieve a yes vote for Alex
Salmond, and that does not include the equally fatuous notion that Scotland could hold on to Sterling and be supported by the Bank of England as the banker of last resort in the event of any Scottish economic failure.
The alternative currency choice, the Euro, is now in rather dire straits.
Business for Scotland has been quoted at length by separatists
but it is apparent that this organisation is populated by SNP followers whose ideas of sustainable business expansion takes second place to the SNP constitutional ideology.
But then SNP adherents are adept at side-stepping issues and pretending that black is white.
There are very many examples in Europe of small economies getting into trouble and losing their younger generations.
That is why remaining within the UK offers a far better future for Scotland if only the devolved government would stop playing divisive games and adopt more responsibility towards the people of Scotland, not only in terms of economic planning, but also, as other correspondents have noted, in areas of education and health management that are equally important to improving lifestyles in Scotland.
Derek Farmer. Knightsward Farm, Anstruther.
Wet summers here to stay
Sir, – Missing fromany reporting on the wet Scottish summer has been any mention of climate change.
Climate change plays a role in heavy precipitation and this year was consistent with a 50-year-long shift toward heavier precipitation.
Higher temperatures lead to more water evaporation from the ocean and soil into the atmosphere.
As average global temperatures rise, the warmer atmosphere can also hold more moisture.
Accordingly, with around a degree Fahrenheit warming that has occurred worldwide, water vapour over oceans has also increased by about 4% since 1970 according to the 2007 Intergovernmental Panel on Climate Change (IPCC) report.
Small changes in the amount of water vapour in the atmosphere can have a major impact on storms, which draw upon vapour from regions 10 to 25 times larger than the specific area where the rain or snow actually falls.
Continuing to overload the atmosphere with carbon dioxide and other heat-trapping gases will increase the risk of more extreme weather that Scotland has experienced this summer.
Unfortunately, global emissions of carbon dioxide, the chief heat-trapping gas driving climate change, saw their largest ever increase in 2014.
Alan Hinrrichs. 2 Gillespie Terrace, Dundee.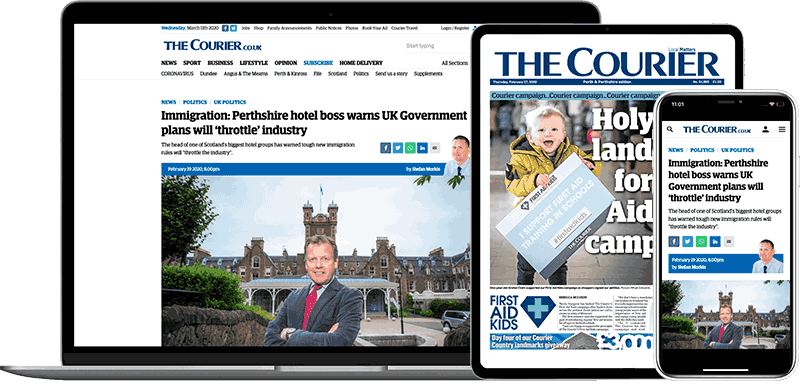 Help support quality local journalism … become a digital subscriber to The Courier
For as little as £5.99 a month you can access all of our content, including Premium articles.
Subscribe