 Sir, – With the collapse of McEwens of Perth, the efforts of Perth and Kinross Council to destroy the centre of the city are coming to fruition before even I expected it.
In addition to current trading difficulties, major reasons for the company's demise must be the pedestrianisation of St John Street, lack of parking in and around the town centre, the sponsorship by the council of out-of-town shopping developments and, of course, the greatest disaster of all, the loss of the Perth Mart to Stirling.
The pedestrianisation of St John Street should have been reversed as soon as it became obvious that what had been a busy, thriving, popular and, indeed, Perth's most prestigious shopping street, had become a dead area.
Lack of car access to what was once a busy thoroughfare means that strangers to the town are often completely unaware of the existence of McEwens and the other prestigious shops in the street.
McEwens is not the first major retailer to depart from St John Street and the contrast with the bustle and activity in George Street is obvious to everyone.
Shortage of parking in the town centre was certainly not helped by the council stopping parking around the City Hall.
This action could only be justified as part of its insane policy of deliberately keeping the hall empty for the last 10 years or so to isolate it and make it appear as derelict as possible to justify its demolition.
Stopping parking around the hall also resulted in the loss of a number of retail businesses in the area and the shortage of central area parking is soon to be further eroded by the redevelopment of the Old High Street/Caledonian Road car park with shops, houses and a totally unnecessary multiplex cinema which will render our present Playhouse cinema redundant.
As for the council's latest wheeze to kick the City Hall into the long grass, the preposterous idea of using the hall as a museum to boost their inevitably very expensive bid to get Perth designated as UK City of Culture: words fail even me.
The opening of a Marks & Spencer food hall at Inveralmond with ample free parking created a major out-of-town shopping attraction.
The loss of the Perth Auction Mart to Stirling, following on the departure of Bells, Dewars and General Accident was a disaster.
It resulted in an enormous loss of trade to Perth from the farming community and from home and overseas visitors but, so far as I have been able to ascertain, the council made little or no effort to keep the mart or to have the company's whole mart operation centralised in Perth.
There was no public campaign sponsored by the council to press for this. The council's only contribution appears to have been to grant permission for a supermarket on the mart site, which greatly facilitated the move to Stirling since it made the site a very saleable commodity.
What will be the next sizeable business to go? We used to have a town centre filled with diverse, distinctive, respected thriving local businesses. What have we now? A town centre largely occupied by coffee shops, cafes, hairdressers and charity shops.
The council likes to congratulate itself that Perth's level of shop vacancies is lower than that of some other towns but does it ever pause to consider the nature, quality and longevity of many of these businesses?
James E D Cormie. 4 Craiglea Road, Perth.
Will all parties be scrutinised?
Sir, – The Scottish Government Report Card in The Courier (April 11) was interesting, but the presentation and interpretation of the data on health issues was flawed, so the subsequent analysis lacks credibility.
Life expectancy figures (80.6 years for females born in Scotland in 2012) are based largely on guesswork, but they have some value in an appropriate context.
On the other hand, comparing the life expectancy of a poor Scot with an average Englander should be avoided in a meaningful statistical analysis.
Comments for accident and emergency waiting times are included only for Scotland (waiting times in England are longer).
The reporter has also incorrectly asserted that the average emergency admission rate rose faster in Scotland over the period 2004-13.
Additionally, he has failed to compare healthcare satisfaction ratings (about 20% higher in Scotland than the UK average).
Much of the alcohol data looks suspect, for example, on a percentage basis, the Danes have only half as many problem drinkers as the UK but a death rate from alcohol abuse which is 20 times higher than the UK.
The Courier verdict on tackling alcohol abuse in Scotland is "could do better" but what new initiative is it advocating?
The estimated number of drug users covers the age range 16 to 64 years in Scotland, but 16 to 59 years in England. This is not a fair comparison.
The bar chart relating to smoking in Scotland shows a decrease from about 23% in 2012 to less than 15% in 2013-14. The table of results for 2014 gives the percentage of smokers as 20.2%. This is confusing, so a definite "could do better" for The Courier.
The "spotlight on healthier" package has not analysed the Scottish Government performance by its own standards it seems to have selectively used data relating to other countries.
I would prefer to read about the policies of all political parties in the lead up to the election. Is it too much to expect that they will also be scrutinised at length?
Andrew Masson. St Anne'sMonorgan, Longforgan.
Austerity bites in classrooms
Sir, – Alistair McBay (April 7) is correct when highlighting shortages in teachers available to fill vacancies in particular subjects, as this appears to be becoming more universally the situation.
However, there is no discriminatory teacher employment policy in place in Catholic schools as it is not necessary for a subject teacher to be Catholic.
Many teachers and classroom assistants are of other persuasions.
The more pressing problem for schools is covering teacher absence.
At particular times of the year depending on the variables of the local context, this can on occasion make it very challenging for schools to ensure that they have sufficient cover to guarantee all timetabled classes benefit from a teacher in front of them.
As austerity bites, the incidence increases in numbers of senior staff heads and/or deputies in schools across the region, required to teach in support roles.
This has now become a pressing perennial issue for every school, denominational or otherwise, as more and more parents are discovering to their dismay.
Andrew M Lothian. 69 Dundee Road, Dundee.
Lobby power of wind industry
Sir, – George Herraghty makes important points about the dangers of wind turbines to birds and bats (April 11) and the statistics he quotes, 895 birds per turbine per year in Sweden, are horrifying.
However, his call to the wind industry to come up with figures for Scottish turbine deaths will go unanswered.
No one in the wind industry has the slightest interest in collecting full and accurate statistics about the negative impacts of wind turbines, be they bird and bat deaths, noise complaints and associated health problems, water contamination or even house price depreciation because they
know such information will lead to restrictions on development and operation, and hence, profit.
The real question is why the Scottish Government, Scottish Natural Heritage and the Scottish Environment Protection Agency have not forced the wind industry to collect this data, or better still, imposed a levy on the industry's excessive profits to fund independent scientists to monitor the negative impacts of turbines on all living things, humans included?
The answer, of course, is that the wind industry has been highly effective in lobbying an SNP Government which long ago realised the political advantage of using Westminster subsidies to fund a green nationalist dream of wind as the new oil.
Never mind that these damaging turbines would not be generating electricity if they did not receive a 100% subsidy for every scrap of power they produced, never mind that the energy they produce is too intermittent to be the mainstay of our electricity supply, and never mind that wind energy contributed only 0.35% to Scottish GDP in 2015.
Linda Holt. Scotland Against Spin, Dreel House, Pittenweem.
Irresponsible behaviour
Sir, – Janet Ward's letter on Monday about cyclists struck a chord.
As a frequent walker going from Carnoustie to either Arbroath or Broughty Ferry I have lost count of the number of times I have nearly been bowled over by these lycra louts.
They seem to spend a fortune on the most expensive equipment but cannot afford to buy a cheap bell. I would like to know if I am knocked over by one of these clowns what are my legal rights?
I may resort to carrying a large stick in future to see if that may act as a deterrent.
Bob Duncan. 110 Caesar Avenue, Carnoustie.
Britain needs wealth creators
Sir, – No wonder Labour politicians are on their high horses about tax matters. They need to hammer more and more people to keep their own MPs and their beloved public sector afloat.
Jeremy Corbyn's entire working life has been funded by the taxpayer and his retirement will be too.
By contrast, David Cameron's father created wealth to help his family and the state.
Bob Stark. Mill Street, Tillicoultry.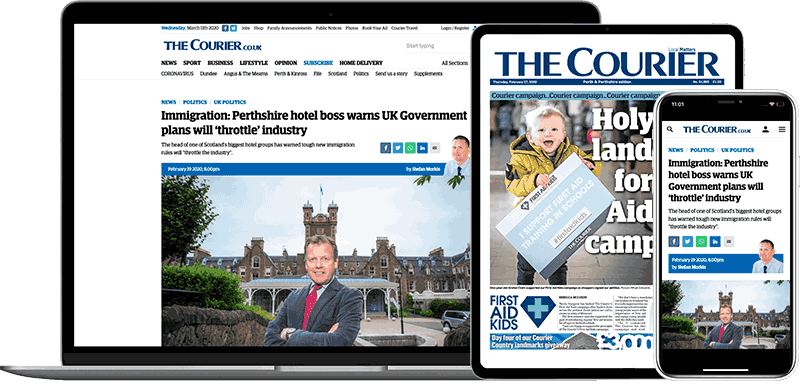 Help support quality local journalism … become a digital subscriber to The Courier
For as little as £5.99 a month you can access all of our content, including Premium articles.
Subscribe