The Scottish Government is set to unveil plans for migration in an independent Scotland on Friday.
In the sixth paper in a series laying out the prospectus for Scotland after leaving the UK, Social Justice Secretary Shirley-Anne Somerville, independence minister Jamie Hepburn and migration minister Emma Roddick will publish the plans.
The unveiling comes against a backdrop of an ageing population in Scotland, with the Scottish Government worrying about the fate of the economy and public services as the number of Scots of working age reduces.
Ahead of the announcement, Ms Somerville said the paper would lay out new Scottish Government agencies and visa routes that would help to attract people to the country.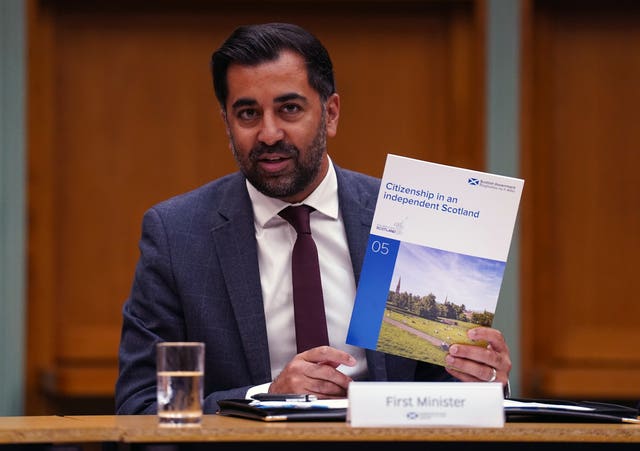 "People who come to live and work in Scotland are vital to our country's future – not only for the contribution they make to our culture and communities, but also for supporting economic growth and sustaining public services," she said.
"The proposals in this paper, including new visa routes and agencies, would support people with a wide range of skills to make Scotland their home.
"Independence is essential in order to get the powers Scotland needs to build a migration system that works for every part of our country and which has dignity, fairness and respect at its core.
"The UK Government's Brexit policy and its approach to migration and asylum do not reflect the attitudes of most people in Scotland and are damaging our economy: we need to boost our working population, not reduce it.
"Under current constitutional arrangements Scotland's population is projected to fall, so I look forward to discussing the opportunities that independence and control of migration policy will bring."
Currently reserved to Westminster, migration has caused previous friction between the UK and Scottish governments after former first minister Nicola Sturgeon in early 2020 called for a separate visa system north of the border to address demographic issues.
The call was summarily rejected just hours after it was made.
A UK Government spokesperson said: "Our points-based system rightly prioritises the skills we already have in the UK, while attracting the talent our economy needs to grow. It is broader than the previous immigration system, with many more jobs now eligible, stretching across all key sectors of the British economy.
"Immigration is a reserved matter for the UK Government, and the points-based system works in the interest of the whole of the UK."