A Royal Navy warship has helped seize cocaine with a street value of £60 million while carrying out patrols in the Caribbean.
Portsmouth-based destroyer HMS Dauntless launched its Wildcat helicopter and Royal Marines sniper team to target a suspect speedboat in the operation.
The seizure comes after the Type 45 destroyer intercepted drugs with a street value of £140 million during the summer.
A Royal Navy spokesman said: "During a routine counter-narcotics patrol of the Caribbean Sea, Dauntless launched her Wildcat helicopter and Royal Marines sniper team to close in on the suspect craft.
"When smugglers began to jettison their illegal cargo, their engines were taken out with precision by the commando snipers, bringing the boat to a juddering halt.
"That allowed a US coastguard team to be dispatched from Dauntless and 11 large bales of cocaine weighing 330kg to be seized."
Commander Ben Dorrington, HMS Dauntless's commanding officer, said: "With another bust under the ship's belt I cannot ask for more from my team.
"Their work ethos and attention to detail remains second to none which shines through on such interdiction operation such as the last few months."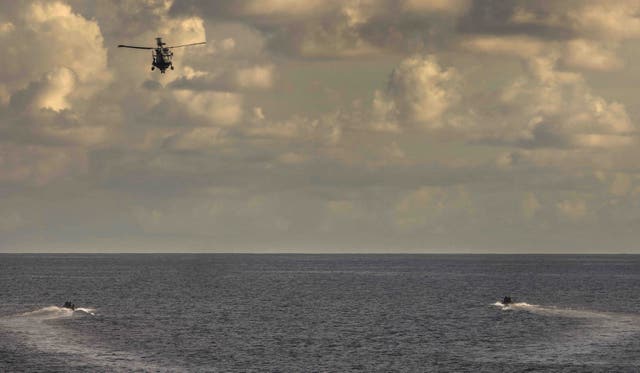 The Navy spokesman added: "Earlier in the same patrol but in a separate operation, suspected smugglers scuttled their speedboat as Dauntless closed in.
"After being guided into position by US maritime patrol aircraft, Dauntless deployed her US coastguard detachment to board and search the craft – only for it to turn into a rescue operation when the small speed boat was sabotaged by its crew.
"With their alleged smuggling mission foiled, cargo lost, and boat sunk, two people were saved, brought aboard HMS Dauntless where they received medical treatment, food and water, before being transferred to a US navy ship the following day."
Dauntless was deployed to the Caribbean in May to work with British Overseas Territories in the region during the hurricane season and assist in drugs smuggling operations.