There will be a "sharper focus" on using social media and face recognition to detect criminal behaviour at protests this weekend, the Metropolitan Police has said.
The force said almost 1,900 extra officers from around London and other UK forces would also be brought in to help manage the events.
Large-scale protests have taken place for several consecutive weeks in London, with demonstrators calling for an immediate ceasefire to Israel's attacks on Gaza.
Another rally is due to be held for Palestine in Trafalgar Square from around 2:30pm on Saturday.
Commander Karen Findlay said the force would be contending with Just Stop Oil protests, sporting fixtures and dozens of other events scheduled for Bonfire Night as well as the pro-Palestinian protests over the two days.
Speaking in an online media briefing on Friday, Commander Findlay said: "We are going to be using a sharper focus to inform sharper interventions to make arrests in big crowds.
"We have included faster-time analysis capability of social media and we are going to be employing retrospective facial recognition, so I want to make it clear that we will be doing everything within our power this weekend to make sure there is that fast-time, really robust response to emerging incidents that cause really grave concern to communities."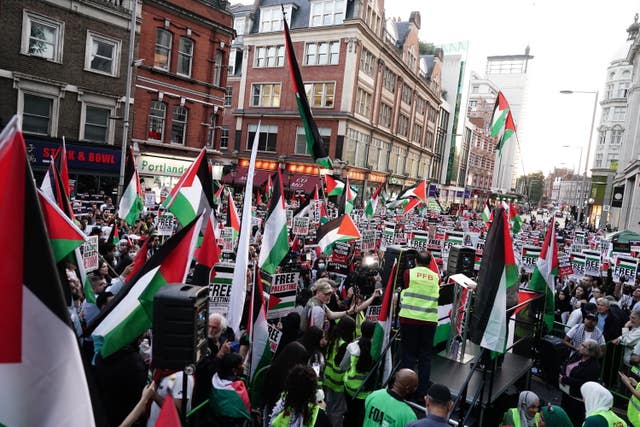 She said this involved identifying individuals spreading offensive or harmful content on social media platforms at a much quicker pace, and images were being provided to the Met through "a number of channels".
The enhanced face recognition will use the Met's database of wanted individuals alongside the Police National Database.
Commander Findlay said more than 6,500 visits had been made to vulnerable premises, including to more than 900 schools, and that these would continue throughout the weekend.
She added the volume of protests would require "a dynamic policing response" from the Met, and different enforcement approaches would be used by officers depending on factors such as the law and context.
Commander Dominic Murphy, from the Met's Counter Terrorism Command, said: "I will continue to urge people to come forward and report information – we do see some utterly abhorrent postings on social media inciting violence or hatred and we will continue to respond to those and assess that content, both for hate crimes and counter-terrorism."
He said events and conflicts overseas can act as a "radicalising factor" for individuals, and that the UK's threat level remains at substantial, meaning an attack is likely.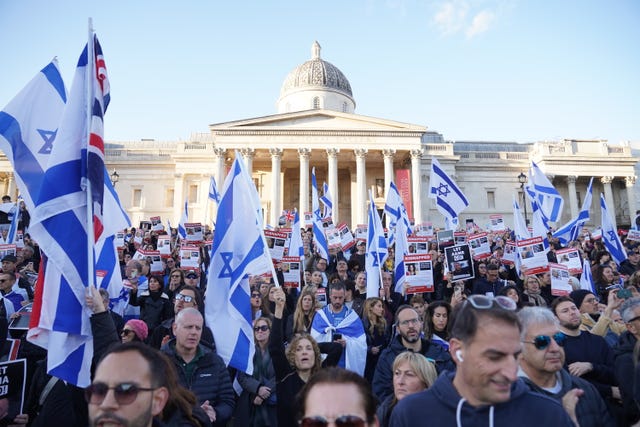 It comes after reports suggested tens of thousands of demonstrators were also planning to take to the streets next weekend on Armistice Day, which Prime Minister Rishi Sunak said would be "provocative and disrespectful".
Asked about the possibility of such protests, Commander Findlay said the Met had already been in "positive dialogue" with the Palestine Solidarity Campaign and that they had expressed "no intention to disrupt remembrance services".