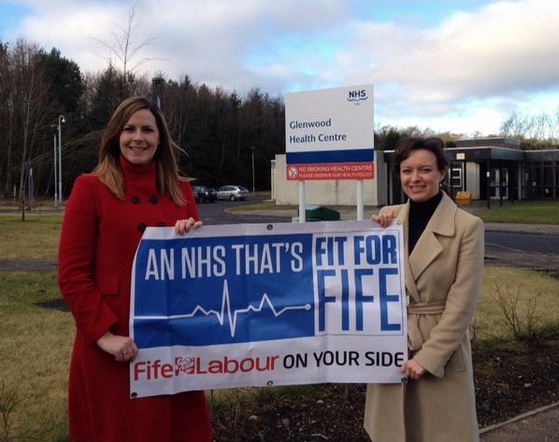 Prospective parliamentary candidate Melanie Ward and Scottish Labour health spokeswoman Jenny Marra campaigned against NHS understaffing outside a disused Glenrothes health centre.
Ms Ward, who is hoping to replace retiring MP Lindsay Roy as MP for Glenrothes and Central Fife, posted this message on her Twitter account, showing a photograph of the pair holding up a banner proclaiming "An NHS fit for Fife" outside the vacant former Glenwood Health Centre in Glenrothes.
V interesting visit to Glenwood Health Centre in #Glenrothes w @JennyMarra but clear short-staffing is a big problem pic.twitter.com/D5d142gvu8

— Melanie Ward (@melanie_ward) February 10, 2015
The site has been vacant since a new health centre was build adjacent to the building andopened by former Scottish Government health secretary Alex Neil last year.
The new £5.8 million purpose-built centre is home to the Glenwood and Lomond GP surgeries as well as a range of community services including health visiting, dietetics, podiatry, physiotherapy and district nursing.
The old site now lies empty save for the occasional visit from a security guard.
There was a furious response to the blunder from SNP supporters on Twitter.
John Lindsay posted:
https://twitter.com/John_Arab/status/565296945531731968
Twitter user ScotsMum66 added:
https://twitter.com/scotsmum1966/status/565315320525885440
Lennie Stein posted:
https://twitter.com/LennieStein/status/565447012943167489
Ms Ward later responded in a Tweet saying the picture had been taken in that spot because it is the only location where there is a sign for the health centre.
https://twitter.com/melanie_ward/status/565464190018916352
Peter Grant, the SNP's PPC for Glenrothes and Central Fife, said: "This is a deeply embarrassing blunder from Melanie Ward and Jenny Marra which shows Labour are more interested in playing political games than they are in our local NHS. "