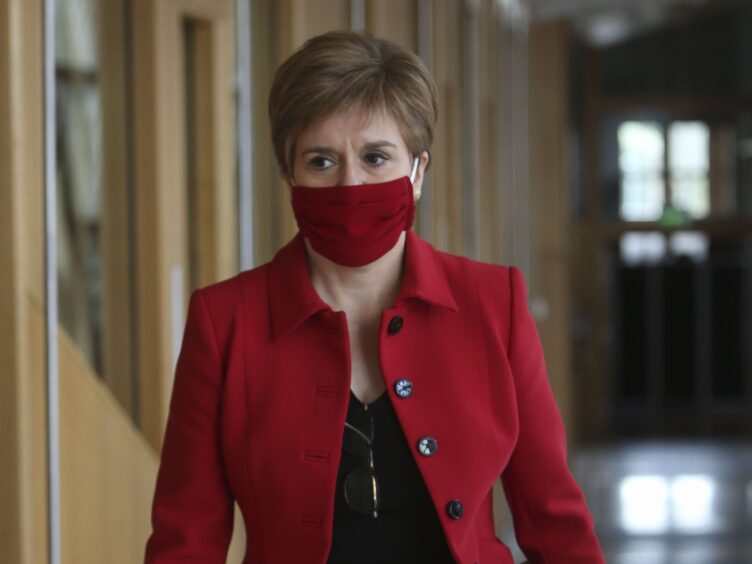 No changes will be made to coronavirus restrictions in Scotland, Nicola Sturgeon has said.
The First Minister said the situation in the country is "much, much better than we had feared it might be at this time last month" but warned the position remains fragile.
Scotland recorded 21 coronavirus-linked deaths and 2,056 new cases in the past 24 hours, she confirmed, taking the death toll under this daily measure – of people who first tested positive for the virus within the previous 28 days – to 8,687.
A total of 998 people are in hospital with recently confirmed Covid-19, down three in 24 hours, of whom 65 are in intensive care, down six.
Ms Sturgeon also apologised for the troubled launch of the Scottish Government's vaccine certification app, blaming NHS systems and saying it "now works well".
In a statement to MSPs at Holyrood, she said: "Overall, the position we are in now is much, much better than we had feared it might be this time last month.
"Cases have more than halved in the last four weeks and the number of people in hospital and intensive care is also now starting to decline."
Ms Sturgeon said the decision to make no change to restrictions reflects the latest data.
The First Minister said: "That decision reflects, firstly, that the number of cases is continuing to fall and so our judgment is that there is no need to introduce any tighter restrictions; but, secondly, that the level of infection, though falling, remains relatively high and so we consider that it is prudent at this stage, as we approach winter, to keep in place the remaining mitigations, face coverings for example, for a further period."
She said cases in the past week had fallen by a fifth and the average of 150 people being admitted to hospital daily in the second week of September has fallen to fewer than 100.
Ms Sturgeon said: "Given that cases are continuing to fall, we hope and expect that the number of people in hospital will decline further. We also expect that the number of people dying from Covid will reduce.
"All of this is positive – and a source of great relief to all of us.
"That said, the number of people in hospital with Covid now is still higher than it was in late August.
"And the pressure on our NHS remains intense."
Scotland's Covid-19 situation "remains fragile and potentially very challenging" as winter approaches, she added.
The First Minister stressed the importance of ventilation, face coverings and physical distancing – warning more indoor meetings could see more positive tests over the winter.
Turning to the app, which provides proof of vaccination status needed to access large events and nightclubs, Ms Sturgeon apologised for the problems following the launch on Thursday which meant it did not work for thousands.
She said the problem was with the NHS system the app links to rather than with the app itself and improvements have been made.
As daily figures showed 4,223,719 people have received their first dose of a Covid-19 vaccination and 3,849,656 have received their second dose, the First Minister urged Scots to get proof of their vaccination status.
She said: "There will be many of us who – at some point in the coming months – will want to attend a concert, or go to a big football or rugby match, or visit a nightclub or other late-night venue.
"So I would encourage everyone to get a copy of their vaccination record as soon as possible – either through the app, or by getting the PDF or a paper copy from the NHS Inform website.
"I know the early experience of the app was not good, but it works well now. And the alternative options are available too."