Carl Frampton suspects Tyson Fury might be unnerved by Francis Ngannou having Mike Tyson in his corner for Saturday's showdown.
Born in August 1988, several weeks after Tyson cemented his status as the undisputed world heavyweight champion by knocking out Michael Spinks, Fury was given his forename in honour of the American great.
Fury has a legitimate claim to being the best in boxing's blue riband division now and is a prohibitive favourite against mixed martial artist Ngannou in a crossover fight which is ostensibly an exhibition.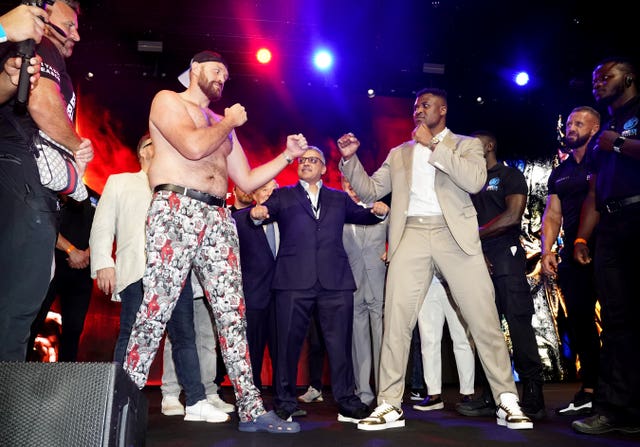 However, according to Frampton, former UFC heavyweight champion Ngannou might have a slight mental edge after employing Tyson as his trainer for his professional debut this weekend in Riyadh, Saudi Arabia.
Frampton told the PA news agency: "It might not be a massive issue for Tyson, but it's definitely something he will feel a bit uncomfortable with, that the guy who he's named after and a hero to him is going to be in the opponent's corner.
"Mike Tyson was a small heavyweight, he knew how to fight on the inside and Francis is smaller than Tyson Fury. I think the way Francis wins the fight is to get close and land shots from close distance and there's no better man to teach you that than Mike Tyson.
"Francis been completely written off by the majority of boxing fans and, to be honest, I understand why. I'm not as sure that he has zero chance of winning – he has a chance but it's very small.
"He's an athletic guy, explosive, very, very powerful, but the biggest attribute is that he is highly unorthodox. If he's throwing shots from every angle, it's actually really difficult."
The most prominent crossover fight saw Floyd Mayweather face an early barrage before wearing down Conor McGregor to gain a 10th-round stoppage in their highly-lucrative contest in August 2017.
But Dan Hardy, the first Briton to challenge for a UFC title, urged Ngannou not to be as gung-ho and preserve his energy for the duration of the 10 three-minute rounds.
Hardy told PA: "The faster he starts, the quicker he's going to tire and the easier it's going to get for Fury. The longer he can maintain that composure with the threat of a big punch, the more chance he's got of landing it.
"I would like to see a bit of patience from him, a bit of footwork and good defence, but then ultimately when he does decide to go, to really commit because that's his strength in this fight.
"Starting in the first minute of the first round would most likely just walk him on to something straight away."
Fury's WBC title will not be on the line for a fight many view as a mere tune-up for a bout against WBA, IBF and WBO champion Oleksandr Usyk, who will be ringside to get a close-up view of his rival.
The pair have agreed a deal for an undisputed world heavyweight title clash, possibly as early as December, but Frampton insists the unbeaten Fury is accomplished enough to keep his focus on Ngannou.
The Northern Irishman, a former two-weight boxing world champion, added: "He'll almost be looking ahead to the Usyk fight because it's made and he'll already be preparing for that fight, even though the Francis Ngannou fight hasn't taken place.
"But I still do think that he'll be professional enough to know he has a fight on his hands against Francis, who's looking to switch his lights out."
:: Fury v Ngannou will be exclusively live from Riyadh Season, Saudi Arabia, on TNT Sports Box Office on Saturday 28 October. For more information, visit:
tntsports.co.uk/boxoffice