England defender Esme Morgan has urged critics to empathise with players who have the desire, but no longer the capacity, to meet every autograph hopeful amid growing concern that a minority of fans feel overly entitled to their time.
Morgan's fellow Lioness, Manchester United goalkeeper Mary Earps, this week posted on Instagram after she was tagged in a post-match comment by a parent who claimed the award-winner was "far too busy and important to stop for her fans these days", admitting she found the accusation "hurtful" when she had taken time to meet as many as she could.
It is easy for Morgan, who was at the age of five already a Manchester City season-ticket holder, to put herself in the shoes of supporters hoping for a post-match meeting with an idol.
She has also witnessed popular team-mates like Chloe Kelly become upset after being unfairly criticised for not getting to everyone – when the reason can sometimes be as straightforward as needing to board a bus.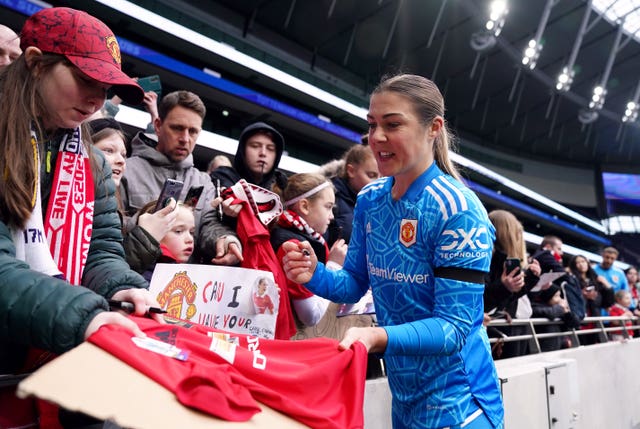 Morgan said: "You can't please everyone and you always remember that one person who wasn't happy with you as opposed to all the people whose day you made and they were really grateful.
"We love being able to go over and make someone's day and see how excited people get but with the growth of the game now it's just not really realistic and feasible for us to get round and see everyone.
"It's difficult when sometimes maybe some fans feel like the expectation is that they're going to get to meet you and in years gone by that might have been an option, not as many fans were coming to the games so you might be able to get round everyone.
"It is really hard because I'm sure at that age I would have been disappointed and so gutted that I was so close to meeting one of my heroes, but the growth of the game now means there's just so many more people interested and so many more people come to the games and want to meet people that it's just not possible for us to get round it all.
"I think it's nice that we can celebrate the interaction we have with fans but I think it's difficult that, if it's an expectation, players shouldn't be made to feel bad about not getting round to everyone."
Players like Morgan have embraced other means of interaction – she is fond of engaging with fans on her increasingly popular TikTok account and through charity initiatives – while new systems like the one being trialled at Manchester City's Joie Stadium this season aim to facilitate smoother and more quality connections between players and fans.
'Autograph Alley' is a dedicated meet-and-greet point where a smaller group of randomly selected supporters enjoy post-match encounters with players, something which Morgan says "is a lot nicer for us actually because it's a much calmer situation and atmosphere."
She added: "You can spend a little bit more time chatting to people because not everyone is sort of screaming or going a bit crazy around you. Sometimes when you go around the edge of the crowd, you're kind of getting screamed at and having things thrust in your face."
Those still hoping to snag an England player's signature would do well to take a cue from young Morgan herself. A little politeness, she said, goes a long way.
She added: "When I first started coming to City's women's matches I was just a kid in the crowd wanting to meet everyone. But I always felt like my manners were good and I'd always say please and thank you and things like that and sometimes I think that can be lost and that's one of those things where it's not a pleasant experience.
"I think if clubs can put something in place, like City have, making it a lot more well-managed and a calmer experience then I think it's much more pleasant for everybody."