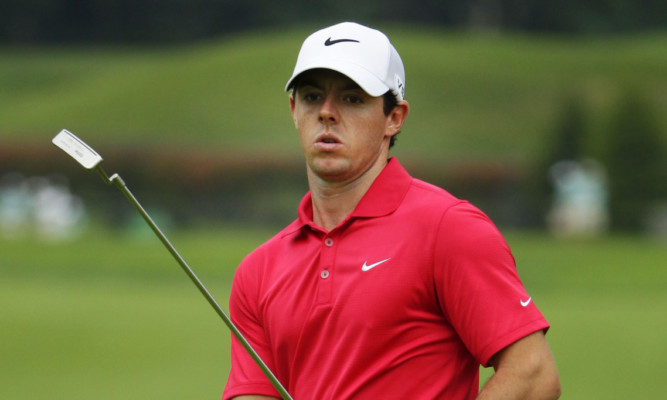 For all those people doubting Andy Murray and his chances at the US Open next week, I've got two words Rory and McIlroy.
This week McIlroy is going for his fourth title in a row.
He's won two majors in the season, is world number one, and is three quarters of the way through a career grand slam by his early 20s.
But this time last year a lot of people were speculating whether his best days were already behind him.
Some thought the change of clubs was a mistake, others thought his choice of girlfriend and manager were. And there was more than one show of on-course behaviour that left a lot to be desired.
Whatever was going on in the background, you couldn't argue with the fact that he had a really poor season by his standards in 2013.
But, as he has proven, sport can change so quickly. And that's especially true for the players at the top.
I wouldn't be surprised if that happened for Murray at Flushing Meadow.
I watched him during Wimbledon and it didn't seem to me that his best tennis was that far away.
I think it's probably a case of lack of confidence and not having a big win behind him to convince himself that he is back to his best.
It's been a long time since he's beaten one of the big boys, which can be a vicious circle. But when he does, I'm expecting him to go on a run. Let's face it, with the draw he's got, there are a few top players in his way.
It might just happen this week. Nadal is out injured, Djokovic has hardly won a game since Wimbledon, and you still have to doubt whether Federer can cope with the demands of a grand slam event at the stage he's at in his career.
I read an interview with Murray this week in which he said that he can find himself with too many shot options going through his head on the court.
I definitely appreciate where he's coming from. Having one key thought is often the best.
If Murray can get into that place that McIlroy appears to be at just now where everything is clear in his mind then he could end the year with a real bang.
* It doesn't seem that long ago I was writing in this column about Helena Costa making the news when she took over as manager at a French professional football club.
That didn't last long, but I'm pretty confident Shelley Kerr and Stirling University will be a much better fit.
The more I hear about her role, the more I think this can work.
Shelley is obviously a very well qualified coach, who knows her stuff. You just have to look at her CV to see that.
And although the university are a Lowland League team, who theoretically could one day be playing in the SPFL, they are far enough out of the spotlight to let her get on with her job.
And sports students, who will make up the team, will accept her as boss far more easily than some of the old school pros in part-time football might have.
If Shelley makes a success of it she will work her way up, and that's how it should be.
The set-up at Stirling is fantastic. I do a lot of training there, and there are more and more successful athletes about the place these days. The latest high profile one is the swimmer Ross Murdoch.
It's even better at this time of year when the students are on holiday and I can actually get a parking space for a change!
* This week my Question of Sport appearance made it on to the TVat last.
It's only been the six months since we filmed it!
The captains Matt Dawson and Phil Tuffnell really know their stuff. They film three or four shows a day, four days in a row, and you can tell they put their homework in.
It would have been nice to win we lost by a point – but I was just relieved that I didn't make a show of myself. I was having nightmares about getting a curling question wrong, but thankfully I recognised everybody I was supposed to!