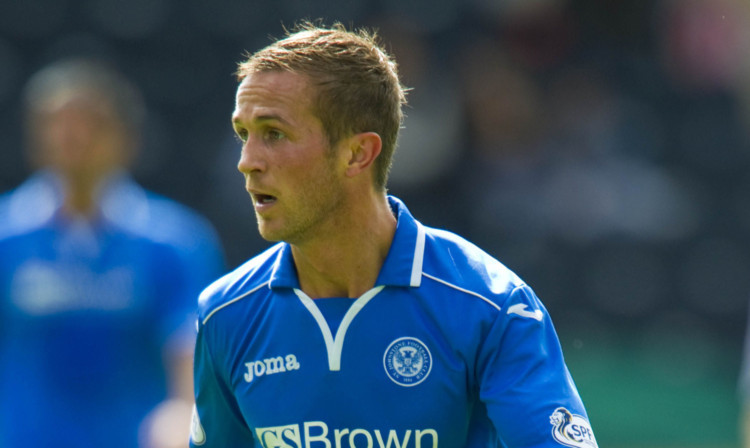 Chris Millar has been putting the international break to good use.
The St Johnstone midfielder is squeezing in a two-year distance-learning media degree during his downtime, and assignments over the last fortnight have included writing a match report on the England v Montenegro World Cup qualifier on Friday, and a stint with the BBC this week.
The course is giving the former Morton man a different perspective on football, as well as possibly teeing him up for a future career when he hangs up his boots.
But the studies are now on hold, and he's ready to get back to the business of winning football matches rather than watching and writing about them.
Millar said: "I've started a degree in sports production, writing and broadcasting at Stoke University.
"I'm down there for a few days in the year, and in the summer, and the rest is distance-learning and placements. It's a two-year course through the PFA.
"The first one is 120 hours and I'm in at the BBC. Hopefully I'll get as much experience as I can, and if I have to make the coffee so be it!
"I've enjoyed it so far. I had a match report to send in straight after the England game on Friday night. I think it was 300 words, and I had to fire it in within an hour.
"The toughest bit was getting all the information into the 300 words. I enjoyed it, though. It gives you a different angle on a match."
Millar joked that if he had to write an article on a Saints match he'd be a 10 out of 10 every week.
The last time the McDiarmid men were in action, they would all have warranted that rating, such was the quality of their performance in the rout of Inverness Caledonian Thistle.
"We knew we were capable of a result like the Inverness one," Millar said.
"It was one of those days when everything seemed to click. It showed the depth of our squad with guys like Murray (Davidson) and Padge (Paddy Cregg) not involved. There's stronger competition in midfield than there has ever been.
"Each squad that I've been involved in since I've been at St Johnstone has been a strong one, but this one has definitely got the most depth."
Like with every international break, there were pluses and minuses for Tommy Wright's men in having a free weekend.
He said: "It was a good time to rest and recover and spend a bit of time with the family. We had four or five days off and were then back in on Thursday.
"From a football point of view we would have liked another game after the Inverness win, but we've come back refreshed."
Next up is an away game against St Mirren, who had a season's best win of their own last time out.
"St Mirren have picked up and had a great win against Hearts," Millar continued.
"This will be a tough game. But if we're looking to get back in the mix, it's one we've got to be looking to win. Hopefully the Inverness result will have the same effect as our win over Celtic did last year, and we can go on a run."
One man who won't have been complaining about the pause in the Premiership will be Stevie May. He got two under-21 caps and his first goal in the dark blue of Scotland.
"He's flying just now," Millar said. "He's a confident lad and scoring with the under-21s will have increased that.
"Stevie's quick and powerful and whenever he sees the goal he wants to shoot. When I came to the club he was a boy. Now he's a man. Going out on loan was the best thing he could do.
"When he was thinking about re-signing in the summer, I said to him 'this is your year'. He's been a revelation and long may it continue."