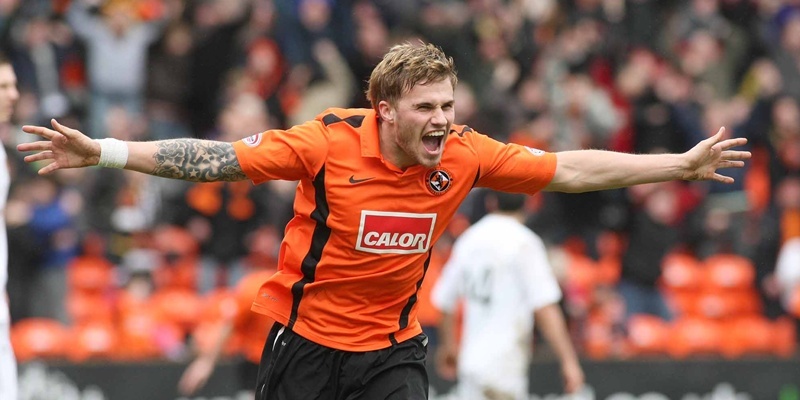 Dundee United chairman Stephen Thompson has told Rangers to stump up the £2 million asking price for David Goodwillie or "forget it."
The Tangerines have been angered by comments made regarding Goodwillie from new Ibrox owner Craig Whyte then manager Ally McCoist, and on Wednesday rejected a £1 million-plus offer from the Light Blues as it came nowhere near what they wanted.
Now Thompson has issued a challenge to the SPL champions to put their money where their mouth is.
"Rangers should start talking sensibly about a transfer fee for David Goodwillie," said the Tannadice chairman. "If not, then they shouldn't bother us and instead should perhaps look for a player elsewhere.
"Also, they should stop talking publicly about one of our employees. My message to them is that they know the valuation we have put on David and should come up with the money we are asking for or forget it."
Also, manager Peter Houston shot down suggestions Goodwillie is poised to put in a transfer request.
Following United's rejection of Rangers' offer for the player, rumours started to circulate from the west coast that Goodwillie would be approaching boss Houston to say that he is unhappy and wants to leave.
However, Houston held such speculation up to ridicule. "I have been told these rumours about David and they are absolute nonsense," said the Tannadice manager.
"I sat with David and the rest of the boys in our hotel last night having games of cards and playing pool. Everything that's going on is not affecting him one bit because he is not that type of boy.
"So for anyone to suggest David Goodwillie will put a transfer request in is being ridiculous. I have spoken to David one-to-one, he trusts me and knows I am telling him everything.
"One thing that has not happened in our discussions with David is him saying he wants a transfer. It's total rubbish."
Meanwhile, defender Garry Kenneth's hamstring problem continues to be monitored by the club.
"Garry has some discomfort and we are having to keep an eye on him. He is touch and go because it is a hamstring and you have to be careful with these injuries, But he did some work on the bike at the hotel before we left so that is positive."