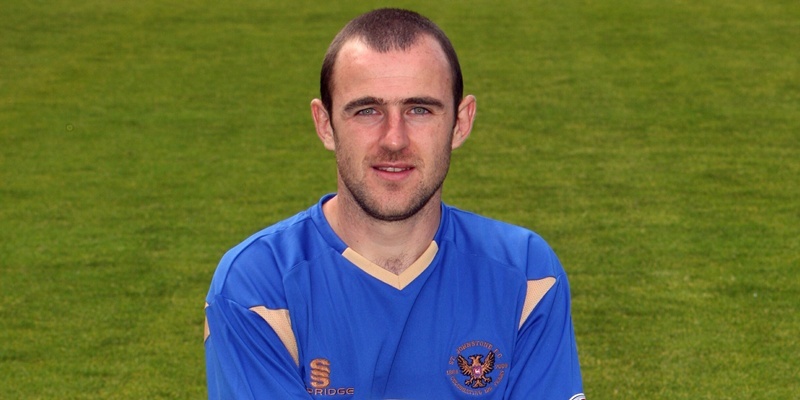 St Johnstone's Dave Mackay has called for stronger checks on the so-called money men looking to invest in Scottish football in the wake of Dundee entering administration.
Mackay was a player at Dens when the club suffered the same fate in 2003, and before he joined Saints last season, he was also caught up in Livingston's financial woes that eventually led to the club entering administration for the second time and being demoted to the third division.
The defender has nothing but sympathy for what the Dark Blues are going through again but he feels the authorities need to have more stringent safeguards in place before businessmen such as Calum Melville at Dundee and Angelo Massone at Livi are allowed to become involved with clubs.
"It was only a couple of weeks before Dundee went into administration that myself and Lee Mair were offered new three-and-a-half year deals," he said. "Looking back now, it was decent money but I remember Peter Marr (former Dundee owner) coming out in the papers and having a go at us for not signing these new contracts and calling us greedy.
"Yet, a couple of weeks later, we went into administration. Obviously, the debts then were a lot worse. They seemed to be hidden until a couple of days before we went into administration so it was a bit of a shock.
"This time, it appears to have been going on for a lot longer with people behind the scenes knowing bills have not been paid. It is just a shame that it has happened again, especially after last season when the new guy (Melville) came in, promising this and that.Retrospective wisdom"I think they just expected to win the league at a canter and maybe that would solve the problem and give them a bit of money to play with but unfortunately, it did not work out that way. I think there should be stricter checks on these people.
"The guy at Livingston (Massone) came in and I do not think he put a penny into the club. I think he was living the same dream that we would win the league no problem, as it was just the first division.
"It all went downhill when we were top of the table and the manager (Roberto Landi) came out and said we would be in the Champions League in two years but we got beaten 6-1 at Queens that day," he joked. "The rest, as they say, is history.
"Seriously, though it is a lot for the Dundee fans to deal with twice in the space of seven years. They had to dig deep the last time and no doubt they will be expected to do so again but whether they will be able to or not…I hope they can."
Mackay says that back in 2003, the players who were retained after administration also dug deep on the field.
"I was one of the players kept on," he said. "I expected to be as I was in the first team at the time but was one of the lowest-paid players at the club.
"All the lads were gathered together in a room and manager Jim Duffy read out a list and if your name was on it, you were sacked, if it was not, you were staying.
"There was a real togetherness within the players remaining. I think we played Hearts in the cup shortly after entering administration and I remember there was a great crowd at the game and we ended up winning with a young team.
"Dundee may now be docked points and could even be relegated but Livingston have shown by getting their act together that sides can build from scratch again.
"Despite everything that happened, I do not have anything against either club. I enjoyed my time at Dundee and Livingston."