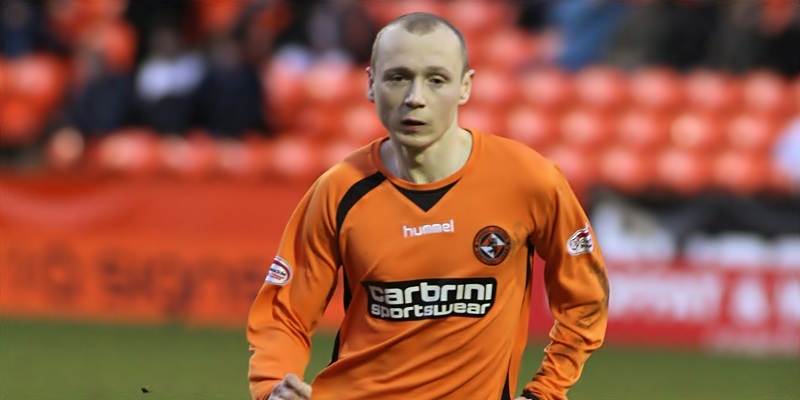 Willo Flood cast his eyes across the Tannadice pitch after booking a return ticket to Dundee United and declared, "I am back where I belong."
The wee Irish midfielder was all smiles after putting pen to paper on a two-year deal, glad to be coming home to the club he believes brought out the best in him.
Flood's 18-month loan spell with the Tangerines ended in January 2009 when he switched to Celtic before latterly heading for Middlesbrough.
However, the happy memories are still fresh in his mind and he is hoping to add new ones after picking his former team ahead of Aberdeen, Hearts and a clutch of English Championship clubs.
"Without a doubt I played my best football here at United," said Flood.
"That was the best time of my career.
"What happened was I got a run in the side and was enjoying my football that is how you get the best out of Willo Flood."
He said, "At the moment, I have just been going around the place seeing all the same faces and meeting old friends.
"It is just a great club to be at.
"There was interest from elsewhere, particularly down south, but when you are happy on the football pitch that counts for a lot.
"Obviously, it didn't work out for me at Middlesbrough and now I am back where I belong."Looking to futureA hugely significant factor in persuading Flood to return was the relationship he enjoys with manager Peter Houston, who was assistant to Craig Levein during the player's previous spell at United.
Flood said, "I have stayed in touch with the gaffer since I left.
"He would always ask me how I was doing or what I was up to.
"There is a good chance that if he were not the manager then I wouldn't be here now."
He added, "I think the gaffer and Craig Levein got the best out of me on the pitch and I have always had a lot of respect for them."
During his time away his great mates and fellow Irishmen, Sean Dillon and Jon Daly, collected Scottish Cup winners' medals.
Flood denied he was even slightly envious and instead suggested the trio can team up to bring more success to the Tangerines next season.
"I came up to watch them in the final last season but I got tonsillitis and couldn't get to the game, which was a shame," added Flood.
"I wouldn't say I was jealous, I was just really happy for them because they worked their socks off and everyone at the club deserved that cup."
He added, "Also, you don't know what can happen in the future here there may be other finals.
"It is an early return because of the Europa League games so we will have to get a decent pre-season in and be sharp for the start of the action. I am looking forward to it."'Important addition'Flood made only 10 appearances for Celtic after leaving United but the lifelong Hoops fan insists he does not regret making the switch.
He said, "Celtic was the club I supported as a boy so I had to give it a go.
"If I hadn't gone then I would probably have regretted it at the end of my career."
Houston, in the Republic of Ireland on Scotland duty as assistant to national coach Levein, took time out from his international commitments to comment on Flood's return.
He said, "We know all about Willo's qualities from his previous spell and, as I look to add experience to the team, I see him as an excellent and important addition.
"It says everything about Willo that he had more lucrative offers available but chose to come to Tannadice because he enjoyed his football here and sees it as a place where he can enhance his career."
Tangerines chairman Stephen Thompson admitted the club have punched above their weight in tempting Flood away from the bright lights and deep pockets of the English Championship.
He said, "We are thrilled to get Willo on board and it is a bit of a surprise we managed to get him because he could have got a lot more money elsewhere.
"He had other Scottish clubs and some Championship clubs after him."
He added, "There was a bit of doom and gloom about the guys who left at the end of the season but I think signing Willo and John Rankin shows the club's ambition."