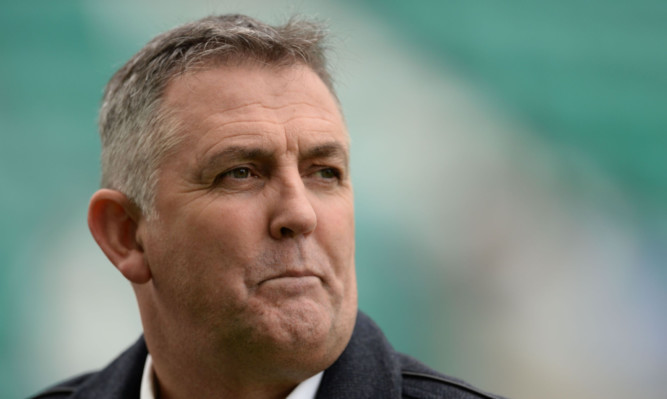 As determined as he might be to get back into the dugout, experience tells Owen Coyle that the circumstances must be right first before he makes a return to football management.
After cutting his managerial teeth at St Johnstone, taking Burnley to the promised land of the Premiership and keeping Bolton in the top flight, it is fair to say that since then the proud Scot has seen more than his fair share of lows on the managerial merry-go-round in more recent years.
His last two gigs have not ended as Coyle might have hoped, with his spell at the Reebok culminating in dismissal in October 2012 before his tenure in succeeding Roberto Martinez at Wigan was brought to an abrupt halt after little more than five months.
Despite the last couple of setbacks though, Coyle told Courier Sport this week that he is ready and raring to get back into management with one caveat.
"Football has been very kind to me so I don't need to take the first thing that comes my way," he explained.
"It's important that I take the right job, and by that I mean working with the right people.
"I don't have any regrets as such but I shouldn't have taken the Wigan job when I did.
"I didn't get on with the chairman (Dave Whelan) from day one truth be told so I never actually signed my contract when I went there.
"Having had that experience, what's important now is that I get the feeling I'll be working with good people again.
"I've turned four or five things down in the past four or five months already.
"That's not a snobbery thing I just have to get the right feeling from the right person.
"When that comes along I'll gladly take a job.
"It's killing me every day not being involved as it's what I love doing.
"I love being out working with young players and making them better.
"I just want to get an affinity with someone and a feeling that I could really work with them."
Out-of-work football managers could be forgiven for trying their hand at punditry or making other TV appearances to keep their name out there, and Coyle has done both this week helping to analyse Saturday's Scottish Cup games on Sportscene before making the fifth round draw at Hampden two days later.
But Coyle isn't worried about being forgotten and hopes his track record speaks for itself.
"We (Coyle and assistant Sandy Stewart) never left Wigan because for football reasons," he continued.
"We were three points off the play-offs with a game in hand, brought in £19 million, spent £4.5 million and were one game away from reaching the knock-out stage of the Europa League, the only second tier team in the competition.
"We left Wigan because me and the chairman never saw eye to eye.
"We had a couple of blazing arguments and I told him what I thought, so that's the real reason why we left.
"But everywhere we've been we've done well.
"We went to Bolton when they were second bottom of the league and kept them in the Premier League with nine points to spare, had them there for three years.
"The year we lost out it was on the last day of the season, with lots of injuries and with what happened with Fabrice Muamba.
"So wherever we've been I'd sit and debate with anybody about how well we've done.
"So [the prospect of being forgotten] is not something that fazes me.
"Everyone in the game knows what you're capable of, how good you are and what you've done. "There's no point just taking a job for the sake of it."
In all honesty Coyle would probably prefer a return to management in either England or Scotland, but points to the likes of Alex McLeish, who has got Belgian club Genk challenging near the top of the Belgian league, and David Moyes, who has made a move to Real Sociedad in Spain, as proof Scottish managers can cut it abroad.
"I've had offers from at home and abroad, so that's not something I'd rule out," he continued.
"When you leave Scotland you go abroad to go to England!
"But the bottom line is we all move as players, and will do so as coaches and managers as well.
"We know how the game works and that's not something that I would worry about if it was the right opportunity.
"In essence, the game's the same game, you just have different levels.
"The principles, the things you bring to training, and produce in terms of putting a team together are all the same.
"Alex McLeish was my manager at Motherwell and is someone I've got so much time for and huge respect.
"He had a spell where he left Nottingham Forest, when people think it was under a cloud or whatever, then wasn't working for a bit, but it never changed the fact that he was a very good manager.
"And nobody is going to tell me that David Moyes is not an outstanding manager because of the trials and tribulations he had at Manchester United.
"It's a fickle business but we all know the nature of the game.
"As managers, the Scots have always punched above their weight for such a small country and the success has been fantastic.
"So there's no reason why Scots can't go abroad and coach."