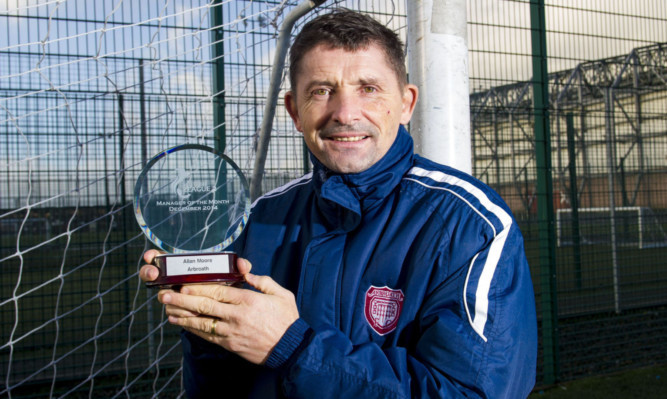 Arbroath manager Allan Moore's stock shot up once more yesterday as he collected his second Manager of the Month award of the season, yet the Lichties boss insists it would take something special to lure him back into full-time football.
The Gayfield gaffer, who also picked up the SPFL accolade back in August, guided his side to an almost faultless December to close out 2014, with his side grinding out four victories and a draw to stay top of League Two.
His team's performances are unlikely to have gone unnoticed, and Moore will no doubt be hoping to repeat what he achieved as manager of Stirling Albion by taking Arbroath from Scottish football's bottom tier back up through the leagues.
But Moore only needs to point to his experiences there and at Morton, where he was sacked just months after taking the Greenock side to the brink of the SPL, as proof of how quickly things can change in football.
"I'm enjoying managing Arbroath," he told Courier Sport.
"It's a good club – the only problem is the travelling but you get used to it.
"That's what you get with part-time football and I've been there before with Stirling Albion.
"But this job has been a bit of fresh air, if I'm honest.
"The board and the chairman have backed me substantially.
"They're actually throwing money at me and trying to get me to bring players in to strengthen.
"We got the boy Ryan McGeever in from Falkirk, but I was really disappointed because I'd agreed a deal with Alex Neil for Craig Watson and Martin Canning got the job and pulled the plug on it at 3.30pm on Friday.
"I wasn't too happy and Martin's not endeared himself to me in his first manager's job!
"But it doesn't matter if it's Morton, Stirling Albion or Arbroath.
"If you are top of the league, it's a good place to be.
"But I know from experience how quickly your circumstances can change in football.
"You just have to enjoy it while it lasts."
Moore has watched with interest over the last few days as his former Airdrie team-mate and Hamilton boss Alex Neil earned himself a move to Norwich City after gaining promotion with Accies in the summer.
But while Hamilton have come on leaps and bounds in recent seasons, Morton's second place finish in 2012/13 proved to be a peak for the Greenock club and Moore himself.
They dropped out of the First Division the following season and Moore was an early managerial casualty that November and he admits the decision of chairman Douglas Rae still rankles.
"We didn't invest when we should have," he recalled.
"We finished second but then we went backwards.
"The chairman came up with some silly system eight, eight and eight and it was eight players on the same wages, eight more on less and eight young boys.
"And those certain amounts weren't enough to bring in the calibre of players we needed to kick on towards the Premiership.
"That blew a couple of my targets and we lost experienced players like Peter McDonald, Willie Dyer and Kevin Rutkiewicz because we couldn't afford them.
"I can't criticise Douglas Rae too much because he's put a lot of money in.
"But I was just asking for the same budget and the time was wrong to cut back.
"Players who finished second were being asked to take wage drops and they weren't on great money anyway.
"I took a wage cut after taking them to their highest place in the league in a long time.
"We knew in our heart of hearts the new system wouldn't work.
"It's not just backfired on me, though.
"It backfired on Morton, because they've went out of that league just as Rangers, Hearts and Hibs were coming into it."
That final season at Cappielow was a particularly tough one for Moore personally, as he went from the high of seeing his side knock Celtic out of the League Cup at Parkhead to the low of hearing about his brother Steven's death less than 24 hours later.
Morton's results coincidentally took a turn for the worse, leading to Moore's dismissal two months later, but he stressed yesterday: "It might have affected me, yes, but it shouldn't have affected the team.
"I'm not making that an excuse for how things worked out after that Celtic game.
"But the thing I am most upset about is leaving Morton while we were bottom of the league.
"I did feel Douglas should have given me more time after all I had done for the club.
"OK, we were bottom of the league but I still felt we could have clawed our way back up.
"I didn't get that time and the rest is history. Kenny Shiels had a tough time after me.
"They've not had many successful managers down there and I felt I was one of the better ones.
"But I took Stirling Albion from Third Division to First Division on a limited budget and I'm hoping I can get that success again with Arbroath.
"I think we've a right good crack at it this year, although Albion Rovers and Queens Park are chipping away at us."
While the likes of Jackie McNamara and Paul Hartley's efforts in the lower leagues earned them moves to Scottish football's top flight, Moore stressed yesterday that he is more than content with his current set-up.
Moore's day job is now working as a sports lecturer at the New College Lanarkshire, ironically under his Arbroath assistant Todd Lumsden, with the roles reversing when the pair take charge of the Arbroath players.
And even if the 50-year-old boss can take Arbroath up this season, Moore yesterday all but ruled out a move to a so-called bigger club.
"I felt very fortunate to get my job back here as a sports lecturer, Todd got me back in, and even if a full-time club came in for me I don't think I would take it," he concluded.
"It would have to be a very good job to entice me back and I'm not going to get those kind of opportunities now.
"I'm not kidding myself on and I think the jobs I would like to get won't come my way now.
"I had a wee chance of them when we finished second with Morton and it didn't come along.
"I was quoted for the Dundee United job but it didn't happen for me.
"So I don't think I'd want to go into that environment anymore because I've settled lifestyle with my job here and Arbroath winning on a Saturday.
"I keep saying we are going to win the league and Todd keeps telling me not to say it.
"If we don't win and I have egg on my face, then fair enough.
"But I feel we are good enough to win it and that's what we're trying to do."