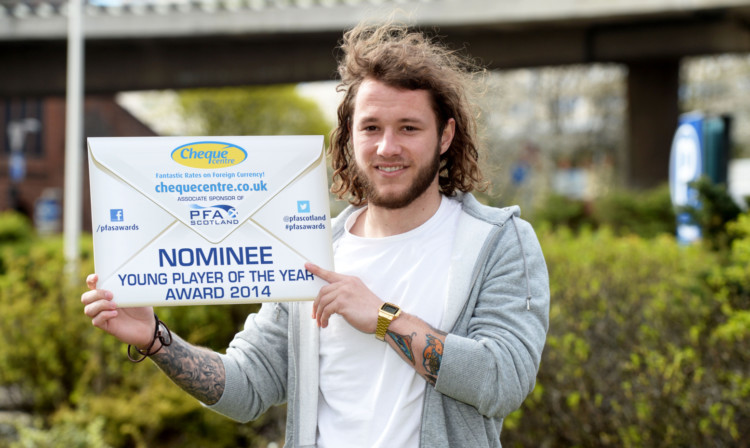 Stevie May has refused to rule out staying with St Johnstone next season.
The 25-goal striker has become one of the hottest properties in Scottish football and is out of contract at McDiarmid Park at the end of the current campaign.
It had been widely believed that the Scottish Cup final against Dundee United on May 17 would be his swan song, but the 21-year-old is keeping his options open.
Nominated by his peers in all four divisions as one of the four candidates for the Young Player of the Year award, he revealed in Glasgow that he may remain a Saint for a while yet.
"I'll obviously listen to whatever they say," he said. "I've got a lot of time for everyone at the club.
"They took me on as a young boy and I've supported them all my life.
"I haven't spoken to them yet, but it sounds as if they want to speak to me soon and I'm happy to meet and talk."
Club captain David Mackay said he expected May to leave after the showpiece game at Parkhead, but that surprised the striker.
"I don't know what he was going on about," he said. "I think he was speaking in the euphoria of a good win.
"I'm just concentrating on winning games for St Johnstone, scoring goals and nothing else. We have the cup final to look forward to as well."
May was delighted to be named on the PFA Scotland shortlist, but that accolade could not trump last weekend's achievement.
"It's brilliant to get recognition on a personal level but to get into the Scottish Cup Final does mean a lot," he said.
"That gives the fans a day out and, after 130 years of not making it to a final, it does mean that bit more.
"A few folk have commented on the 'May 17' angle and I do hope it's not just a coincidence.
"But there are a lot of games between now and the final and we still have our sights set on catching Dundee United and Inverness."
His two goals against the Dons at Ibrox represented the highlight of May's career so far.
"It was nice to do it in a big game and that was the biggest match of my career to date," he admitted.
"I also got a goal against Rosenborg last summer, and that was the start of things for me this year that and the unfortunate injury to Chris Millar, which gave me my chance to get in."
May could have gone to League One side Peterborough during the January window but preferred to play on in Perth. He did not regard it as a gamble to snub Peterborough's interest.
"For me it doesn't matter what level you are playing at as long as you're playing you will improve, and I was happy to stay at St Johnstone," he said.
"The reassurance I needed was that I was going to get a chance and then it was up to me to take it.
"It would certainly be justified if we could get on a win the Scottish Cup."