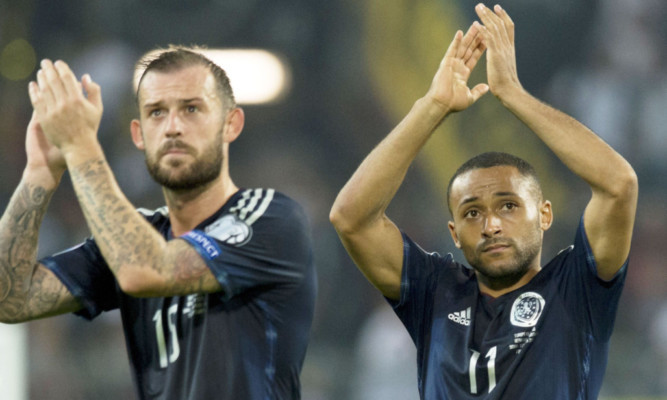 Steven Fletcher didn't need to score a Hampden hat-trick to prove his worth to his Scotland team-mates, according to Ikechi Anya.
But the Watford winger is looking forward to seeing the confidence boost his game will get from three Gibraltar goals on Sunday all the same.
Ikechi, whose famous goal in Dortmund at the start of the Euro 2016 campaign, was laid on by Fletcher, explained: "Steven brings loads to the team, he's been brilliant.
"People might say he doesn't score as many goals as he should, but his game is about more than that.
"He brings other players into play and helps others score.
"Even though he hadn't been scoring, he was still playing with plenty of confidence.
"That was never a problem for him.
"He got a hat-trick on Sunday and everyone is buzzing for him.
"I heard it was the first Scotland player to score a hat-trick since the 1960s or something.
"So now he's got one, hopefully there will be plenty more.
"We see it in training, he's one of the best finishers we've got and there will be plenty more goals from him."
Next up for the Scots is the short trip to Dublin in June. Win that one, and a play-off place will be almost secure, with second spot and automatic qualification for France a realistic prospect.
"The Ireland game is massive now," Anya admitted.
"In international football the next match is always the biggest.
"The Germany game was the biggest I'd played in, then the Poland one and now it will be the Ireland one in June.
"That's the way it is and we need to approach it the same as we have done all the time.
"We are on 10 points now and hopefully by the time we come back from Dublin in the summer we'll be on 13 points.
"We have put ourselves in a good position but there's still a long way to go and we need to keep the same focus we've had all along."
Anya believes Scotland did exactly what they needed to in the 6-1 defeat of Group D minnows, Gibraltar.
"It was a strange game but we did a professional job and got the three points we wanted," he pointed out.
"You don't experience games like this too much at international level, where you're so much stronger than the opposition.
"So it was all about being professional, we did that and to win 6-1 in the end means everyone goes away happy and looking forward to Ireland.
"The manager wanted us to be wide open because after watching the DVD's he felt we could create chances against them.
"Obviously we didn't want to lose a goal but we still came out of the first half 4-1 in front.
"After that we reverted back to more like what we usually play like, but still managed to attack and get another two goals.
"If you look at the goal they scored, it was maybe too easy and it was because we'd left ourselves too open.
"But I think we learned our lesson from that and it didn't happen again.
"It was a new formation and it was all about attacking, but we just wanted to get the goals and put the game to bed.
"When they scored, we reacted well and went up the other end to go back in front.
"It was good we were able to do that and apart from that one moment I felt we were comfortable."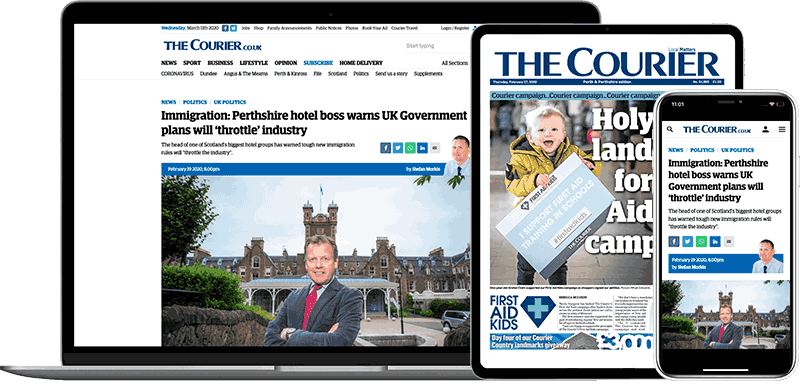 Help support quality local journalism … become a digital subscriber to The Courier
For as little as £5.99 a month you can access all of our content, including Premium articles.
Subscribe