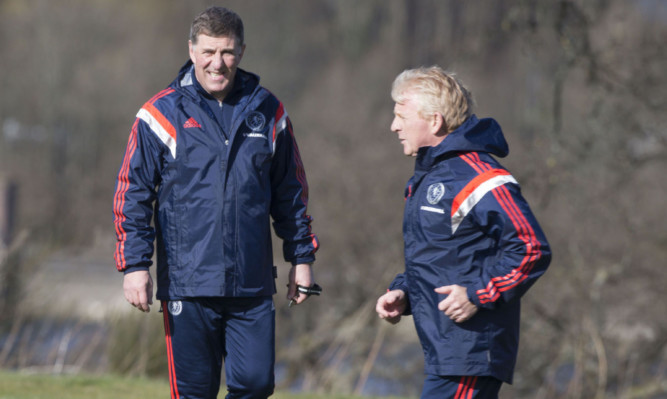 Mark McGhee believes qualification for the 2016 European Championship finals is the only criteria for the Scotland squad to be considered "something special".
Optimism is high ahead of the Vauxhall International challenge match against Northern Ireland at Hampden Park on Wednesday night and the European qualifier against Gibraltar at the national stadium on Sunday.
Gordon Strachan's side are third in Group D with seven points from four games and another three points seem all but certain against the bottom side, who have no points from four games and have yet to score while conceding 21 goals.
However, the Scotland assistant, speaking at the Scots' Mar Hall base on the outskirts of Glasgow, reined in a suggestion that there is special feeling around the camp as Scotland look to reach their first major finals since the 1998 World Cup.
"It is early to start thinking about something special," he said.
"I think we have the opportunity maybe to create something special. That something special can only be qualifying.
"We will only have done what others have done, huffed and puffed and done quite well and at times shown a bit of improvement, unless we qualify. We won't be able to say other than that.
"I think if we go on and finish the campaign as strongly as we started then we have a chance of qualifying and if we do then we can consider it to be a bit more special than it has been recently.
"We are happy with the talent we have at our disposal and it is demonstrated by the players we can name who aren't here.
"We are content that we have a talented squad that we have to make the best of and that is the challenge for us."
McGhee hinted Strachan will utilise his squad over the two matches.
"Gordon is very conscious of respecting the clubs and the managers and some of these guys have huge campaigns ahead of them," he said.
"We certainly won't be doing anything that jeopardises any of chances of finishing the season well.
"So we have to pick teams for the two games which balance our needs and the needs of the clubs.
"Gibraltar sit deep, they defend in numbers and regardless of the scores against them in other games, you still have to work hard to break them down."
The Scotland camp is without Stuart McCall, who stepped down from his role as coach to take over as Rangers manager until the end of the season.
The former Ibrox midfielder picked up his first three Scottish Championship points at the third time of asking with a 2-0 win over Hibernian at Easter Road on Sunday.
McGhee is confident McCall will be handed the job on a full-time basis and that Strachan will be looking for a new coach.
He said: "Gordon and I took a bit of time to decide what we needed in in terms of the backroom team and who it was going to be.
"We met Stuart privately to make sure we felt he was the right personality and we did that because we felt there is a burden of work when we are here that requires three of us.
"He wasn't here to make up the card school, he was here because we needed him.
"We hope that Stuart ends up the full-time manager of Rangers and that we will be looking for someone else.
"But he has been a hugely important part of the team and we will miss him this week and if he doesn't rejoin us.
"I think Stuart is of a calibre that I will be amazed if he doesn't stay at Rangers."
On Bournemouth forward Matt Ritchie, called into the squad for the first time, McGhee said: "In terms of how we set up and what Gordon wants from the team, it is what Matt does at Bournemouth.
"He has strengths and he plays in a way we can benefit from. He is here on merit."