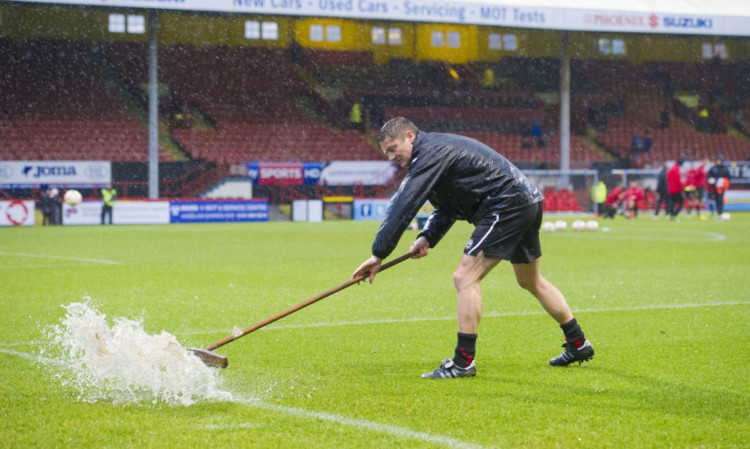 It was a case of frustration all round at Firhill as a soaked pitch forced the abandonment of Saturday's league clash between Partick Thistle and St Johnstone at half-time.
Strong winds and heavy rain throughout late morning and into the afternoon were always going to threaten matches across the country, although it looked very much like the weekend's eagerly-anticipated encounter in Maryhill might see a conclusion despite the farcical conditions.
Areas of the pitch, particularly in front of the home Jackie Husband Stand, looked unplayable before and during a first half in which both sides struggled to get to grips with the elements, but both teams battled to half-time with the scoreline goalless.
But with fans expecting to see a second period after enduring the first, referee Kevin Clancy took the decision to call the game off and it means the pair will have to do it all again at a later date.
"The ultimate factor for us was player safety," Clancy told Courier Sport afterwards. That's of paramount importance when you have to take a decision on the condition of the park.
"We felt approaching half-time that there were parts of the park, in one corner of the pitch in particular, where the ball wasn't rolling properly. It was sticking when coming out of the air and some players were even over-running the ball.
"So it had the potential for ruining the match but also causing injury to a player if it's misjudged."
The pitch looked decidedly dodgy prior to the game starting, but Clancy defended the decision to try to see it through.
"It wasn't to the same extent before kick-off," he said.
"We looked at certain areas of the park before the game and the ground staff did a great job in trying to sweep those areas, and also at half-time. But we felt that before the match that the pitch was playable.
"I had a word with both managers to discuss the conditions and the park.
"But as we were approaching half-time with the relentless rain some areas of the park were becoming worse and indeed some of the players from both sides were expressing their reservations and concerns about certain sections.
"Both managers were happy with the assessment that the park was playable at 2.30pm, even 2.45pm. We then had a constructive discussion at half-time that areas of the park had simply become unplayable."
All in all, it was a disappointing end to a day which was important for both teams.
Saturday was Thistle's eighth attempt to claim a league victory in front of their own fans, while the visitors were determined to improve their away record having won just one of their seven Premiership fixtures on the road so far this term.
There was just one change from the team that lost to Aberdeen a week previously, with winger Gwion Edwards getting a chance to prove his worth in place of Nigel Hasselbaink.
Conditions were, let's say, far from ideal at Firhill before kick-off as a howling wind and driving rain made for an uncomfortable afternoon for all, but referee Clancy appeared satisfied the pitch was playable and it was game on.
Midfielder Gary McDonald spoke about having taken a few knocks in his Saints career pre-match and it took him exactly 15 seconds to be forced off with another one, returning a few minutes later following treatment with a bandaged head.
Both sides struggled to get to grips with the waterlogged surface early on but Saints did fashion a chance in the 10th minute when Stevie May's audacious overhead kick landed on top of the net after David Wotherspoon did well to cross from the right.
Thistle's Kris Doolan then saw a header trickle just wide of Alan Mannus' post five minutes later after getting on the end of Christie Elliott's ball in.
Saints' May seemed to be reading the conditions better than most and he fired a low drive inches wide of Scott Fox's right-hand post in 21 minutes, before latching on to a long ball by Sanel Jahic and almost creating an opening on the half hour. The striker rounded keeper Fox but found his angle to be too tight, and the chance went a-begging.
Saints' top scorer admitted afterwards that the decision to call it off became easier the longer the game went on.
He said: "I think it was a hard one to call early doors but it was obvious to everyone that you couldn't run with the ball, especially in that far corner."