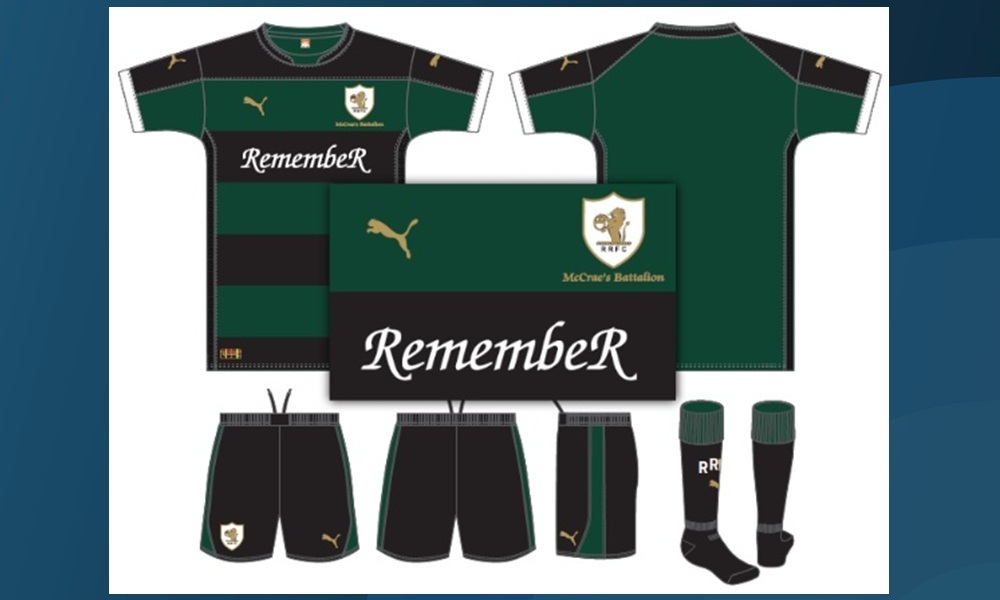 Raith Rovers say a new away strip to mark the sacrifice the club's players made during the First World War will be available in the spring.
One hundred years ago, Sir George McCrae raised a battalion of sportsmen to fight for king and country in the Great War, with seven Raith Rovers players joining up along with a group of players from Heart of Midlothian and other clubs.
The battalion, known as 16th Royal Scots, took part in key actions including the Battle of the Somme and the push for Passchendaele, and three Raith players Jimmy Todd, Jimmy Scott and George McLay lost their lives during thefighting.
Now, a century on, the Kirkcaldy club have broken from their traditional team colours to launch a commemorative second strip to mark the centenary of the formation of McCrae's Battalion and Raith Rovers' links with it.
The shirt, which is expected to be available in the spring, is in the colours of the Hunting Stewart tartan worn by the Royal Scots Regiment and aims to honour all those who have served in the armed forces in conflicts since.
Raith chairmanTurnbull Hutton said he hoped supporters would be proud to wear the colours of the McCrae'sBattalion for the next two seasons.
"We wanted to do something completely different for next season in terms of kit colours but at the same time the board has been considering a suitable way to mark this centenary in an appropriate manner, so we have brought these two ambitions together with our new green and black strip," he added.
"We hope that it captures theimagination of the Scottish footballingpublic and, through next season's sports pages, that it ensures that we really do remember the sacrifices of our players and so many others 100 years ago."
Willie Porter, Willie Lavery and Jock Rattray were the other Roversplayers who signed up to McCrae'sBattalion while a further 10 Roversplayers also enlisted for service in other regiments during the First World War.
A memorial cairn was erected at Contalmaison in northern France a decade ago to remember those who fought in the battalion, while Rovers are represented each year at memorial services in Edinburgh to commemorate Remembrance Day and the part McCrae's Battalion played in the conflict.