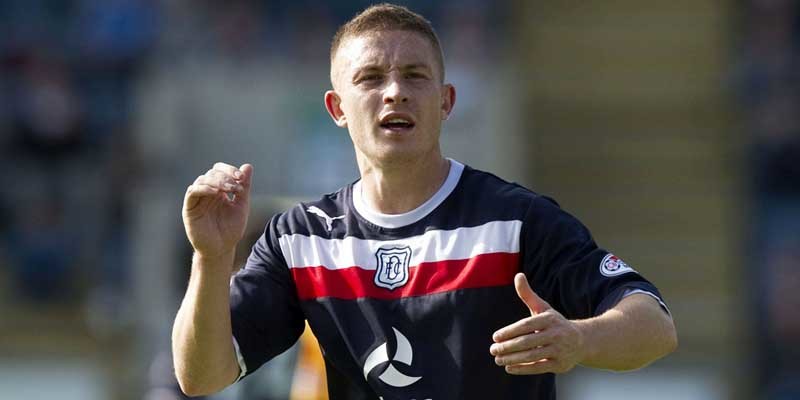 When John Baird was starting out on his football career with Clyde, he excitedly turned up for duty at the club with 19 other aspiring players on a YTS scheme.
Ten years on, of that group, only Baird and one other player are still plying their trade in senior football with the rest no longer involved in the professional game.
It is for those "lost" players that the 27-year-old, now at Dens Park in the SPL with Dundee, has agreed to become an ambassador with soccerinnovation.co.uk
The company is the brainchild of Baird's representative Ricky Gillies, with the former St Mirren and Aberdeen star looking to place youngsters who have maybe been denied opportunities in Scotland into the American collegiate system through scholarships.
That was a route famously taken by former Scotland, Everton and Rangers centre-half David Weir.
Now, Baird is hoping to pass on some of his professionalism and knowledge to youngsters determined to try their luck in America by combining gaining an education with pursuing their sporting dreams.
He said: "This is all about sending kids to America on scholarships for their education and the football side of things. The way things are with Scottish football with all the cutbacks financially, squads are getting tighter and tighter and it is hard for young boys and girls to break into the game.
"The age of 18 is a big cut-off point and only one per cent kick on into the professional game, including part-time and full-time sides. With the scholarship, you have a four-year life experience in America and if football doesn't work out, then you have the education to fall back on.
"If you look at Davie Weir, for example, he went away, did a scholarship and then came back and made a career out of football but he always has his education to fall back on.
"Maurice Edu is another one who has done that. You just have to look at the amount of American players over in England now to see that the system works."
Baird added: "I am not knocking Scottish football but I think it is a great opportunity for kids if things don't work out here. I am an ambassador for the scheme and will look to give them some advice.
"I came through the Scottish system but when I was 16 a batch of 20 boys went in at Clyde on YTS and there are now only two left in football.
"There is one playing full-time in myself and Mark Gilhaney who is at Dumbarton now. We are the only two left, which means that 18 boys have dropped out of the game and that is just from one team.
"So when Ricky asked me to be an ambassador, I agreed because I still have strong feelings over what happened to the other 18 boys."
Baird is at the age when he should be approaching the peak of his career but he admitted his thoughts have already started turning to what he will do when the time finally comes to hang up his boots.
And he confessed he knows how difficult it can be to try to find work outside the game without possessing a raft of qualifications.
He added: "I never did further education and I am now thinking what can I do when my career is finished. So it is great that these scholarship kids will have their opportunity. It is now not the end of the world if you do not get a full-time club in Scotland.
"I have really enjoyed my career and I have been lucky enough to be in full-time football for most of it.
"However, I did become part-time for a spell when I was 20 and left St Mirren to join Montrose. However, I found it hard to get a job as all I have is standard grades.
"I was lucky enough to get back into full-time football but I wish I had looked after my education a little bit more."