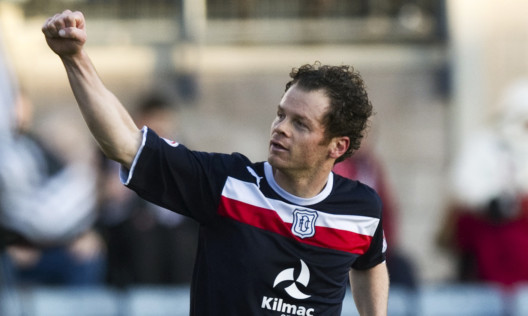 Dundee defender Matt Lockwood may live just a few miles from Tynecastle but he won't be going along to cheer on Hearts.
The Dark Blues need the Jam Tarts to beat St Mirren in order to prolong their relegation survival bid into their own home game against Aberdeen.
The Edinburgh-based Englishman could spend the day down Gorgie way biting his nails but instead he will just attend training with his Dundee colleagues then watch the score come in on TV.
He said: "There is no point worrying about what happens at Tynecastle.
"I won't bother trying to catch a glimpse of it. Instead, I will just relax in the house after training and wait for the scores to come in on Sky TV.
"I think there is big pressure on St Mirren because of the way their results have gone in recent weeks. We need Hearts to do us a favour and I think they are capable of that even though they are safe already themselves. They have plenty of good players and I can see them having one final push before the end of the season."
"They'll try and climb the table, which would obviously do our chances no harm either," Lockwood said.
That Dundee even have a slim chance of beating the drop this late in the season is a tremendous achievement for manager John Brown and his players.
The Dens boss was recognised this week with the Clydesdale Bank manager of the month award for April and Lockwood believes the honour was well deserved, after chalking up three straight SPL wins.
He said: "The gaffer has been great. The turnaround has been excellent because up until then we only had ourselves to blame for being at the bottom of the table.
"But that's in the past and we have to look forward now. The manager is dedicated to the club and is getting the best out of the lads.
"He is a shrewd operator who wants the best for Dundee in the years to come which I am sure he will get as he demands a lot from his players."
Lockwood himself insists he could go on and on and on after switching to a sweeper role under Brown.
The 36-year-old said: "I'm loving my football again. Playing sweeper has given me an extra dimension and it's something I've loved, to be honest, in recent weeks. When you look at players like Franco Baresi (the legendary Italian international) playing into his forties then it shows it can be done.
"Whether that is in the SPL or First Division with Dundee remains to be seen but it could become a bit clearer after this weekend.
"But the one thing I would say is that I feel as though I have a few years left in me yet and would really like to spend those with Dundee.
"I have had three tremendous years here and there has never been a dull moment. It's been another roller-coaster again this season but as a player you just do your best and try to rise to the challenge.
"I'm out of contract in the summer like most of the lads so there's plenty at stake in terms of trying to impress for a new deal."