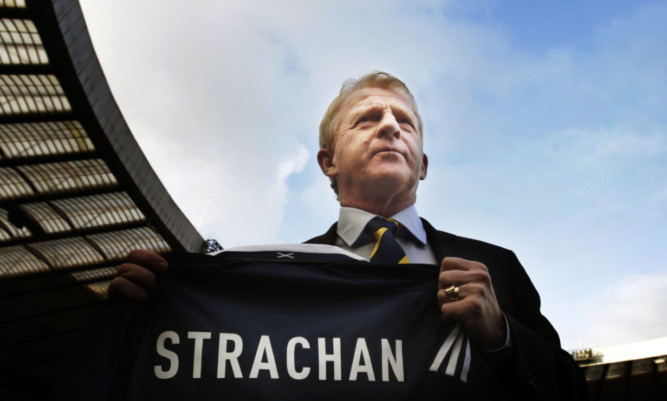 GORDON STRACHAN spoke of a 40-year football journey ending in pride yesterday when he was named the new Scotland manager.
The former Coventry, Southampton, Celtic and Middlesbrough boss was confirmed in the post by the Scottish Football Association at Hampden Park.
Strachan started his career as a teenager at Dundee and a long and illustrious playing career which followed at Aberdeen, Manchester United, Leeds United and Coventry City earned him 50 caps for Scotland.
The 55-year-old has been out of management since leaving Boro in October 2010 but he realised a long-held dream when made Scotland boss on a contract that will take him through to the 2016 European Championship qualifiers.
"I am very proud but my family, my wife, mother, grand children, children and my friends are very proud so it shows you how important the Scotland job is," he said.
"It is probably 40 years in the making to get here. It is a job that I wanted to do and for a Scotsman, this is a fantastic thing.
"When I was a kid I wanted to play for Scotland and I did that. Then I started coaching and I thought 'I want to be the Scotland manager some day' so I have achieved that with the help of a lot of people and players.
"It is going to be difficult, every job is difficult. The Coventry job is difficult, Southampton, Middlesbrough, they are all difficult," said Strachan.
"You don't get an easy one but you can still enjoy it. But the idea is to make people happy and win games of football."
Strachan was interviewed for the job in 2004 following the dismissal of Berti Vogts but lost out to rival candidate Walter Smith.
However, he insists that disappointment turned out to be a blessing in disguise.
"When I look back on it, I think it was the best thing that ever happened to me," he said.
"I went on progress and do other things. All the experiences I have had as a manager have prepared me for this time.
"I think this is the best time for me. I still felt at that time that working with players and developing players full time was my best (attribute) but if you are asked to come to an interview with Scotland you don't turn it down.
"The rewards are that if you can be successful you can make a nation happy and proud. That is the factor for me and I will try and do that, with the help from other people."
Strachan will take charge of his first match against Estonia in a friendly at Pittodrie on February 6. Scotland then face Wales and Serbia in a World Cup 2014 qualification double-header in March.