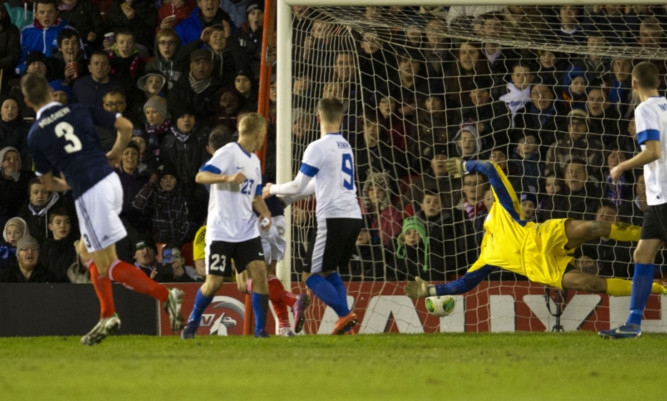 The fans pleaded with him to SOS Save Our Scotland and Gordon Strachan's rescue mission got off to a winning start last night.
Strachan himself called the whole experience "incredible" and revealed he was blown away by the feeling of leading the national team.
There wasn't much in the way of free-flowing football from the Scots in the former Celtic manager's first game as national coach. Indeed, it was scrappy and stuffy at times, especially in the second half.
However, it was still nice to win a home game for a change, albeit by a single goal, and overall the players did restore some of the hope that had faded by the end of the Craig Levein era.
Scotland made it 1-0 after 39 minutes of this friendly at Pittodrie thanks to a right couple of Charlies, with Adam's free-kick into the box swept home by the boot of Mulgrew.
There was no further scoring and not a lot else for the supporters to get carried away about. Rather, this was a tentative first step for Strachan and Scotland on what will be a long and rocky road to recovery.
Next up are World Cup qualifiers against Wales and Serbia next month and they will both provide a much tougher test than the Estonians could muster.
Still, the manager was in upbeat mood after earlier having pre-match nerves.
Asked how he enjoyed his first game, a smiling Strachan said: "I am glad it's all over!
"I must admit that's the most excited or nervous whatever you call it I have been before a game in my life."
He added: "I didn't know how I would feel when I first took charge of the team. Now I know. It was an incredible experience and rivals winning my first cap as a player.
"It kind of blew me away, really. Your first match is always different and I have handled the Champions League so I should be fine.
"I think the nerves kick in when you are on your own. I didn't really get to sleep last night but it was OK when I got here."
Asked if the free-kick that made the goal was something the team had been working on, Strachan nodded his head to indicate yes but said "no!"
He added: "We have not had much time to work to work on things like that."
Strachan had praise for goalscorer Mulgrew, saying: "Charlie seems more at ease with himself and more outgoing than he was when he was a young man. He takes more responsibility and he has worked his way back to this position."
As for the overall performance, Strachan added: "There were bits and bobs there. I don't think you could actually ask for a top performance.
"For example, we were asking Charlie Adam to get on the ball and spray it about but he couldn't do it because of the wind. The ball was moving when he was going to kick it."
It was an attacking formation and that is the approach Strachan will be adopting from now on.
"We have to do that if that's the players we have," he said. "I look at the bench and see we have a lot of them (forwards) while we are a bit thin on the ground with defenders.
"We have players who can express themselves, beat players and make things happen. And they tried that tonight and the players did well."
For more from Pittodrie, including a full match report, see Thursday's Courier or try our new digital edition.