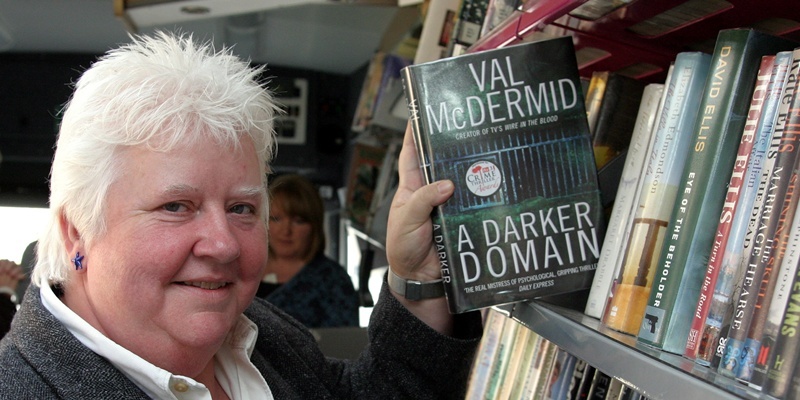 Top crime writer Val McDermid will swap the world of murder and mayhem for the more sedate surroundings of the Stark's Park boardroom after being appointed a director of Raith Rovers.
Kirkcaldy-born McDermid, one of Britain's best-selling authors, already had a special bond with Raith through her late father Jim, who was a scout at the club and famously talent-spotted a young Jim Baxter.
She contributed a six-figure sum to Rovers through her sponsorship of the North Stand, renamed in her honour, as well as donating to the takeover by New Raith Rovers Limited in 2007.
Her directorship will be in that company, which has overall ownership of the club.
Although her commitments as an award-winning writer whose stories have been televised nationwide will mean she may not be a regular at board meetings, her views will be expressed via her representative Tom Phillips.
For McDermid, being involved with Rovers is the ideal way to put something back into a community she holds dear to her heart.
"Having been more closely involved over the last few years I have come to realise that people who have the finances to support the club should do so," said McDermid.
"It is a community resource and we should all be doing what we can to ensure clubs like Raith Rovers survive. I am very proud to be associated with the club in this way."
She never expected to be a decision-making director and joked about what her father would have thought about it all.
"I have always followed football and been a supporter but this is something I would never have imagined," she said. "I am just picturing my father looking down and saying, 'They are letting lassies on the board now'.
"However, I think it is important that we try to broaden the nature of people involved in football at club management level. For too long it has been something of a gentlemen's club and a closed shop in lots of ways, but it says a lot for Raith Rovers' willingness to embrace with different segments of the community that they were willing to welcome someone like me on to the board.
"I feel privileged to join a group of people who worked so hard for the survival of the club. People like Turnbull Hutton and Mario Caira are totally committed to Raith in a way that is quite remarkable and it is an honour to be sitting alongside them."
Fellow director Hutton said, "Val is a great supporter of the club and has been from the time of the restructure. She is really interested in the club, as was shown by her sponsorship of the stand, and she comes to games both home and away when she can.
"She is also great value in terms of personality but, most importantly, she is hugely knowledgeable about the issues of running a first division football club-and understands the challenges and difficulties we face."