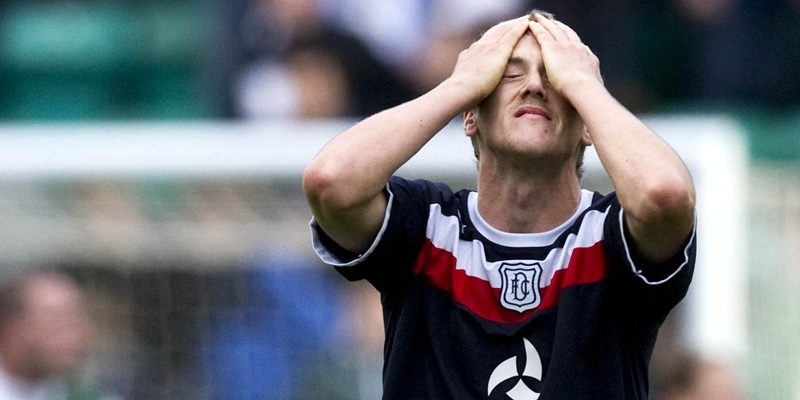 Nicky Riley insists the Dundee players are desperate to turn things around for under-pressure boss Barry Smith.
The Dark Blues have endured a torrid time since their reintroduction to the SPL and are currently propping up the table, five points behind city rivals Dundee United with just one solitary victory to their name.
However, as the Dundee squad prepare for the tricky trip north to play Aberdeen on Saturday, Riley stressed the players remain confident in their own abilities and in Smith.
The winger said: "We are definitely united behind the manager.
"We've come into the league slightly fortunately, the way things worked out, but we certainly don't want to be back in the First Division.
"It's through no lack of effort that we find ourselves where we are right now.
"There have been some bad mistakes and such like but we are without doubt all in this together.
"All it takes is a wee change in fortunes which could turn things for us.
"And if we can get a positive result against Aberdeen on Saturday that could kick-start our season."
Riley has had a frustrating time with injuries so far this season, with Friday night's disappointing defeat against Inverness marking his first start of the campaign.
He said: "It was good to get back into things, even though the defeat was bitterly disappointing.
"It was my first 90 minutes of the season. It's not been a great start for me, with one thing after another in terms of injury.
"But it was just good to get out there last Friday night and do what I'm meant to be doing.
"There's nothing worse than sitting watching a game from the sidelines when you just want to get out there and play."
The Dundee fans let the players know exactly what they thought of Friday's defeat and performance with a chorus of boos ringing round Dens at the final whistle.
However, Riley has pleaded with the supporters to stick by the team as they attempt to claw their way up the SPL table.
He said: "I can kind of understand their frustration when you consider recent results.
"Some of them were probably just getting into their seats early on in Friday night and then all of a sudden we find ourselves 2-0 down.
"But let's remember we're only one quarter of the way through the season. Nobody in the dressing-room has chucked it or are feeling like that.
"Basically one win could turn our season round and get the confidence going among the lads."