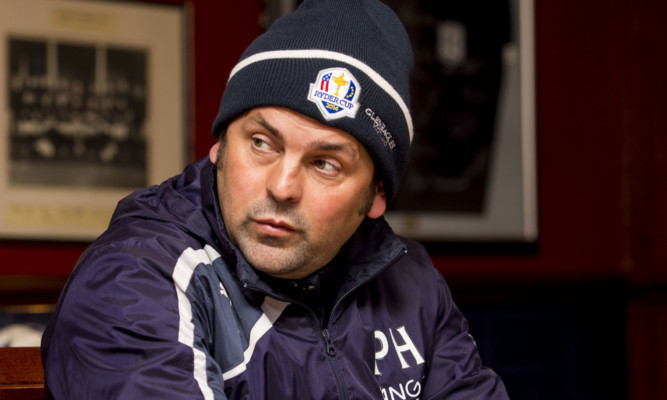 Dundee boss Paul Hartley fears playing Paul McGowan in the final games of the season in case it lands the midfielder in further trouble with the law.
The 27-year-old was last week convicted of police assault for the third time but escaped a jail sentence.
Instead, he was placed on a 16-week restriction of liberty order, which confines him to his home in Airdrie overnight and he will also have to wear an electronic tag.
The curfew means he will definitely miss the Dark Blues two games against Celtic which have night-time kick-offs.
However, Hartley is concerned that McGowan could struggle to meet the 7pm deadline to be at his home after other games with a whole raft of issues to be factored in such as possible traffic problems or if the player was to suffer an injury.
The manager admitted that at the moment, the only game he is certain the midfielder would not have a problem taking part in would be the last one of the season against neighbours United as that match has a 12.30 lunchtime kick-off.
Hartley said: "The suggestion is he can't play with the current tag he has got but I am sure he could. We are just waiting for confirmation.
"He is available for selection but there is no guarantee he will play. We need to look at where he plays, at what time he leaves here, traffic, travelling and if he gets an injury.
"He stays in the central belt so there are times when the journey could take longer than an hour and a half.
"It is something I have thought about and spoken to Paul about. We understand he has a curfew and we don't want him to break it.
"He will still be available but it is something I will need to look at between now and the end of the season.
"The last game of the season is definitely one he can play in because of the early kick-off but we have to look at other things as well.
"There are all sorts of things that could happen, even heavy traffic or his car could break down and these are things we have to look at. The last thing we want to see is Paul getting into trouble because he misses his time zone."
Dundee made the decision to stand by the player despite his latest conviction with Hartley acknowledging that did not mean the club condoned what McGowan had done.
However, he stressed that the player isn't a "bad lad" and has just been foolish.
The manager added: "Paul McGowan has been the name on everybody's lips over the last few weeks and I think everybody has had their say.
"We don't condone what he did but he is one of our players and we will need to help him along.
"He knows he will need to change his ways because it is his last chance, basically. We will try and help him along the way. He is not a bad lad.
"A lot of people won't know him but I have worked with him over the last year and I also knew him as a player from Celtic and I know he isn't a bad lad, he has just been foolish.
"His release has been playing football and coming into training. He is a fantastic trainer and I mean that because ask any of our staff and they will tell you he always gives 100 per cent.
"That is what I am looking for in a footballer but away from the park we don't condone what he has done. He needs to take more responsibility and he needs to act more professionally but he has changed his ways over the last couple of months because he had to."
When asked if he feared McGowan would be jailed, Hartley admitted: "I thought it was touch and go, to be honest with you.
"When we got the verdict we were delighted but the hard work for Paul starts now.
"He has got a real fright. He understands he needs to change his life and his lifestyle. We can help him but he has to be the one to do it. He has to be the person who changes himself."