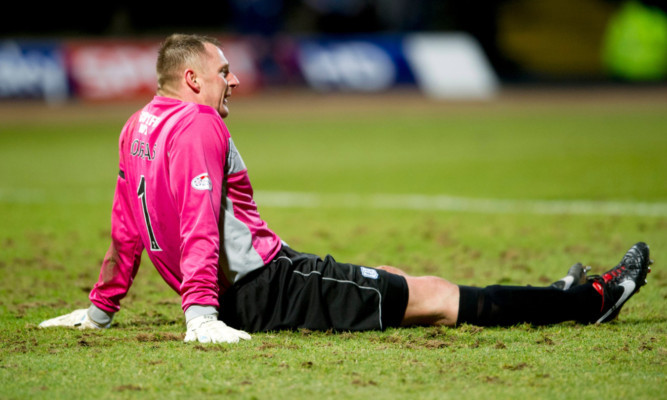 Dundee goalkeeper Rab Douglas will not play in the Tannadice derby but manager John Brown stressed he still has a future at the club.
Rumours swept the city yesterday that Douglas had quit the Dark Blues after storming out in protest at Brown's having signed new keeper Steve Simonsen.
There was even speculation that there had been a serious training bust-up between player and boss.
It is understood that matters did not reach that level but Brown did concede that he has an unhappy goalie on his hands one who is frustrated at being excluded from Sunday's Dundee United match.
However, he insisted Douglas remains a Dundee employee and that he will be striving to overcome a thigh injury picked up in a recent game against St Mirren and return to the team as soon as possible.
The Dark Blues boss also stated that it is because of the injury alone that the former Celtic and Scotland number one will be watching the derby from the sidelines.
Brown, who confirmed his selection of Simonsen as the starter with young Alex Baird on the bench, said: "The situation is that big Rab in the last two games has done a great job (while) being only 50% fit for us.
"He got injured against St Mirren, couldn't kick the ball after that and he has been restricted (as regards) back-passes. He couldn't take goal-kicks and could only throw the ball out. He has not trained at all this week and he is struggling with the thigh.
"So I had to address that and bring in a goalkeeper for the sake of Dundee Football Club going into this weekend's game. I have done that.
"Rab has been outstanding and we have picked up four points in the games since he has been injured so he is a big part of this football club.
"What I will say to you is, for everything that has been said out there Rab Douglas is a big part of this club for now and for the future.
"I've got to take a team to Tannadice to try to win a (fixture) that Dundee hasn't won in a number of years and try to get three points to help us survive in the division.
"If I could have put him on the bench I would but he is carrying an injury. So (Steve) Simonsen will be starting and the young lad (Alex Baird) will be on the bench."
Brown continued: "This is totally a footballing matter. Big Rab over the years has played a big part for this club and he recently got recognised for making his 300th appearance for the club. I don't want anyone tainting that.
"What has happened is I have had to bring in an experienced goalkeeper because we are lacking cover. The young kid, it might be just a bit early for him.
"We have eight games to go in which we will try to survive by clawing back ground because we don't know what will happen with other clubs whether it's points or administration, you don't know. So I have to do what's best for the club."
Brown had a chat with Douglas during which there appeared to be a rapprochment.
"I spoke to him this morning and he is hurting because he would have been expecting a big derby," added the Dens gaffer. "But I have to make a decision and my job as manager is to manage. Do I play a goalkeeper who can't kick the ball and can't take back-passes?
"So I brought in a goalkeeper and said to him (Douglas) to get himself fit and it's taken a bit of pressure off Rab. It gives him time to get his injury right and then we have competition for places. We have competition for outfield players and now we will have it for the keepers as well."
Asked if there was a future for Douglas at Dundee, Brown left no room for doubt.
"Look, Rab Douglas is contracted to this club and he is a Dundee legend," he said. "He has a lot of pride and he will want to get himself fit again and be a credit to Dundee, just as he has been over so many years."
Brown will take his team down the road with many people thinking they have their best chance of breaking their derby duck due to United's selection problems.
However, the Dens gaffer still thinks the home side are the favourites.
"I don't know what team United will put out but this club has not won a derby in a number of years so we are the underdogs," he said. "But our players are desperate to get a victory.
"We are going to have a go and I have said to the boys that we won't be defensive because we have to win games in order to survive. If we can get a positive result it would peg the two teams above us (Hearts and St Mirren) back because they are playing in the cup final. That would ask a question and put a bit of added pressure on."
Speaking of the club's dismal derby record since the summer, Brown added: "I would be embarrassed if I had been here for a number of years and not taken part in a derby victory and I would want to do something about it.
"These are great occasions. The Dundee derby is a big derby and the passion in the city for the two clubs is fantastic. I think our players showed in the Scottish Cup tie that there is a not a great deal between the sides. The quality of (Gary) Mackay-Steven made the difference on the day.
"Our players know what's at stake because if Dundee are not in the SPL then it affects their wages. I have asked them to enjoy it but leave everything out there on the park. Don't come off thinking you could have given more."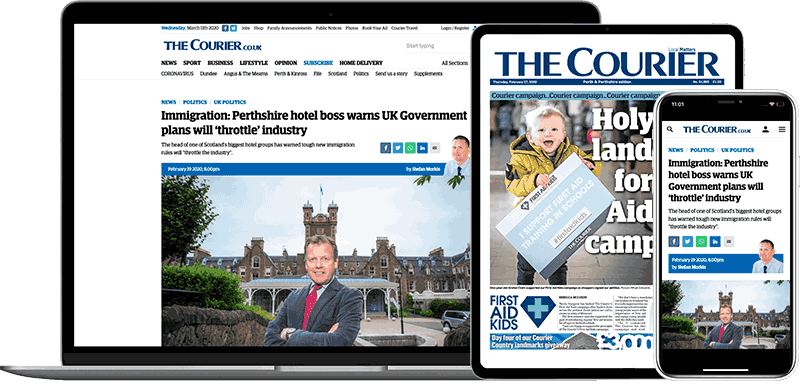 Help support quality local journalism … become a digital subscriber to The Courier
For as little as £5.99 a month you can access all of our content, including Premium articles.
Subscribe