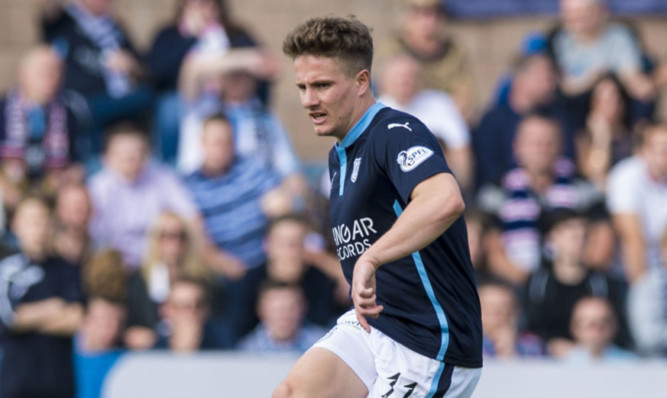 Dundee boss Paul Hartley has revealed there were fears Simon Ferry had been struck down with appendicitis before Saturday's game with Aberdeen.
The former Celtic and Portsmouth midfielder had been selected to face the Dons, but was a last-minute call-off after having to be rushed to hospital.
Dundee have already had one player who needed surgery to remove his appendix this season, goalkeeper Scott Bain, who fell ill during the summer training trip to Hungary, and it looked as if a second had been struck down by the same affliction in the shape of Ferry.
Hartley said: "Simon was up all night vomiting on the Friday. He was taken into hospital when we feared it might have been appendicitis.
"But as things turned out it was just a bug. However, that still threw us a bit before the game.
"He was in the team ready to play then we got the call to say he wasn't available.
"We were obviously down to a tight squad on Saturday, but that's part and parcel of football and you just have to get on with it."
That squad was threadbare thanks to a lengthy injury list however, Hartley is finally seeing some light at the end of the tunnel.
Skipper Kevin Thomson, who has been missing since injuring his calf against Inverness on August 13, should return to full training next week along with fellow long-term injury victim Willie Dyer.
Hartley also revealed there is encouraging news over Luka Tankulic and Iain Davidson.
The manager said: "Hopefully we will have Thommo back training next Monday. Dyer is running again and so is Davidson. Luka Tankulic will hopefully be back for the Motherwell game.
"He got a kick on his ankle in training the day before we played Dundee United in the League Cup.
"To be honest, he probably should not have played against Ross County, but he's looking better, which is the main thing.
"So hopefully by the time we go to Fir Park, we will have a stronger squad to pick from."
Meanwhile, former Celtic, Portsmouth and Manchester City striker Gerry Creaney has been named as Dundee's new full-time head of youth development.
The 44-year-old has been tasked with overseeing the Dundee Youth Academy with the goal to make sure both club policy and SFA criteria are met to attain the Four-Star Elite award.
Managing director John Nelms said: "Gerry possesses all of the attributes needed for a modern-day head of youth.
"From the craft knowledge of the football side to the minute detail of the admin side, I believe his skills are congruent with the culture we've established here and will help us achieve the high level development programme we've outlined in our long-term plan.
"It's rare to have an individual who possesses all of these qualities and we are happy to have him on board."
Meanwhile Dundee's Phil Roberts has been called up to the Republic of Ireland under-21 squad.