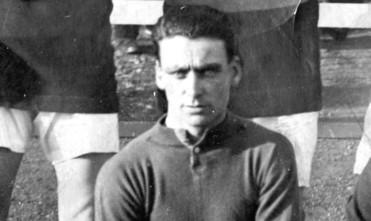 Craig Smith turns the spotlight on the man Dundee striker David Clarkson aims to match as he goes in search of a club record nine goals in consecutive games.
Few strikers have set the heather on fire on their arrival at Dens Park like David Clarkson, who hopes to continue rewriting the history books this weekend.
But to beat the club's all-time record of goals in consecutive games, he'll have to firstly equal and then surpass the man whose benchmark of nine has stood the test of time: Johnny Bell.
A not-so-quick trawl of the archives highlights just how important a player Bell was to the Dark Blues after he joined the list of stars at Dens Park on Thursday October 23 1919.
That day'sEvening Telegraph revealed howGlasgow lad Bell had started out in the junior ranks with Ashfield before moving to London to join West Ham, where his play "gave every satisfaction".
Bell "joined the colours" when the First World War broke out, but made the switch home to Scotland and specifically Dundee soon after being demobilised.
"In securing him for Dens Park, Mr McFarlane, the Dundee manager has forestalled a number of other clubs for Bell has been a much sought-after player," the paper said.
"He comes with a splendid reputation and will be a valuable acquisition to the Dens Park staff."
The following day's copy of The Courier suggested that "if he is as clever as he is reputed to be, John Bell will be a valuable addition to the Dens Park playing strength" confirming he would make his first appearance for the reserves against Cowdenbeath in an Eastern League game.
Naturally, he scored, but the papers the following week were still concerned about who could follow in the footsteps of the club's former centre-forward Davie Brown, who had departed for Stoke.
The Courier said that although Bell had scored the goal to give the 'A' team a point, he had "yet to prove his worth as a first-class player in Scottish football".
Yet speculation was rife all week that Bell could be handed his first start for the first team the followingSaturday and he was given the chance to shine, opening his Dundee account in a 3-3 draw at Clydebank.
The Courier's correspondent, titled Dark Blue, seemed unimpressed at that stage.
"Bell was neither asuccess nor a failure," he said."Bell is a more stereotyped centre than Brown, but lacks the penetrative qualities of "Davie".
"I feel quite safe insaying that he will never attain to greatness."
My, how TheCourier's man was proved wrong in the weeks and months that followed.
The following week he made his home debut at Dens Park and he made an immediate impression there, netting twice as Dundee trounced Clyde, which drew the following response from one paper: "Bell, who was making his first appearance at home, did well. In addition to scoring two goals he kept his wings moving nicely, although, like several of his comrades, he was perhaps more inclined to favour the left than the right."
Another brace came at Stark's Park as Dundee beat Raith the following week, before Bell grabbed two more in a 3-2victory over Albion Rovers.
Further goals followed and Bell was labelled the 'Net-Finder' by Dark Blue after a hat-trick helped Dundee to a 7-1 win over Ayr United on the first day of December 1919.
"Bell's first goal was worth going a long way to see," the mysterious Dark Blue said."I still maintain that he is not thefinished article as a centre, however, but he is a better leader than many who have sported a dark blue jersey, and his three points against Nisbet (Ayr's keeper) only confirm the already formed opinion that he is a paying pivot."
Ten goals in five games is not the record Clarkson is looking to equal this weekend, however.
Scoring in nine consecutive games is, and that came early in the 1920-21 season.
Writing in The Courier in January 1920, Andrew Wilson described Bell as a"dangerous centre if played to, so it is up to the halves and wings to see that he is not neglected". Still, he heaped praise on famous Dark Blue centre-forward of the time Alec Troup, suggesting Queen's Park's Alan Morton was his "onlysuperior" in Scottish football.
Having said that, a quick glance at The Courier from January 6 1920 highlighted Bell's early potential in the dark blue.
Sixteen goals in 11 games was his record to date at that point, and it was impressive. Others were ahead of him in the scoring charts Welsh from Raith Rovers had 25, Williamson fromHibernian had 23, Ferguson fromMotherwell had 21 but they had all played far more games.
So Dundee fans would have been delighted to read The Courier of May 11 1920 which confirmed that Bell had been re-signed for the following campaign.
"Bell has proved a good investment for the Dundee Club," the paper continued."Although only secured after the season was well advanced, he soon made hispresence felt.
"A rare forager and fine distributor of the ball, he also proved himself a deadly shot. He is responsible for practically a third of Dundee's goals, and stands fourth on the list of Scottish League marksmen."
The 1920-21 season kicked off in asimilar vein for Bell who netted both of the Dee's goals in a 2-2 draw at Falkirk and, after a mixed opening to the season,September 11 1920 marked the first game of Bell's astonishing run.
He netted the only goal of the game against St Mirren in Paisley that day, before solitary goals in a 2-1 win over Third Lanark, a 1-1 draw at home to Queen's Park and a 2-1 win over Raith in Kirkcaldy made it four goals in four.
He then netted a brace in a 3-0 win over Hearts at a rain-soaked Dens Park on Monday October 4 before he scored for a sixth game in a row in a 2-1 win over Motherwell.
Goals against Celtic and Heartsfollowed to take him to eight consecutive scoring games, and his counterin Dundee's 3-1 home win overKilmarnock on October 30 completed the record.
A goal in the 10th game, away toRangers, proved elusive for Bell as Dundee crashed to a 5-0 loss, but that was academic by then as Bell had already made a name for himself.
Despite the early form though, by the end of that campaign question marks were being asked about Bell's future.
A letter to the Evening Telegraph on September 20 1921 from a correspondent known only as "Wellwisher", read: "I wonder if the directors of Dundee Football Club have ever asked themselves why Johnny Bell is not the success he used to be?
"My own humble opinion is that the ability is still there, and this player only requires to be more judiciously fed with those passes up the centre which he used to get when Donald Slade was in the team.
"Look at Henderson, of the Rangers. See how successful he has been since he went to Ibrox, due in a large measure to Cunningham and Cairns giving him the right passes. About the only chance Bell gets from scoring is from the wing men.
"Trusting the directors will take the hint."
However, the writing appeared to be on the wall at Dens for Bell, with the Sunday Post confirming on May 7 1922 Dundee had placed a "very reasonable transfer fee" on the player.
The local papers suggested there had been "whispers" that St Johnstone were interested, but it perhaps said it all on July 7 1922 when The Courier devoted just a small square of its column inches to the fact that Johnny Bell had been transferred to Albion Rovers.