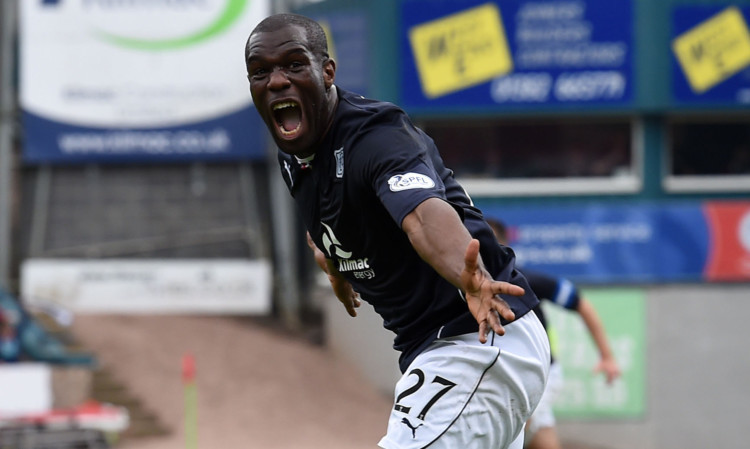 Christian Nade says winning the Championship title with Dundee is a dream come true for him.
The big Frenchman produced a man-of-the-match performance against Dumbarton with an impressive all-round display as well as scoring the vital opening goal for the Dark Blues.
He hopes now that he has proved all the doubters wrong after a tough couple of years in the footballing wilderness and banished once and for all the "fat and lazy" tags that have dogged him throughout his career.
The 29-year-old is also hopeful that his agent can negotiate a new deal at Dens to allow him to play with Dundee in the Premiership next season.
Nade spoke to the press still clutching his man-of-the-match champagne and said: "I have kept every bottle I have won. I don't know how many I have got, 10 maybe at home. I have never touched alcohol in my life but I maybe feel like it after winning the league!
"It is a dream come true because I came back to play and to show I could do it at a good level. I have to thank Dundee for helping to get me back to my best the coach, staff and fans.
"They were behind me all the time. They always pushed me and I was happy I could help them get a result."
He added: "People say I am fat and lazy, it is always the same things. I just wanted to show them I am not fat. This is the fittest I have been.
"It was completely different playing here for Dundee than it was for me at Hearts because I was playing up front on my own. I prefer to play with a second striker.
"I am out of contract now and I have to speak to my agent, so we will see. Of course I would like to stay. I like being here, the coaches are very nice and the staff are perfect.
"I am going away for a charity event and so I am sure Dundee will speak to my agent."
Nade said playing in the match was actually far less stressful than the days leading up to it.
"It was exactly how I expected it to be if I am being honest. The build-up before was more difficult than the game because of the pressure from the fans. I saw a lot of their messages on Facebook.
"It was difficult with that expectation but the boys went on the pitch and did well and I think we deserved it.
"At my goal, I got a touch on the ball and then I saw it go towards the goal and I thought: 'Wow' and then I scored.
"I wanted to celebrate with my team-mates, the substitutes and the coach."
The Dundee fans were chanting Nade's name throughout the game but the striker said he is bashful about the adoration.
He added: "Yes, it is nice but I am a shy person. I get embarrassed and that is why I put my head down."
When asked if he thought Dundee can make an impact in the Premiership, he said: "Obviously, you need to sign players if you want to achieve something next season because it is not going to be easy.
"Everybody has to work hard and hopefully that will also help us next season."