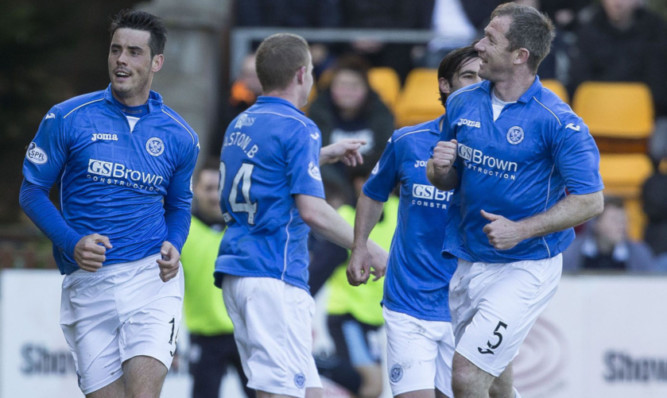 Whisper it in earshot of their wives and girlfriends, but the St Johnstone players are as hungry as ever for another shot at the Europa League.
Now that the Perth men have finally sealed their top six place with the defeat of Dundee on Saturday, the targets have been re-set to overtaking old rivals Dundee United, who are one point above them.
Do that, and a spot in Europe is likely to be theirs again, with only a Scottish Cup triumph for Hibs or Falkirk getting in the way.
It would mean a truncated summer break for the fourth season on the bounce.
But Mackay insisted that would be no hardship.
"I certainly wouldn't be moaning if we got into Europe again," he pointed out. "No chance.
"You relish playing in those matches, especially at my age.
"European football is a great challenge and hopefully we can make it four in a row.
"The summer holidays are booked but I would definitely be back before the first European game!
"In previous years we've had three or four weeks off. The manager's been good. We have a short pre-season and then basically use the first couple of European matches as pre-season."
The former Dundee full-back added: "We've kept it quiet with the wives! There are a lot of things that have to happen Celtic or Inverness have to win the cup before we even know that fourth place gets in.
"But catching United is our aim – it has to be. We play them again and we've got a great record against them.
"There's five games left and we have to go into them trying to catch the team above us, which is United.
"There's no reason why we can't go on a run after the split. We've done it before when we got third. It looks like Dundee are in as well. Our chairman will be happy with decent crowds in the last few matches."
The Saints players would be just as excited to get back into Europe as they were the first time round. And the same goes for the satisfaction of finishing in the top six.
"It's a great feeling and a great achievement to do it four years in a row," Mackay said.
"We've had a few chances to finish it off against Hamilton and Ross County and not quite managed it. But we're over the line now and we're delighted to do it.
"People call it over-achieving but we just call it achieving. We know our limitations as players but we all work for each other and it's a real group effort.
"There's no individuals. Everybody wondered what would happen when we lost Stevie May at the beginning of the season.
"We haven't scored many goals but we've still managed to get the results to get us into the top six.
"It's remarkable to be honest that we've done it with 29 goals. We've kept them out at the other end, which has been key."
Dundee can't be counted out of the race for fourth place either.
They may have been defeated in Perth, but would pull within one point of Saints if they win their game in hand against Celtic at Dens Park.
And by that time the energy levels, which midfielder Stephen McGinn admitted had understandably dropped after Wednesday night's win over United, will be topped up.
McGinn said: "Wednesday was amazing. It was a really high tempo and physical game and a great atmosphere.
"I suppose, in hindsight, today was a bit of a come-down.
"We maybe needed to score first.
"On a pitch like that it's important to get the first goal because it's easier to defend on it.
"It was the same for both teams, but it's hard to play at pace and easier to see out a 1-0.
"Then, with 20 minutes to go we were looking for a real surge towards the St Johnstone goal but we didn't have it in us. It was almost 20 minutes too far for us.
"We missed James (McPake) and Kevin (Thomson). They were immense for us in midweek. They're both big characters and it was a blow to hear before the game that they weren't playing.
"We knew how tough a week this would be going to Inverness, then the derby, and St Johnstone at the end of it.
"If you'd offered us this position last week, we'd have taken it."
The quality of football in this match won't live long in the memory.
On a bobbly pitch, with a strong wind, it was scrappy stuff from the start.
The first keeper to be worked was Alan Mannus after more than 20 minutes and it was by one of his own players. Simon Lappin thought he was making an interception on the edge of the box and it ended up being a goal-bound shot that Mannus did well to keep out.
The winner followed shortly after though. Simon Ferry gave up possession in midfield and when Michael O'Halloran fed Brian Graham down the left, he cut in on his right foot and curled a shot into the far corner.
David Clarkson struck the woodwork on the stroke of half-time and Graham and Steven MacLean both went close for Saints, but that was as good as it got thereafter.
"I don't think it was a classic," Paul Hartley observed.
"One goal always looked like winning it and St Johnstone adapted to the conditions better.
"We put a lot into the game on Wednesday and I thought it showed. And McPake and Thomson were a couple of late call-offs, feeling the effects of knocks the other night."
Tommy Wright noted: "The win was what we wanted because it keeps the pressure on the team above us Dundee United.
"It wasn't pretty but we got the job done. I've got nothing but praise for the players. There's something special in the squad. They can find a way to win games.
"I know they won't get the credit they deserve but I think what they've achieved has been nothing short of a miracle. I'm really proud."